Enjoy Dinner with the Captain* at The Captain Daniel Packer Inne built in 1756 on the Mystic River over 250 years ago with any two-night stay in selected rooms.  Square-rigger Capt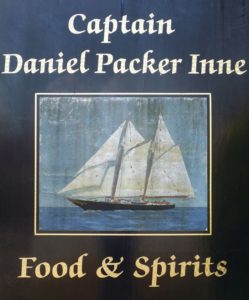 ain Daniel Packer completed the construction of the building bordering Water Street in 1756. Travelers from near and far can step back in time and experience one of New England's best historic and truly romantic restaurants.
As temperatures drop outside, enjoy the comfort of warm, cozy fireplaces, historic ambiance, hearty fare and gracious hospitality guests at the Daniel Packer Inne have known for over 200 years ago. Available Sept. 15 through March 31, 2020 (new reservations only; selected rooms available).
Contact Us For More Information!
*voucher includes your choice of 2 cocktails from the bar and 2 entrees.