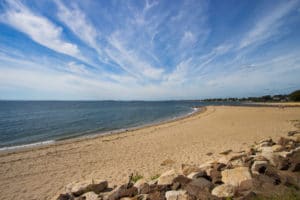 You have finally decided to explore New England and go on an adventure throughout the beautiful region. We know that planning a trip can be exhausting and stressful, especially if you are not familiar with the area. Stonecroft Inn has you covered! Spend a day at Rocky Neck State Park where you can hike along the coast, lay by the water at the beach, and breathe in the salty ocean air. It's everything you've ever wanted and more! Start planning your trip to Rocky Neck State Park today and finally take the vacation you deserve.
Explore Rocky Neck State Park and discover more New England wonders when you download our free Vacation Guide! You'll get the best local recommendations for outdoor adventures, secret spots, delicious restaurants, shops, fun events, and more.
Enjoy the Beauty of Nature at Rocky Neck State Park
Hike
Rocky Neck State Park offers a wide variety of activities. Whether you are an adventurer or more laid back, you will have a fabulous day. Are you looking to get moving? The park features several hiking trails. Venture through dense forests and marshes as you head to the lovely lookout point called "Tony's Nose". If you like geology, make sure you take the red trail! This route leads hikers to an impressive boulder perched on top of a rocky foundation. It's more than 20,000 years old!
Sunbathe
After all that effort, you can make your way back to the beach and lay down in the sand. (Don't forget to bring a towel!) Unwind to the sound of waves crashing and feel the gentle sun on your face. You can walk barefoot along the water or have a picnic with your loved ones! There are a few tables available if you wish to sit down. Take a good book with you and get lost in this New England oasis.
Other Outdoor Activities in the Area
Connecticut is full of breathtaking views and spectacular reserves. If you enjoy your day at Rocky Neck, you will love all the other wonderful state parks around Mystic, CT! Immerse yourself in a natural getaway and let your worries fly away as you hike, mountain bike, or even fish in the river. Some of our favorite places to visit include:
Treat Yourself to an Unforgettable Weekend at Stonecroft Inn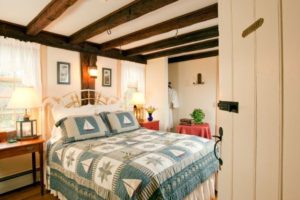 After a delightful day at Rocky Neck State Park, come home to a beautiful room at Stonecroft Inn. Experience New England's charm like never before in our authentic accommodations.
Stay in our 1807 house and book our Buttery Room for an extra touch of elegance. It's the most historic room in the inn! Take a hot bath in your private bathroom, nestle up by the fireplace with your significant other, and spend the night dreaming of all the marvelous things you've seen during the day. Wake up the next morning to rays of sunlight peeking through the window and enjoy a delicious homemade breakfast. We will do everything we can to make you feel cared for and refreshed!

Book your stay today at Stonecroft Inn and make memories with the ones you love.