To all the artists and art lovers out there, if you've never been to the Yale University Art Gallery, stop what you're doing and start planning a trip right now! You will not want to miss this impeccable selection of masterpieces. Tucked in the small town of New Haven, CT, it's a day activity you must add to your itinerary. With an impressive collection and several fascinating exhibits, the Yale University Art Gallery entertains all generations. So don't delay; come and see its magnificence for yourself!
If you enjoy the Yale University Art Gallery, you are going to love all the other activities near Mystic, CT. Download our free Vacation Guide and get our top recommendations for museums, fun outdoor adventures, events, gourmet restaurants, and more! Make your vacation unforgettable at Stonecroft Country Inn.
Let Your Mind Escape at the Yale University Art Gallery
A Historic Location
Yale is one of the oldest and most prestigious universities in the world. Its art gallery started back in 1832 when artist John Trumbull gave over 100 paintings to the college. Today, the gallery displays more than 200,000 pieces and is considered one of the most impressive and precious collections in the country.
The building on Chapel Street is a testimony to America's history, and you can walk through structures that have transcended the centuries. Back in 2012, it underwent massive expansion renovations, and is now ranked the nation's leading public museum. If that wasn't enough reason to visit this marvelous place, the museum is also free of charge!
A Rich, Permanent Collection
From ancient cultures to modern times, the permanent collection of the gallery represents centuries of art. Amongst the artists featured are world-renowned painters like Monet, Picasso, Pollock, Matisse, Van Gogh, Basquiat, Kandinsky, Renoir, and more. Enjoy African art exhibits on the first floor and European art on the second, including Renaissance canvas and unique Dutch paintings. Learn about the United States of America in the American art section, and see the paintings of founder John Trumbull depicting the Declaration of Independence and the Battle of Bunker Hill.
Short sessions are also available to visitors who wish to have more information. Go on a guided tour, attend presentations or master classes, and interact with art specialists!
The Yale University Art Gallery also features several exhibitions every year, so make sure to check the calendar to see what they have at the time of your visit.
Stay at Stonecroft Country Inn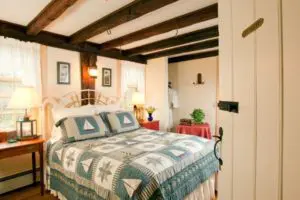 After spending the day admiring art at the Yale University Gallery, you will need to relax and get a good night's sleep. Our accommodations are the perfect place for couples, with all the comfort you need and the modern amenities you want. Come home to an authentic New England room at Stonecroft Country Inn!
Book our Buttery Room and enjoy some period charm in a quiet and serene atmosphere. Take a hot bath and make yourself a cup of tea before going to sleep in a cozy queen bed. Then, wake up the next morning to a delicious homemade breakfast. Taste some of the best pancakes you've ever eaten to the sound of smooth jazz and crackling wood in the fireplace. It's the best way to start your day and get ready for your next Connecticut adventure!
Book your stay today at Stonecroft Country Inn and have the dreamy vacation you've always wanted.