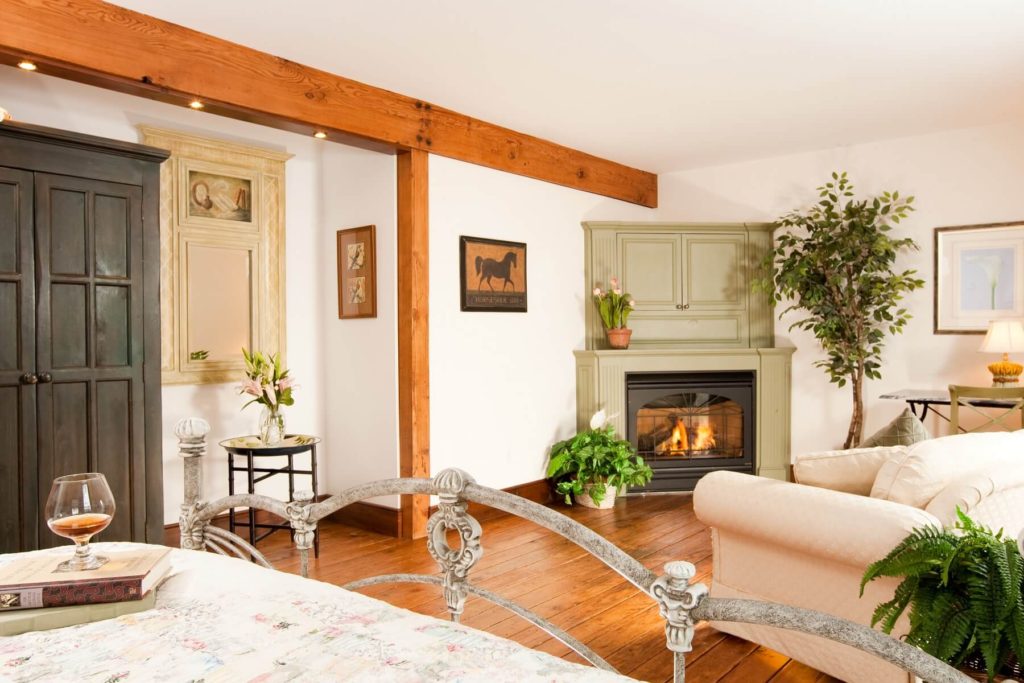 If you're looking for excuses to escape the city and head out for a few restorative days in the country, we can think of no better place to visit than our Bed and Breakfast near Mystic CT.  Mystic, CT itself is a charming, historic seaport, located approximately 2.5 hours from New York City, just under 2 hours from Boston, and about an hour from cities like Providence RI and Hartford Ct. In short, it's easy to get to, yet it feels like you're a million miles away in all the ways that count.
The town of Mystic is famous for the Mystic Seaport Museum, the Mystic Aquarium, its stunning coastline, beaches, and its quaint country atmosphere. Moreover, Mystic, and our Bed and Breakfast, in particular, is known as a place of respite in the quiet countryside, away from the hustle and bustle of neighboring large cities.
This winter, our Bed and Breakfast near Mystic CT offers the perfect place to rest, relax, and renew your spirits – all with the promise of small crowds and romantic comfort.  If this sounds like something you need, then it's time to book your room at our Bed and Breakfast near Mystic CT!
10 Reasons to Visit our Bed and Breakfast Near Mystic CT
Just the mere chance to get out of the city and into the country, where fresh air and quiet space comes standard, is enough of a reason to come visit us at our Bed and Breakfast in Mystic Ct.  However, that's really not the only reason the trip is more than worth your while.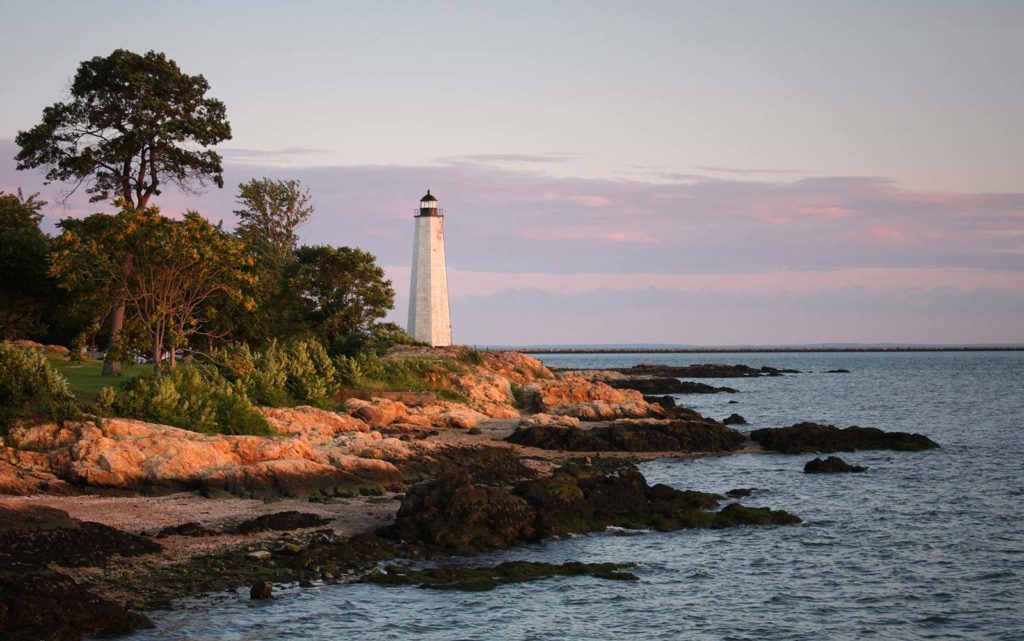 Not only is there plenty to enjoy about spending some time in our romantic guest rooms and letting us take care of you, but there's plenty to enjoy about the quaint town of Mystic during these cold winter months as well! If you need a little convincing – and maybe a little assurance that you'll be safe and taken care of while here – to make the trip, here are 10 reasons to come stay for a few days at our Bed and Breakfast near Mystic CT.
With just 10 guest rooms spread out between our two buildings, you can be assured you'll have a comfortable stay at our Bed and Breakfast near Mystic CT.  More importantly, with such few guests, you can continue to practice social distancing, all while enjoying a safe and quiet getaway. You can read all about what we're doing to keep guests safe and healthy here.
Enjoy the peace and quiet of our 6.5-acre country grounds, filled with expansive lawns and gardens. As you walk around the grounds, take the time to enjoy the fresh air and country quiet, while also admiring the 200-year-old stone walls that surround our property – a remnant common to historic parts of Connecticut.
Each morning of your stay will start off with our delicious breakfast, which is made from scratch daily in our kitchen. Our sumptuous morning fare features homemade entrees prepared with seasonal, local ingredients, and is the perfect way to fuel up for the winter's day ahead.
A stay at our Bed and Breakfast near Mystic CT is loaded with amenities, including the breakfast described above.  Each of our guest rooms come with their own unique amenities, including private baths, luxury robes, toiletries, complimentary snacks, and some include amenities like fireplaces and whirlpool tubs.
Not only is our Bed and Breakfast exceptionally beautiful and perfect for romantic getaways, but it's also a wonderful place to plan a wedding, elopement, or vow renewal. We take all the stress out of planning for your big day, so you can relax and focus on what's important.
There is so much to see and do in downtown Mystic, including shopping, dining out, and visiting the famed Mystic Seaport Museum of Mystic Aquarium.
There are a number of quiet walking and hiking trails in the area, including those at the Denison Pequotsepos Nature Center. Even on the coldest day of winter, some restorative time in nature is well spent when visiting us at our Bed and Breakfast in Mystic Ct.
Given that we're so centrally located along Connecticut's shoreline, there are plenty of great places to take day trips while you're here.  One of our favorites is the beautiful town of Newport, Rhode Island, where you can take a stunning scenic drive and visit the famed Newport Mansions.
There are great places for wine tasting near us, including Stonington Vineyards, Saltwater Farm Vineyard, and Maugle Sierra Vineyards. Winter can be an excellent time to enjoy a visit to these wineries, as there are fewer crowds and more time to enjoy the intimate tasting experience (and to do so safely!).
Take scenic drives through the countryside, enjoying the vistas afforded along this part of Connecticut's coastline, and counting the delightful lighthouses you pass along the way.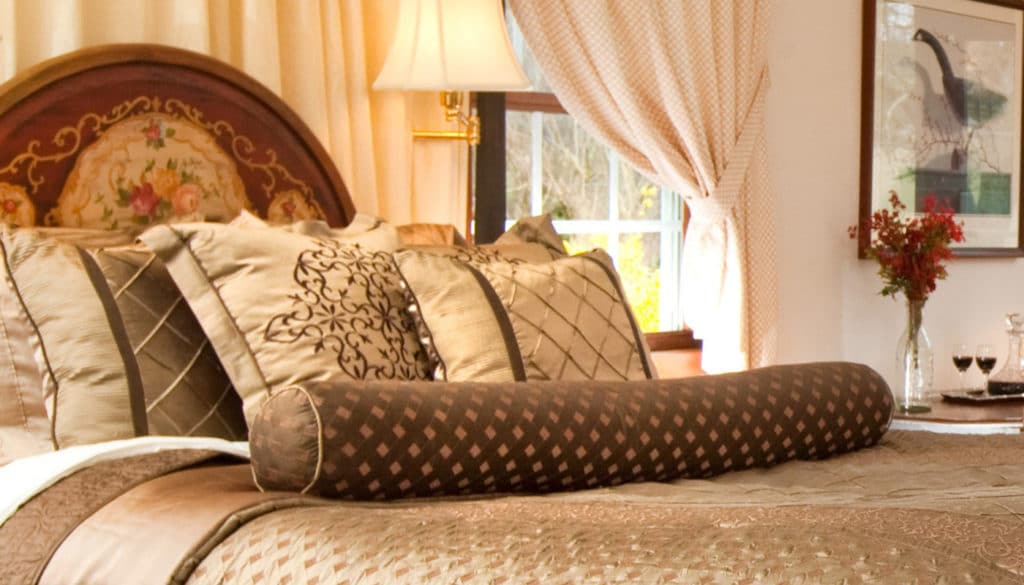 Discover the Best Place to Stay Near Mystic CT This Winter
By now, we hope you're excited to visit the quaint town of Mystic, to explore all there is to do here, and, most importantly, let us take care of you and treat you to the getaway you deserve.  We're a member of the Select Registry branded property group, which means you can expect a high level of care and attention to detail throughout the duration of your stay.
Our reviews on both Google and TripAdvisor don't lie, either. If you're looking for a spectacular place to stay and rest this winter, come discover the magic of our Bed and Breakfast near Mystic CT.  Book your room today!