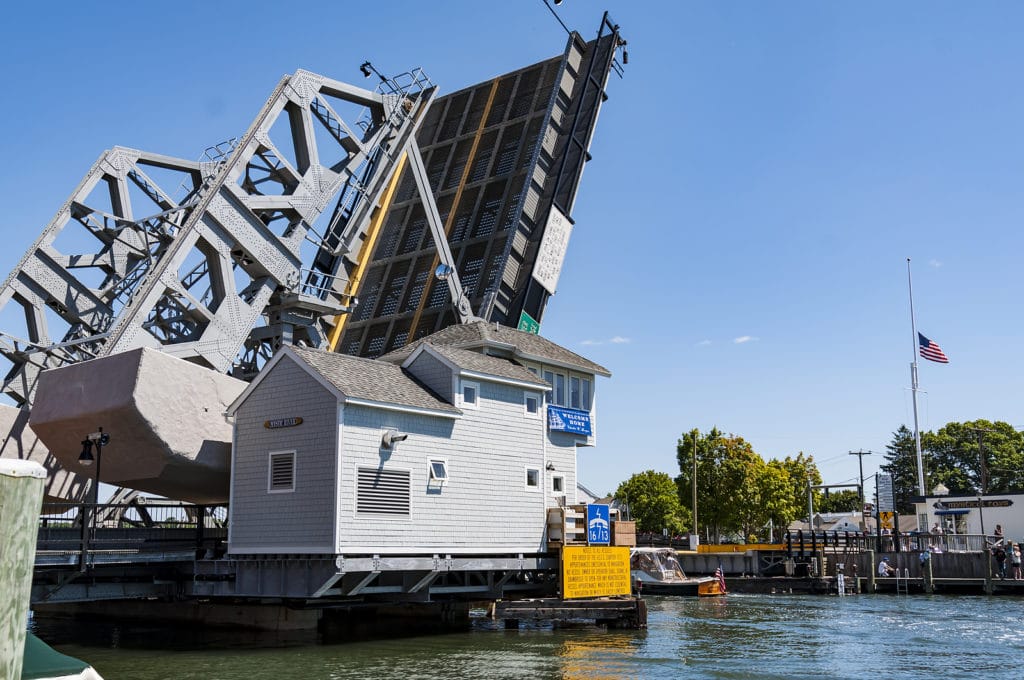 Downtown Mystic is an exciting place to visit at any time of year – but there's something even more quiet and peaceful about it when you visit in the winter.  In part, it's due to the smaller crowds you'll encounter, especially when compared with peak summer crowds.  In part, it's just because of the stillness enjoyed in Mystic at this time of year.
Whatever it is that draws you towards downtown Mystic this winter, we hope you'll take a few days of rest with us at our Bed and Breakfast, located just outside of the charming town of Mystic in Ledyard, CT. Our Bed and Breakfast offers 10 comfortable guest rooms, and the chance to rest, relax and enjoy the peaceful solitude of time spent in the country.
It's the perfect alternative to city life this winter, and perhaps just what you need to face down the New Year ahead! At 2.5 hours from New York City and only 2 hours from Boston, it's easy to get to our Mystic CT Bed and Breakfast, too.  Come experience the affable charms of this historic seaport this winter, and book a room at our luxury Connecticut Bed and Breakfast today!
Get to Know Downtown Mystic This Winter
From walking along the scenic river and exploring the world-renowned Mystic Seaport Museum to shopping at the Olde Mystik Village, there are plenty of things to do in downtown Mystic throughout the year.  The fun doesn't have to stop just because the temperatures have dropped! Moreover, many of the local businesses in downtown Mystic could use your support.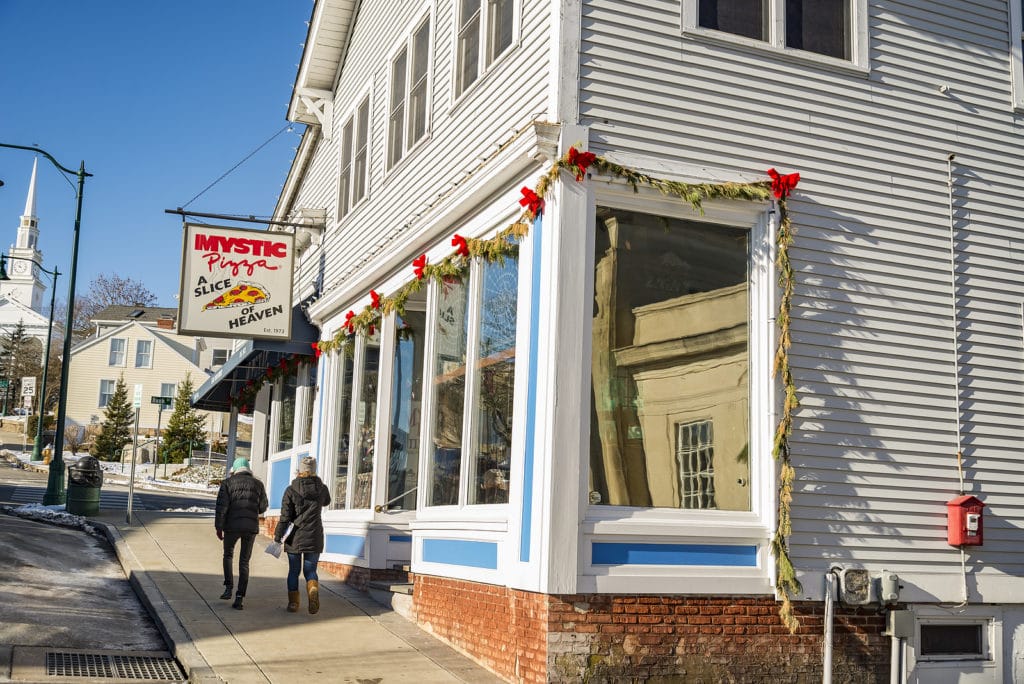 So, if you happen to find yourself escaping the city and enjoying some relaxing downtime at our romantic Bed and Breakfast, we hope you'll take the time to venture into downtown Mystic to see what awaits you there.  Here are just a few of our favorite highlights and suggestions:
Walk across the famous Bascule Bridge in downtown Mystic – and make sure you stick around long enough to see it open up.  The historic bridge spans the Mystic River and was built in 1922.
You can't visit Mystic without grabbing some pizza at the famed Mystic Pizza, made famous by the movie of the same title.
Visit the world-renowned Mystic Seaport Museum, the nation's leading maritime museum.  Even if you know nothing of Mystic's seafaring past, you'll be blown away by this incredible museum, home to world-class exhibitions of history, art, and more.
A great indoor activity when the weather just isn't cooperating is visiting the Mystic Aquarium, home to the only Beluga Whale exhibit in New England.
There is plenty of wonderful shopping in downtown Mystic and is a great place to get something special to take home or to pick up unique gifts not found anywhere else.
For more great shopping with a historic twist, visit the Olde Mystik Village, which hosts a unique collection of specialty shops and restaurants. The village was built as a replica of a 1720-style colonial village and will surely charm you.
Visit the Mystic Museum of Art, which has been on the shores of the Mystic River for more than 100 years, and offers a delightful collection of art.
Head to one of the great breweries or wineries in and around downtown Mystic.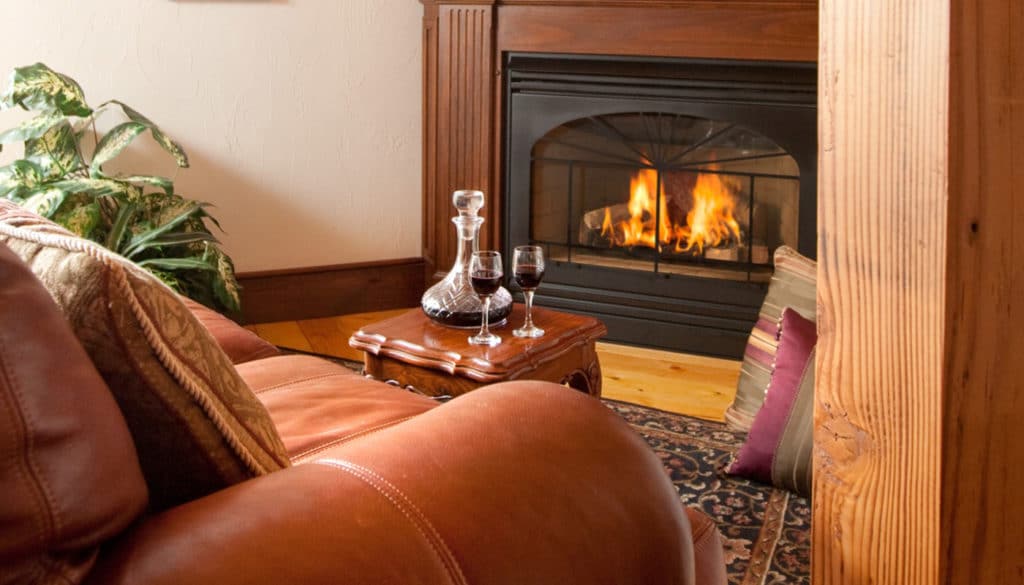 Where to Stay Near Mystic CT
Of course, there are so many more things to do in and around downtown Mystic, but this list offers at least a good start to the most popular attractions and activities.  While you're doing all of these fun things, you'll need a place to call your "home" away from home. For that, there is nothing better than our Bed and Breakfast in Mystic CT, Stonecroft Country Inn.
Our Bed and Breakfast offers 10 guest rooms, spread out between our historic home, built in 1807, and our renovated yellow barn.  Each of the guest rooms is uniquely decorated and outfitted with its own collection of amenities, some of which include luxury robes and toiletries, gas fireplaces, and whirlpool tubs.  Each morning of your stay, wake up to a delicious breakfast made from scratch and served in the dining room of our renovated barn.
While you're here, you'll want for nothing.  We offer the finest hospitality in all of New England and hope to leave you with a desire to return back to our charming and historic city on the sea.  Downtown Mystic offers the perfect escape this winter.  Come see what we're up to, and book a room at our romantic Bed and Breakfast in Mystic today!