New England offers some of the most magnificent nature on the East Coast, and you want to make sure you witness most of it during your stay. Figuring out an itinerary can be challenging, especially if you are unfamiliar with the area. Don't despair! The Essex Steam Train and Riverboat is the perfect solution for you. Board the authentic train and discover beautiful landscapes. Go on a Connecticut River adventure on the riverboat and learn about the rich heritage of the region surrounded by your family and friends! The Essex Steam Train and Riverboat is the perfect day trip activity for your vacation at the Stonecroft Country Inn. Don't wait any longer! Start planning your trip today and live out the New England adventure you've always dreamed of.  
If you like your experience on the Essex Steam Train and Riverboat, you will love all the other activities around Mystic, CT! Download our free Vacation Guide and get our top recommendations for outdoor trips, fun events, gourmet restaurants, great museums, and more!
Go on a Historic Adventure on the Essex Steam Train and River Boat
A Vintage Ride Through the Deep Connecticut Forest
Travel through time and nature with the Essex Steam Train. This spectacular vintage train takes you on a fully narrated, 12-mile round-trip into the stunning Connecticut River Valley and features some breathtaking views. Ride on the original Valley Railroad founded in 1868 and get exclusive access to coves, preserves, and the wetlands of Pratt Cove and Chester Creek. Admire diverse wildlife on your journey, such as cormorants birds, ducks, swans, Greenland geese, blue herons, egrets, and more. If you go in February or March, you might even see some bald eagles!
A Cruise Through Time
Change the scenery and board the Becky Thatcher Riverboat for a relaxing cruise along the Connecticut River! Start your journey at the Deep River Landing and get ready for almost an hour and a half of picturesque deep water landscapes, inlets, marshes and rocky shoreline. Discover historic sites along the way, like the Gillette Castle, Goodspeed Opera House, and the Haddam Swing Bridge. The whole expedition is narrated and the team is more than happy to answer every question you have. It's an ideal way to discover the secrets of beautiful New England.
An Exclusive Dinner Experience
For an extra dose of magic, take your family or significant other on a dinner date aboard the Essex Clipper Dinner Train! There's no better way to end the day than with a ride back to the 1920's. A gourmet four-course meal is offered to each passenger in the classy atmosphere of an original locomotive Pullman Diner.
This two-hour journey through time will make you feel like the Great Gatsby himself. The phenomenal menu includes chicken a la Francaise, salmon with grilled vegetable ravioli, ribs, and a top selection of some of the best wines. Treat yourself to an unforgettable meal aboard the Essex Steam Train and Riverboat and experience New England like never before!
Have an Authentic New England Stay at Stonecroft Country Inn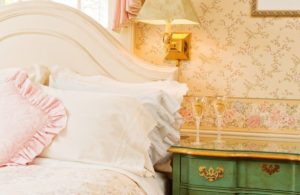 After spending venturing out on the Connecticut River or traveling through the forest with the Essex Steam Train and Riverboat, come home to a comfortable room at the Stonecroft Country Inn. Our accommodations are the best pick for a New England getaway and will allow you to rest undisturbed. Book our lovely Westcroft Room and nestle up by the fireplace after a long, hot bath. Then, put on a plush terry robe and make yourself cozy as you fall asleep in the queen feather bed. Wake up the next morning to a delicious homemade breakfast of fluffy French toast or Russian potatoes.
Book your stay at Stonecroft Country Inn today and have a real New England adventure!