New England is a wonderful place full of history and charm, and one of the best places to discover all of its heritage is at the Mystic Seaport, CT. If you want to learn about the town's rich maritime past and American's roots, this is the place for you! With several museums, a glorious planetarium, lush gardens and highly entertaining boat rides, Mystic Seaport, CT is one of the best day activities! Discover how to make the most out of your visit and get ready for an authentic time traveling experience in 19th century New England.
You would be amazed at all the activities available to you around Mystic Seaport, CT! Download our free Vacation Guide and discover all the amazing museums, outdoor adventures, fantastic events and top restaurants!
Top 5 Things to Do at the Mystic Seaport, CT
Discover the Last Wooden Whaleship in the World
The Charles W. Morgan sailed for over 200 years and is a real treasure of America's maritime history. Built in 1841, it is the oldest commercial ship still afloat. It's been on more than 37 voyages around the globe in the pursuit of whales and is now Mystic Seaport's gem. Discover the Charles W. Morgan's fascinating story and enjoy several activities centered around its role in New England's heritage.
Engage in History at the Seafaring Village
Watch history come alive at Mystic Seaport, CT. Learn about New England's way of life in the 19th century and discover fascinating secrets and skills you've only read about in books. Interpreters and roleplayers welcome you and direct you in your journey through time as you get to know traditional crafts and methods at the Blacksmith's Corner, the carving shop or the printing office. Head over to the dock and watch a costumed squad set sail on ships and roar the boats. Theatrical performances are also given to the public throughout the day and are a great way of educating visitors as well as entertaining them.
Feet on the Ground and Head in the Stars at the Planetarium
Lift your head and get lost in the night sky at the Mystic Planetarium. This fascinating and breathtaking 35-minute tour teaches you how mariners would rely on the stars to help them navigate and how modern techniques were developed. Discover all sorts of nautical instruments in the lobby exhibit and learn how to use a sextant! This is a great activity for all ages, and a sky guide is available for little ones to help them identify different planets and constellations at home.
Sail Away on the Water
Explore Mystic Seaport from a boat! Experience the power of the wind and waves and get closer to the history as you sail these historic waters. You can board the Sabino for a lovely steamboat ride up and down the Mystic River. Built in 1908, it's a wonderful time traveling experience that the entire family can enjoy.
Another great way of exploring Mystic from the Seaport is to go on a cruise! Leave the shore and hop on one of these Mystic Cruises for an authentic adventure.
Get Close to Nature in Mystic Seaport Gardens
Mystic Seaport, CT is surrounded by 19 acres of beautiful, lush gardens. The Buckingham-Hall House Gardens is one of two historical gardens displaying authentic 18th-century front house settings, with herbs like sage and rosemary as well as vegetables like rutabaga and carrots. Observe beautiful species of birds and butterflies at the Mallory Gardens or take your little ones to the Children's Zoo Garden where each plant has an animal or insect related name! Discover dogwood, elephant ears, snail flowers, and even turtlehead!
Have a Delightful Stay at Stonecroft Country Inn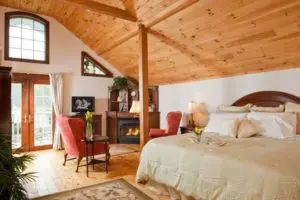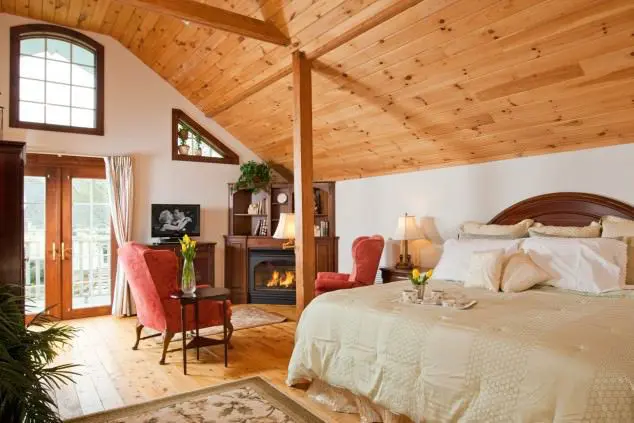 After spending the day at Mystic Seaport, CT, come back to a cozy New England room at Stonecroft Inn. Book the elegant Sarah Master Suite and enjoy a spacious king bed as well as a private bath and Jacuzzi tub. Wrap up in a soft Turkish towel and relax by the fireplace with a delicious glass of champagne and chocolate covered strawberries. Wake up feeling refreshed as ever and start the day with our homemade breakfast, including fresh fruit parfait and fluffy blueberry pancakes.
Book your stay today and have the most relaxing vacation at Stonecroft Inn!