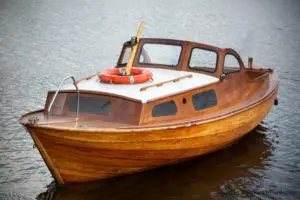 With its prime location right on the water, the town of Mystic, Connecticut has a rich, maritime history.  These close ties to seafaring are celebrated in many ways, one of which is the annual Wooden Boat Show in Mystic, CT.  A weekend filled with skilled craftsmen and impressive exhibitors, this is an event you don't want to miss during your New England vacation!  Discover everything there is to know about the 2016 Wooden Boat Show this year and start making plans to attend!
All about the Wooden Boat Show in Mystic, CT
When and Where
This year's 25th Annual Wooden Boat Show in Mystic will take place June 24-26, 2016, at the famous Mystic Seaport in Mystic, Connecticut.  Tickets can be purchased at the gate or online in advance.  
Wooden Boat Show 2016 Events and Activities
There are a myriad of different activities and things to do for participants of all ages at the Wooden Boat Show, most of which are very interactive and hands-on.  The Family BoatBuilding is a beloved event that takes place every year; for this particular activity, those interested in taking part must pre-order a boat kit from one of the participating producers, Gentry Custom Boats or B&B Yacht Designs.  Then you can assemble your boat kit with the assistance of the professional kit producers.  By the end of the weekend, you'll be driving home with a new boat strapped atop your car!  This weekend will also contain numerous demonstrations related to the art of boating, such as plywood boat repair, handling big timber, using large shipyard tools, and reefing and re-caulking.  Expert boat builders will be displaying their latest masterpieces in the surrounding water, so make sure you see everything you can!  
About the Mystic Seaport in Mystic, CT
The nation's leading maritime museum, Mystic Seaport draws countless visitors with their incredible exhibits, antique artifacts, and one-of-a-kind events.  Here, you can explore historic vessels, stroll through picturesque gardens, and even learn how to steer a boat!  You can also visit a 19th-century village, learn about the history of whaling, or observe distant objects at their planetarium.  This is a can't-miss spot in Connecticut, so make sure to stop by during your travels throughout New England. 
Come Stay with Us at the Stonecroft Country Inn!
Complete your New England getaway by staying in the finest accommodations possible!  Stonecroft Country Inn is a cozy bed and breakfast in Mystic, that contains beautiful rooms, each fully equipped with all the amenities you need for a weekend of rest and relaxation.  Explore the many attractions of our surrounding area, or simply unwind in the peaceful environment our property provides.  Our lovely haven in Connecticut is guaranteed to provide you with all the comfort and luxury you could ever need, so what are you waiting for?  Check our availability online right now so you can start planning the trip of a lifetime!
To learn more about the many things to do in Mystic, CT, download our free Vacation Guide today!
Photo by Baltskars / Thinkstock