The history of brewing beer in New England is fascinating, and it's been through peaks and valleys. Brewing ales date back to the Colonial days in New England when the beverage was often imbibed in place of water. The tavern was a gathering space for generals, government officials, and militiamen to talk politics and laws. Today, these breweries in Connecticut are creating craft ales with precision and skill, bringing the beer scene into the present day.
Due to Prohibition, the number of breweries in Connecticut declined drastically, but thanks to the homebrewing surge of the 1980s, there are now more than 120 breweries in our great seafaring state. Lucky for us, many of these fantastic breweries in Connecticut are near Mystic and not more than 20 minutes from our Bed and Breakfast. One could easily explore a few of these places in one day to get a full taste of New England craft ales.
Before planning your beer tasting adventure in Mystic, you'll want to get your lodging on the books, and our Mystic Bed and Breakfast is the ideal place to stay. Our Inn comprises two structures: the historic 1807 House and the modern Yellow Barn building. Both lodging options offer their own appeal and charm, and all guests are treated to our warm and welcoming hospitality that you won't find just anywhere in New England. We can't wait to host you at our Mystic Bed and Breakfast; book your next stay today!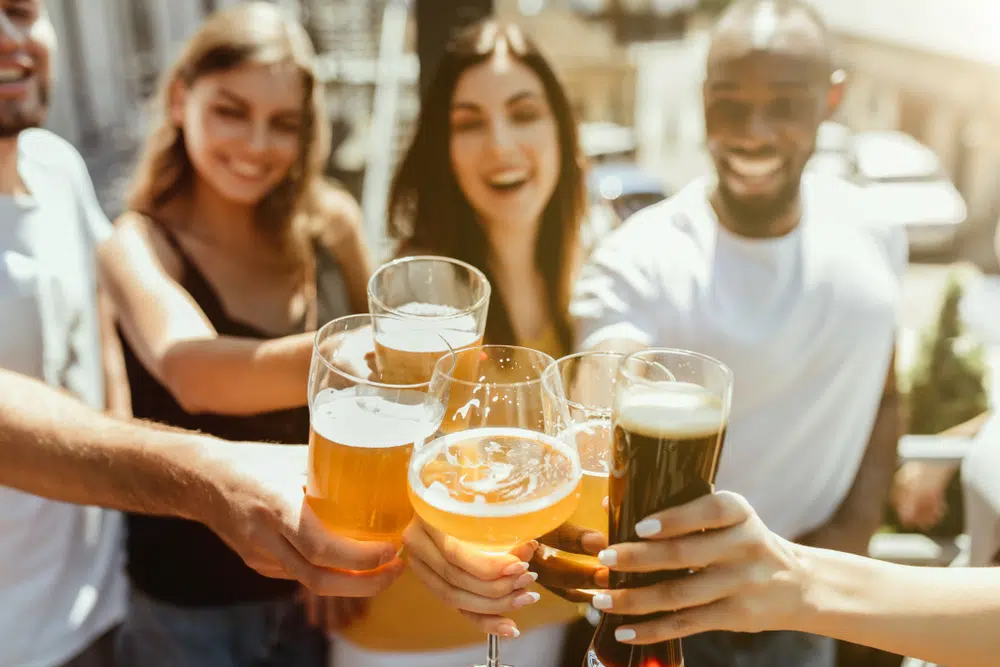 The Best Breweries in Connecticut for a Pint in the Sun
These breweries in Connecticut are serving up tasty brews and fun bar snacks (or allow outside food brought in) to be enjoyed in these laid-back casual brewpubs. Below are our favorite places to grab a beer in Mystic or just outside the city limits.
Here are six breweries in Connecticut for a fantastic pint:
Outer Light Brewing Company: You'll find indoor and outdoor seating at this industrial-style brewery with lofty ceilings, rustic wood, and corrugated metal siding. Grab a spot on the patio for one of their classic IPAs or creative seasonal beers.
Bank and Bridge Brewing: This is one of the breweries in Connecticut with a great back story. Located in a remodeled bank building, much of the architectural touches are still and place, and it's a very cool place to grab a pint. Head here for happy hour (drink and food specials) Monday to Thursday from 3 pm-6 pm.
Barley Head Brewing: Located in the heart of downtown Mystic, this nano-brewery and bar is known for its small-batch beers that change frequently. Outside take-out food from nearby Mystic restaurants is encouraged, but don't miss their hot soft pretzel served with mustard, which pairs perfectly with one of their hoppy brews.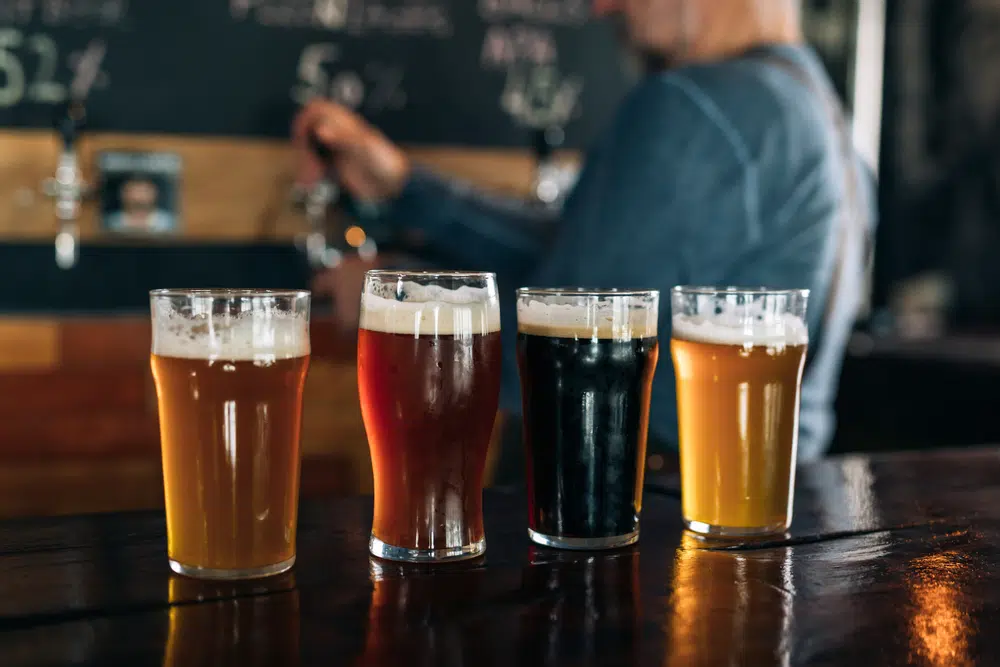 Tox Brewing: The tag line for this brewery in New London is "Delicately crafted. Dangerously drinkable." Head here for a tasting flight including four 4 oz. pours of their freshly brewed IPAs, fruited sours, and farmhouse-style ales.
Beer'd Brewing Company: Known as one of the most popular breweries in Connecticut, there are two locations near Mystic to visit to try these beers. The Stonington location is known as "the Mill" and has a beer garden and taproom for pints and bites. In Groton, dubbed "the Silo," caters to the 21-and-up-crowd for an excellent bar spot to have a beer.
Shunock River Brewery and Village Cafe: For a locally sourced craft beer and wood-fired pizza, head out to this brewery and cafe in North Stonington. The extensive tap list rotates frequently, but you'll love the diverse selection of freshly brewed IPAs, lagers, Saison, and dark beers.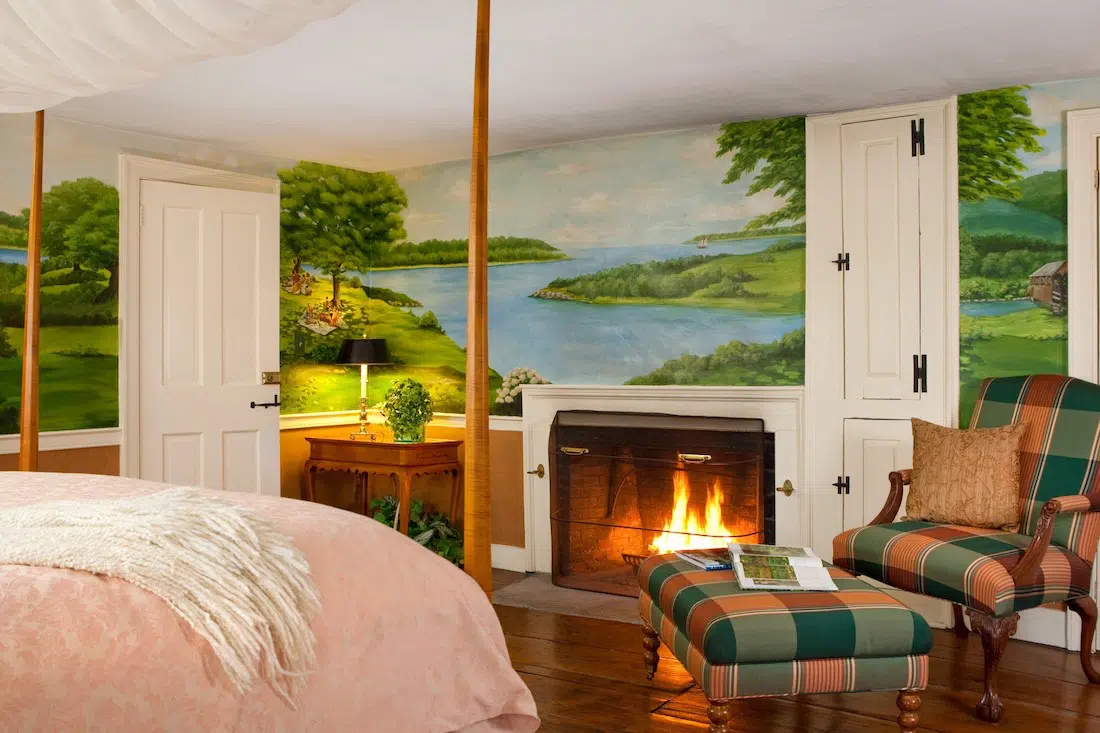 The Best Place to Relax and Refresh
Escape to our most elegant room in the 1807 House when you choose the Stonecroft Room (pictured above) as your haven of peace and quiet. This beautiful space offers privacy and seclusion as you climb the private staircase to the second floor. Let the wrap-around hand-painted mural transport you back to the nineteenth century, creating a treasure hunt of interesting figures painted on the walls.
Relax in this romantic room furnished with beautiful handmade tiger maple reproductions, including a canopied king pencil post bed and a chest-on-frame dresser. The antique appointments only add to the feeling of stepping back into time. A unique feature of the 1807 house is actually the absence of technology for a fully immersive getaway from the modern world. You'll have all the amenities for a luxury stay and be able to unplug from the everyday stresses. Book your next amazing getaway to Connecticut today!