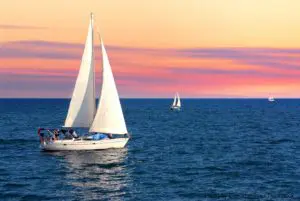 Spending your vacation in the city of Mystic, Connecticut, is always an excellent choice!  There are so many things to do here; from dining at the many amazing restaurants to exploring the local attractions, Mystic offers never-ending opportunities for fun and adventure.  While you're in the area, one activity you need to try taking a retreat to Enders Island, a destination that is truly like no other.  This 11-acre island, located off the coast of Mystic, CT, can be accessed by guests looking for a peaceful getaway to help them refresh, relax, and rejuvenate.  Take a look at what Enders Island has to offer and book your retreat today!
3 Things to Do at Enders Island in Connecticut
1. Enjoy the Incredible Scenery
Enders Island is a bit of paradise.  Once you arrive here, your jaw will drop at the panoramic views of the bright blue waters surrounding you from all sides.  These grounds are gorgeous as well, as they contain some well-maintained gardens filled with colorful, vibrant flowers.  You'll also see the Seaside Chapel, the Catholic Chapel of Our Lady the Assumption, an outdoor Stations of the Cross, and Enders Mansion.  Each of these buildings is beautiful in its own way, so take a stroll to appreciate these numerous, attractive features.  
2. Relax in the Peaceful Atmosphere
The mission of Enders Island is to help people recover and grow through spiritual development, educational programs, and recovery opportunities.  There are numerous activities here that Enders Island provides in efforts to assist their guest in finding peace and fulfillment.  This establishment has three different ministries providing a variety of different programs for their visitors.  Attend Enders Island mass, engage in an art workshop, or attend one of their many events to help you unwind.  
3. Attend Enders Island Special Events
Enders Island offers plenty of events and activities to entertain their guests during their retreats.  These special events include sunset cruises, community picnics, golf tournaments, the Enders Island Fish Fry, and many others.  Take a look at their full schedule of events to get a better idea of the day-to-day life on Enders Island.  
Come Stay with Us at the Stonecroft Country Inn in Mystic, CT!
Don't let your Connecticut experience end too soon!  Enjoy your trip to New England to the fullest by staying in some of the best accommodations around.  Stonecroft Country Inn is a cozy bed and breakfast in Mystic, CT, that contains beautiful rooms, each fully equipped with all the amenities you need for a weekend of rest and relaxation.  Spend time exploring the many local attractions or simply unwind in the peaceful environment our property provides.  Our lovely haven in Connecticut is guaranteed to provide you with all the comfort and luxury you could ever need, so what are you waiting for?  Check our availability online right now so you can start planning the trip of a lifetime!
To learn more about the many things to do in Mystic, CT, download our free Vacation Guide today!
Photo by Elenathewise / Thinkstock