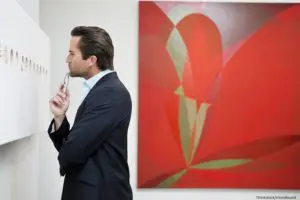 Visiting Connecticut is always a treat, especially for art enthusiasts!  This state is overflowing with incredible art museums and galleries that contain some of the most stunning works of art you've ever seen.  One museum that you need to add to your vacation itinerary is the Mystic Museum of Art.  Learn why this is a must-see attraction and make plans to stop by today!
And for all our favorite Mystic attractions, including the Mystic Museum of Art, download our free Mystic, CT, Vacation Guide!
Everything You Need to Know about the Mystic Museum of Art
History of the Mystic Museum of Art
The origins of this museum can be traced back to the year 1891, when talented artist Charles Harold Davis moved to Mystic after spending several years in France.  Other artists soon moved to this area to learn from him, and, over the years, an artist colony formed.  This group of creative individuals created the Mystic Art Association in the year 1913.  After years of hard work, the Mystic Arts Center (later renamed the Mystic Museum of Art) was founded in 1979. Today, this is an educational, non-profit organization that nurtures art appreciation in the Mystic, CT, community.
Things to Do at the Mystic Museum of Art
This particular gallery is open seven days a week all year long (with the exception of certain holidays) so you can always visit to see these incredible works of art!  The Mystic Museum of Art is located at 9 Water Street in Mystic, CT.  Take a look at all the fun things to do at this beloved local attraction!  
Explore the Numerous Art Exhibits: The permanent collection of the Mystic Museum of Art's Schuster Gallery is comprised of over 250 pieces of artwork.  Take a stroll through these priceless treasures and observe some of the most high-quality creative pieces you've ever seen.  They also display countless rotating exhibits, so there's always something new to see at this art museum in Connecticut.
Attend Fun Events: This museum in Connecticut offers a variety of programs and events to both entertain and educate the local community.  Art after Dark is one of their most popular events, as it involves enjoying live music and delicious food and drinks in a lovely outdoor venue!  Artini Hour is another favorite.  It features an art class that you can take while sipping on specialty cocktails with your friends.  Stay up to date with their events calendar so you don't miss out on the festivities!
Be sure to "Like" the Mystic Museum of Art Facebook page to receive the latest updates on exhibits, events, and much more.
If you want to explore more art in Connecticut, visit the Lyman Allyn Art Museum in New London as well!
Where to Stay while You're in Town Visiting the Mystic Museum of Art
Complete your adventure in Connecticut by staying in the best possible accommodations!  Stonecroft Country Inn is a cozy bed and breakfast in Mystic, CT, that contains beautiful rooms, each fully equipped with all the amenities you need for a weekend of rest and relaxation.  Spend time exploring the many local art museums or simply unwind in the peaceful environment our property provides.  Our lovely haven in Connecticut is guaranteed to provide you with all the comfort and luxury you could ever need, so what are you waiting for?  Check our availability online right now so you can start planning the trip of a lifetime!
To learn more about the many things to do in Mystic, CT, download our free Vacation Guide today!
Photo by moodboard / Thinkstock