Our charming maritime town comes alive during the holidays, and there are so many festive things to do in downtown Mystic to celebrate! From fantastic holiday shopping ideas and the Festival of Lights to bright boat parade displays and a visit from Santa himself, there's no shortage of events to fill your winter getaway itinerary. 
One of the must-dos is the Festival of Lights in Old Mistick Village; the main event is held on December 8th, 2023, where the walkways are brilliantly lit by thousands of luminaries with food vendors, complimentary treats, and live entertainment. However, the light display remains for the holiday season, so a stroll through this shopping village is beautiful throughout the winter and into the new year. 
One of the best places to stay for your holiday getaway is our Connecticut Bed and Breakfast, located in Ledyard, just about five miles from downtown Mystic. You'll be close enough to everything but set back on our sleepy country road for the most peaceful and romantic retreat. Our historic inn offers ten lodging options, ideal for couples, small groups traveling together, or solo trips. We can't wait to celebrate the holiday season with you; book your room today!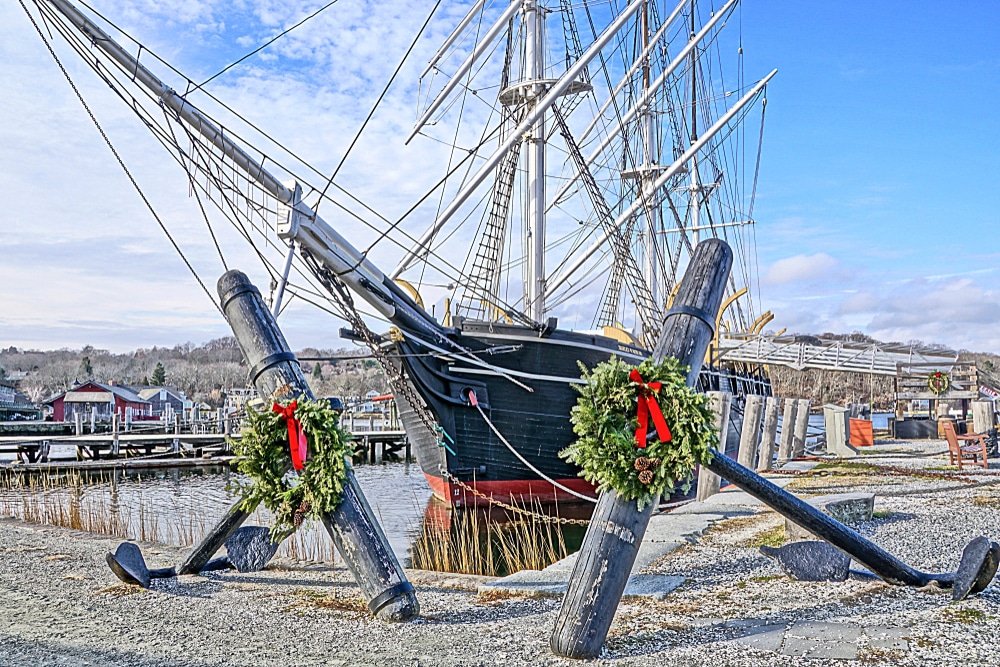 Spend the Holidays in Downtown Mystic
Downtown Mystic, home to the famed Mystic Seaport Museum and Mystic Aquarium, is such a lively destination around the holidays. The tall ship boats are decorated in sparkling lights, wreaths, and garlands pop up on shop doors, and the annual boat parade is a tradition for many residents and visitors. 
Here are our favorite holiday events not to miss in downtown Mystic this year: 
Festival of Lights in Old Mistick Village: A favorite annual holiday event in downtown Mystic, Old Mistick Village comes to life with thousands of luminaries, live music, and the scent of sweet treats on the air. 
Holiday Lighted Boat Parade: Watch as Santa arrives on a tugboat to Mystic with a parade of boats dressed for the season! Spectators line both sides of the Mystic River to watch hundreds of brightly lit boats glide down on the water. The decorated vessels are judged in five categories, 
Lantern Light Tours: The Lantern Light Village is an event not to miss in the month of December in downtown Mystic at the Seaport Museum. It's an outdoor, self-guided experience with festive lighting displays, live music, horse and carriage rides, crackling fires, a visit to St. Nicholas,
Northern Lights at the Mystic Aquarium: This December, Mystic Aquarium illuminates with Northern Lights. Enjoy a mesmerizing journey through a sea of lights along the Aquarium's outdoor pathways.
Holiday Shopping: Downtown Mystic is an excellent place to start crossing people off your holiday shopping list! The large collection of unique boutiques, locally owned galleries, and maritime memorabilia offers visitors a great selection of gift ideas.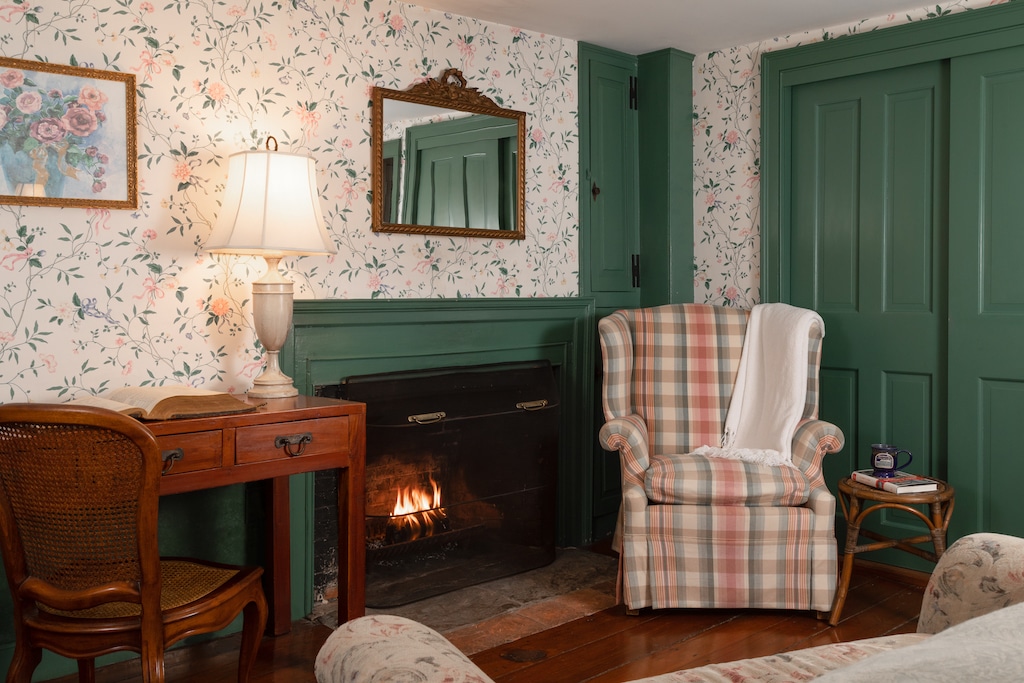 Get Cozy at our Historic Connecticut Bed and Breakfast
Our cozy Connecticut Bed and Breakfast is the best place for a winter getaway! We're just outside of downtown Mystic for quiet evenings on our historic property by the roaring fire, surrounded by our acres of conservancy woodlands. You'll feel nestled in our private wooded oasis with all the amenities and welcoming service needed to unwind and relax. It is even more romantic in the winter when surrounded by a blanket of fresh fallen snow. 
Our ten-room inn offers various lodging options, from historic rooms with antique appointments, wood-burning fireplaces, and special old-world touches to modern farmhouse suites with whirlpool tubs and luxurious amenities. We have hosted return guests who like to try a different room each time they visit to find their favorite. Whichever style room you prefer, you'll still have the most hospitable service, restful nights of sleep, and a complimentary breakfast each morning. 
Our Connecticut Bed and Breakfast is more than just a place to rest at night and keep your things while you explore downtown Mystic. It becomes a substantial part of your getaway, and you'll see from the moment you arrive that you may not want to leave any time soon. We can't wait to welcome you for the holiday season; make your reservations for your winter getaway today!