Finally, we're getting closer to the hiking season! And Bluff Point State Park is a hidden gem tucked between the Poquonnock River and Mumford Cove on the Long Island Sound. Located in the charming small town of Groton, Connecticut, the park encompasses an undeveloped peninsula that has picturesque beach fronts, steep cliffs, lush forests, and tidal wetlands.
Bluff Point State Park is known for its diverse flora and fauna. Birdwatching is a popular pastime here, and the marshlands are an ideal space to see some unusual shore species—more than 200 bird species have been tracked here. You'll also most likely encounter hikers, mountain bikers, and picnickers during your time at the park.
As a guest at our Mystic Bed and Breakfast, you'll only be about a 15-minute scenic drive from all of the outdoor adventures at Bluff Point State Park. It's a fantastic outing to plan earlier in the day after you've fueled up at our complimentary breakfast service at the Inn. You'll wake refreshed and ready to hit the trails when you make Stonecroft Country Inn your base camp.
Head over to our availability calendar and get your room reserved today!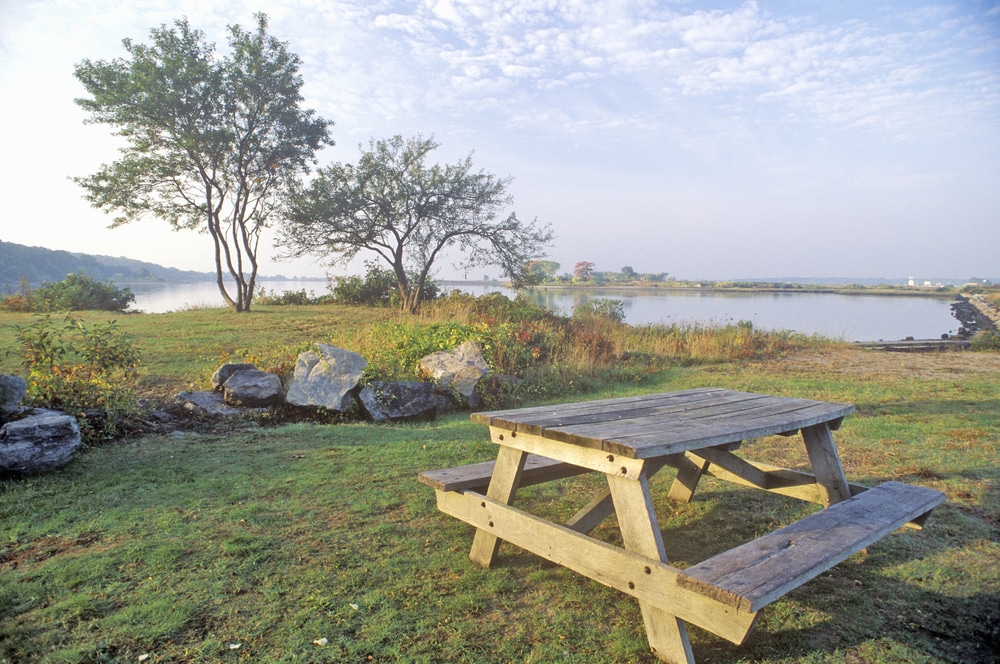 Head to Bluff Point State Park & More Nearby
For our guests that want to experience the beautiful wilderness and beaches of the Long Island Sound, we always suggest an outing to Bluff Point State Park. Plan ahead and pack a picnic, and you'll find a lovely space with a view for a leisurely meal in the fresh air.
There's a three-and-a-half-mile loop through Bluff Point State Park for those looking to do some hiking. You'll find some of the best birdwatching along this maintained gravel trail. This loop is best enjoyed from April until October for the most temperate weather and beautiful views. Pro tip: you might encounter a bit of mud along the way, so come prepared to get dirty!
Before you go, check out the Bluff Point State Park trail map here.
Nearby Spots for More Outdoor Adventures near Mystic:
Fort Griswold Battlefield State Park: This former American defense fortification is set on 17-acres and offers well-maintained walking paths with historical markers. Guests can weave their way through monuments and memorials dotting the sweeping green lawns.
Fort Trumbull State Park: Walk the fort grounds with stunning views of the Thames River, which continues onto the boardwalk and fishing pier. Stop by the visitors center for a quick history lesson and educational look at the surrounding area.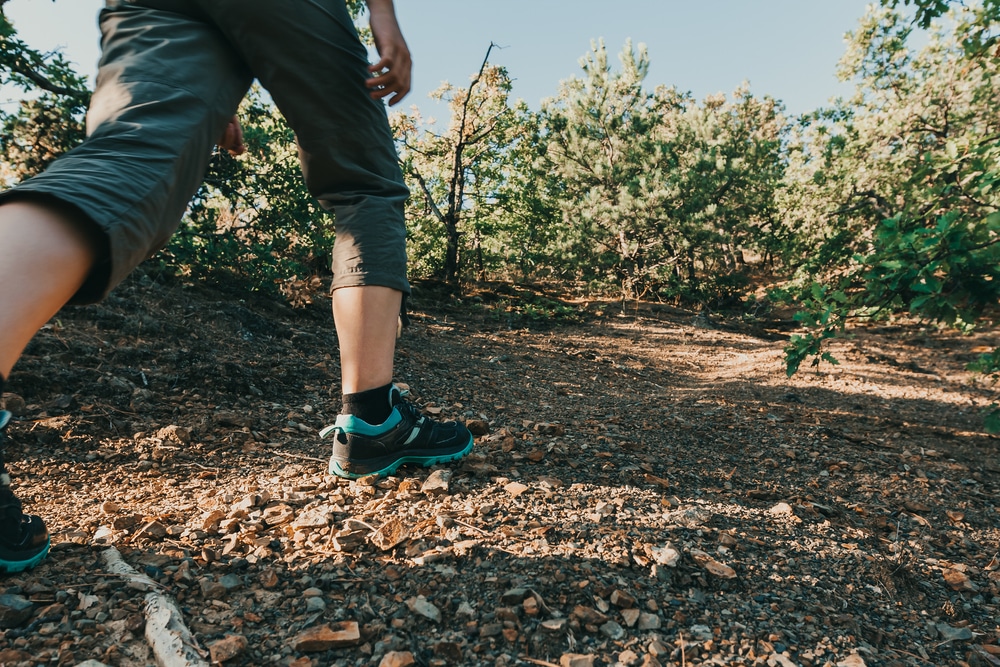 Harkness Memorial State Park: This more than 300-acre nature preserve is home to botanical gardens and the crowning jewel, Eolia, a 42-room Renaissance Revival mansion. The park offers mansion tours, picnicking areas, and beautiful views of the Long Island Sound.
Haley Farm State Park: You'll find trails and a bike path at this Connecticut nature preserved. The area was once dedicated to farmland during the Colonial period; there are even ruins of an old farmhouse and other historical landmarks. This park is also connected to Bluff Point State Park by a town-owned bikeway.
Rocky Neck State Park: This is a great spot for long walks along the sandy shore for those looking for a beachline to explore. There's a diverse trail system with salt-marsh viewing platforms and excellent birdwatching opportunities.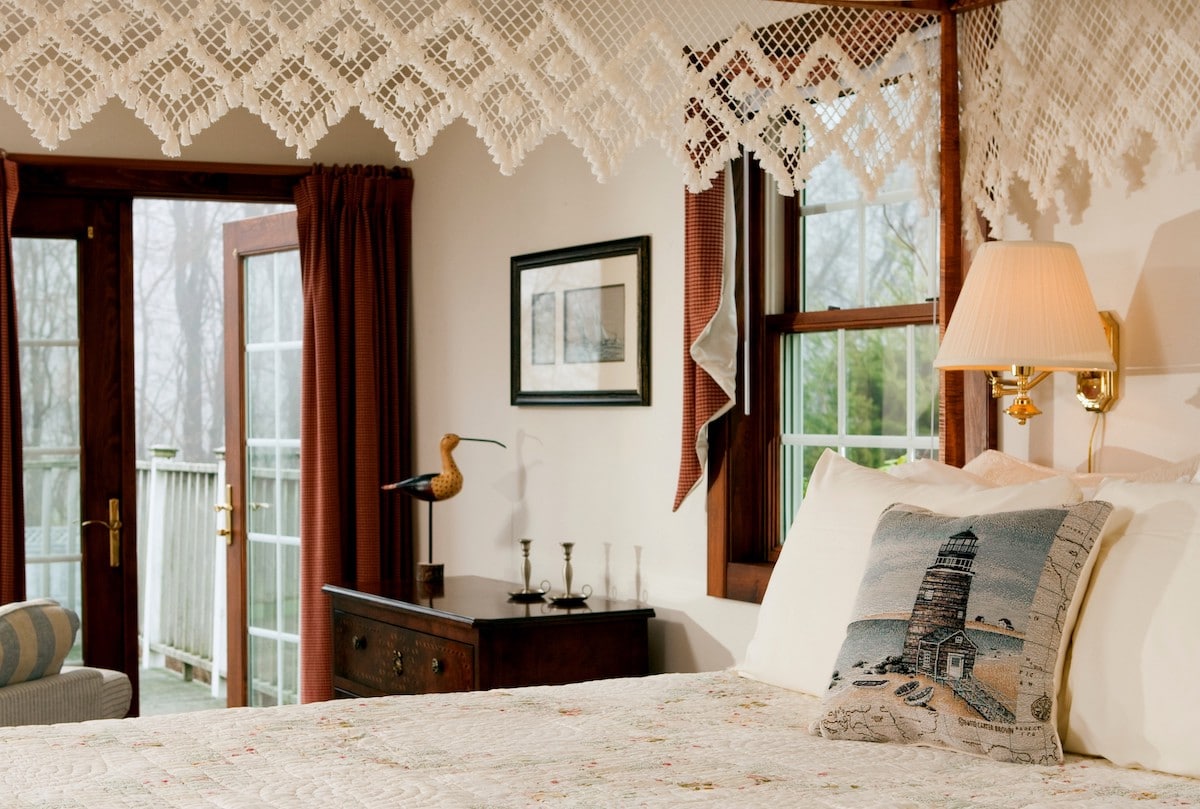 Elegant Lodging in the Connecticut Countryside
A stay in the 1807 House is full of history, and you'll find four of our lavish guest rooms with the past in plain sight with antique and restored details, cozy wood-burning fireplaces, and beautiful wide plank floors. Our amenities are updated and modern, so there will be no compromising comfort, and it's the perfect place to unwind and reset.
Our Yellow Barn houses the other six guest suites of the Inn and is romantic and private. Perhaps your best choice for a memorable intimate getaway is the Shubel Master Suite, with a plush California king, double whirlpool soaking tub in a spacious bathroom, and a private balcony for your morning coffee.
Before you head out on your day exploring the outdoors in Connecticut, let us take care of your first meal of the day. Our homemade French toast and Benedict breakfasts, served in the Yellow Barn dining area or outdoors on the garden terrace, will be a most welcome addition to your stay with us. Start planning your next getaway to the Connecticut countryside and book your room today!