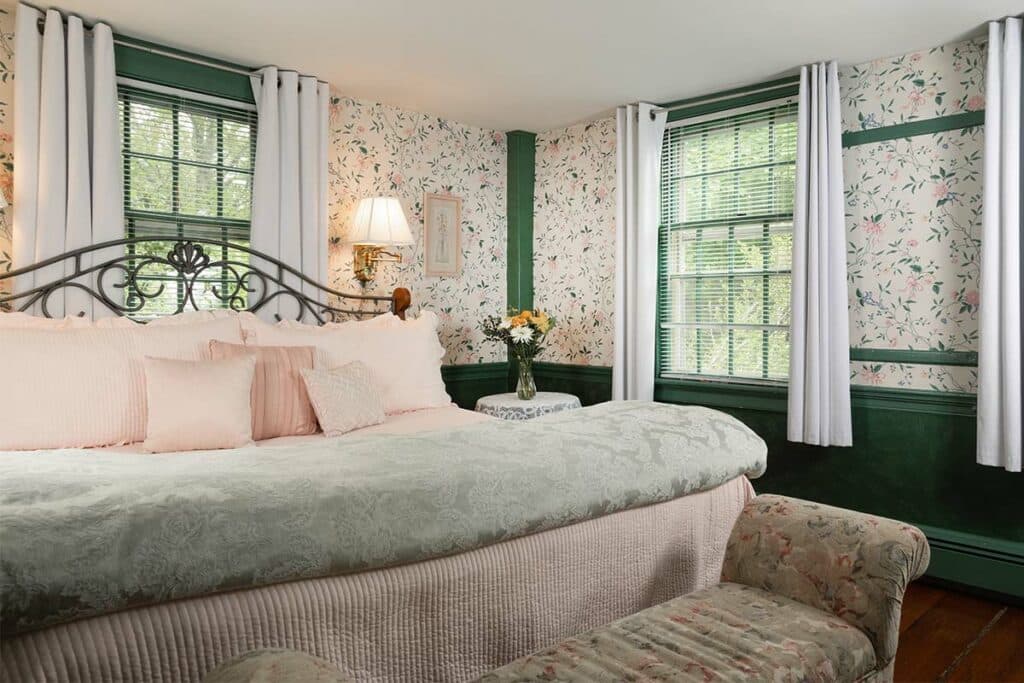 After the mad rush of the holidays, you deserve a getaway to reset and unwind. Thankfully, our Mystic CT Bed and Breakfast is perfect for a restful stay! Located just five miles from the downtown area of Mystic, you'll be close to all of the major attractions. At the same time, set back on our quiet country estate for peace and reflection—many of our guests spend most of their time relaxing and just enjoying their private guest room or the shared spaces at our Inn.
There are two experiences to choose from at the Stonecroft Country Inn. The 1807 House has four shared rooms, six fireplaces, and four exquisite guest rooms (three of which have a wood-burning fireplace) with wide plank floors, original architectural features, and private baths. This historic house is the best choice for those looking to unplug, as we purposefully don't have televisions in the guest rooms—though wifi is available throughout the property.
Our other option at our Mystic CT Bed and Breakfast is the Yellow Barn—an 8,000-square-foot renovated post and beam structure with a granite fieldstone foundation. You'll find shared sitting areas, our dining room for breakfast, and plenty of outdoor spaces to view our gardens, the pond, and the waterfall. The six modern suites are air-conditioned and have gas fireplaces. Enjoy the widescreen televisions, free wifi, and deck access overlooking the gardens.
Whichever selection you choose, our Mystic CT Bed and Breakfast is ideal for romantic getaways and relaxation! Get your reservation on the books today.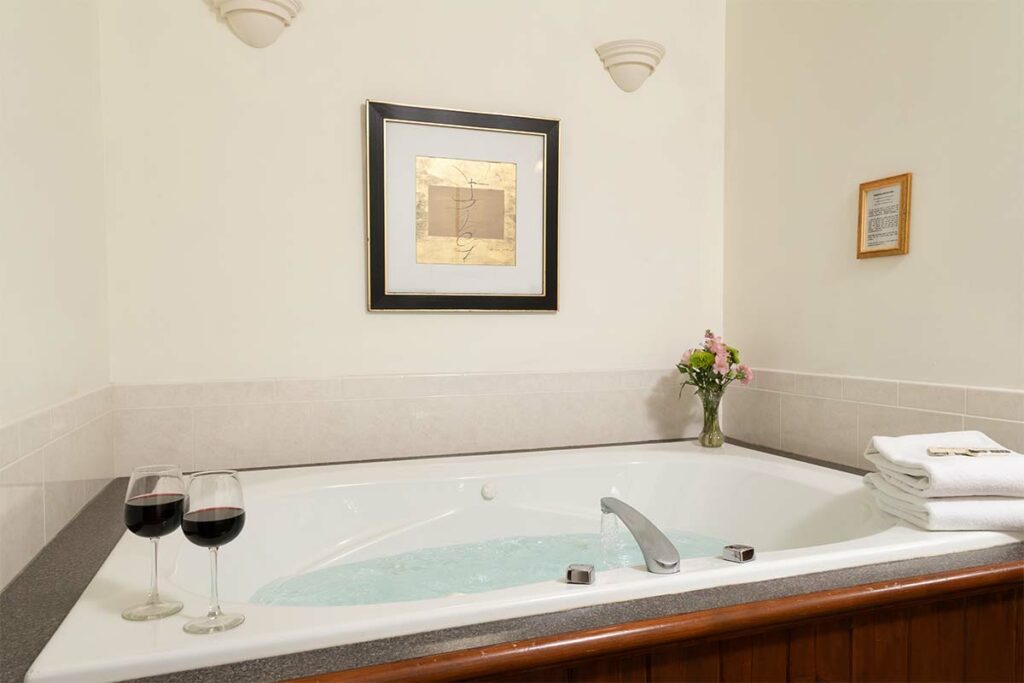 The Best Mystic CT Bed and Breakfast for a Getaway
A stay at our Mystic CT Bed and Breakfast will be quiet, restful, and romantic. You'll love our countryside elegance, hospitable service, and beautiful accommodations. Join us in the New Year and see why our cozy B&B has nearly 550 five-star reviews on TripAdvisor! Here's a glowing response from one of our recent guests:
"This is our first Bed and Breakfast experience, and it was by far more than we expected. The staff was so friendly and helpful. Our room was clean, comfortable, cozy, and charming. Very quiet. The water pressure was awesome! Loved the romantic tub in the room. Wonderfully landscaped grounds. And the food was outstanding!!! We did not want to leave! Thank you, Scott and Jodie, for making us feel welcome and checking on us throughout the stay. Recommend Stonecroft to anyone wanting to get away from the crazy world and just enjoy a peaceful rest." –Les H
Now it's your turn to visit our Mystic CT Bed and Breakfast and unwind after a busy holiday season!
Deluxe En Suite Bathrooms Perfect for Relaxation:
At our Mystic CT Bed and Breakfast, we understand that sometimes the bathroom connected to your suite is just as important to your stay as a big comfortable bed. That's why many of our spacious suites offer a two-person whirlpool tub, separate walk-in shower, and heated towel rack. After a chilly day out exploring the nearby things to do in Mystic, there's nothing better than drawing a bubble bath, opening a bottle of wine, and soaking in the warmth. Afterward, slip into a luxurious robe and curl up in our cozy feathertop beds.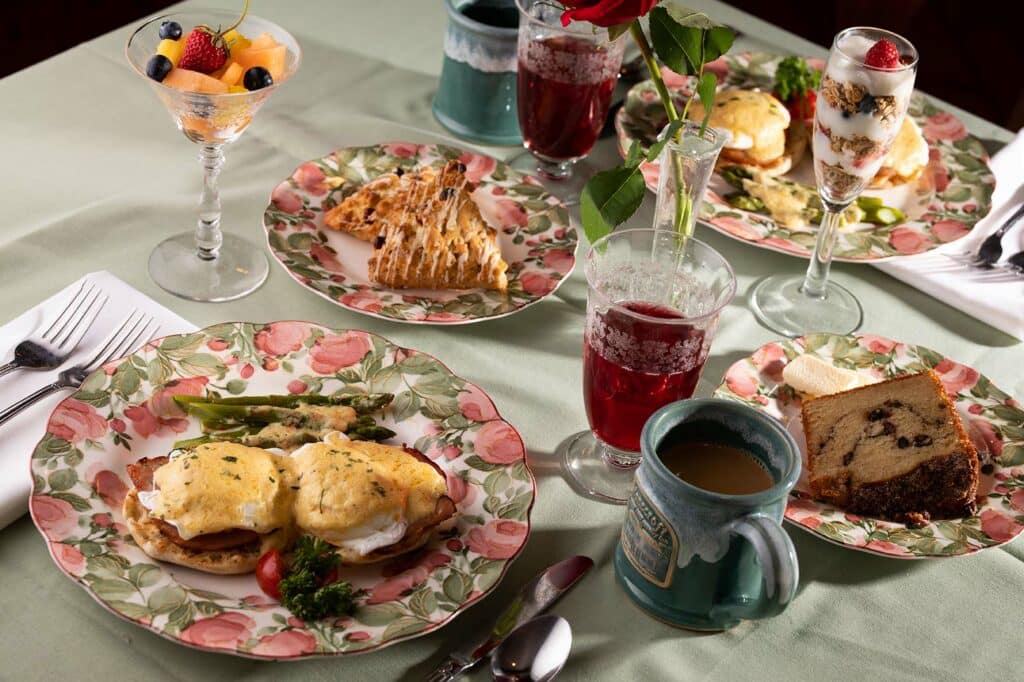 The Best Breakfast in Connecticut During Your Stay
Our morning menu selections feature homemade entrees prepared with seasonal, local ingredients. You'll enjoy such dishes as fresh fruit parfait, perfectly cooked eggs, creative quiche, and fluffy French toast with blueberries freshly picked from our gardens when available. Enjoy light jazz and delicate aromas floating through the air. Find a table near the beautiful fireplace for a warm and cozy space. Our guests always rave about the breakfast service, bringing them back time and again!
We offer private tables in the dining room of the Yellow Barn building between 9-9:30 a.m. on weekdays and 9-10:00 am on weekends. Hours may vary depending on the season. Start planning your next getaway in the new year to reset, and let us take care of all the rest. Book your guest room at our Mystic CT Bed and Breakfast today!