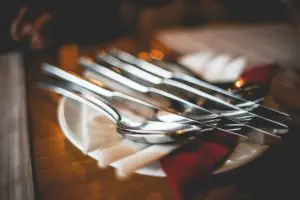 No vacation is complete without fantastic dining!  If you're in Connecticut engaging in some of the many activities this gorgeous state offers- such as hiking through its many pristine parks or browsing its intriguing museums– you might be wondering where the best spot is to get a bite to eat.  There are many amazing restaurants in Mystic, CT, scattered along the many picturesque streets of this waterfront town; from classy to casual, you're bound to find the perfect place.  Browse this list of the top 7 restaurants in Mystic, CT, to help you decide which one you want to try first!
7 of the Best Restaurants in Mystic, CT
Anthony J's Bistro in Mystic, CT
An upscale restaurant located right off the waterfront, Anthony J's Bistro specializes in fresh seafood as well as other unique dishes and famous daily specials.
Oyster Club in Mystic, CT
Proudly serving dishes made from ingredients obtained from local farmers and fishermen, the Oyster Club is a beloved dining hotspot in Connecticut.  After your dinner, step out into the fresh air and enjoy a drink at the Treehouse, the Oyster Club's outdoor deck and bar.  
Bravo Bravo in Mystic, CT
Try amazing pasta, pizzas, sandwiches, and more at Bravo Bravo, a classy joint located conveniently on East Main Street.  Make sure to save room for one of their decadent desserts!
Go Fish Restaurant in Mystic, CT
There are several great restaurants near Mystic Aquarium that are very popular.  If you've spent the day exploring this amazing attraction and you're looking for some great food close by, eat at the Go Fish Restaurant, located in a mall across the street from the aquarium.  This spacious and colorfully decorated spot in the Olde Mistick Village has the freshest fish, as well as sushi.
S&P Oyster Company in Mystic, CT
One of the best kid-friendly restaurants in Mystic, CT, is S&P Oyster Company.  This is a stylish, yet affordable, New England tradition dining destination with an extensive kids menu.  They are located right on the water, providing gorgeous views for you and your family to admire while you eat.  
Engine Room in Mystic, CT
This rustic restaurant offers a more casual environment.  The Engine Room serves classic American dishes, such as mouthwatering burgers and savory sandwiches, as well as a lengthy bar menu of craft beers and other premium drinks.
The Pita Spot in Mystic, CT
For those who have a more exotic palate, try Mystic's favorite Mediterranean grill, the Pita Spot.  This laid-back restaurant makes the best Lebanese food around and now offers wine and beer to accompany their dishes.  
Come Stay with Us at Stonecroft Country Inn!
After experiencing the many attractions and restaurants in Mystic, CT, come to Stonecroft Country Inn for some rest and relaxation!  Our delightful bed and breakfast offers luxurious rooms for a good night's sleep, followed by a fresh, homemade meal first thing in the morning.  Check our availability today to book a vacation you will never forget!
Photo by Foundry / Pixabay