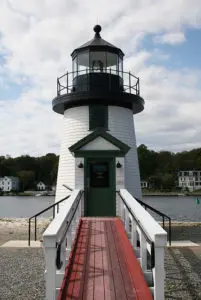 Connecticut is comprised of countless fascinating museums, dedicated to preserving and commemorating the rich historical background of the state.  From huge art museums to maintained ancient homes, the various museums of Connecticut strive to educate the public on all the unique qualities that make this New England state so special.  Browse this list of museums in Connecticut to help plan your visit.
The 10 Most Interesting Museums in Connecticut
Shore Line Trolley Museum
Learn all about trolleys and the role they have played throughout the history of Connecticut at the Shore Line Trolley Museum.  Activities include different-themed trolley rides, such as Santa's Trolley Winter Wonderland to celebrate the Christmas season!
Gillette Castle State Park
One of the most interesting museums in Connecticut, the Gillette Castle State Park includes a historic medieval fortress full of antique artifacts as well as a surrounding park for hiking and picnicking.
Mark Twain House and Museum
If you adore the literature of Mark Twain, you will love exploring his historic home!  The Mark Twain House and Museum is dedicated to commemorating the life of this esteemed writer through various educational exhibits and programs.
Mystic Seaport
Mystic Seaport, one of the most famed museums in Connecticut, is known as the nation's leading maritime museum.  This organization was founded to honor the seafaring past of America through informational programs, intriguing events, and preserved artifacts.
Submarine Force Library and Museum
Learn everything you've ever wanted to know about submarines!  The Submarine Force Library and Museum contains the world's best collection of submarine relics.  Explore the famous Nautilus while viewing thousands of historic exhibits and photographs.
Connecticut River Museum
One of the most significant museums in the state, the Connecticut River Museum has been instrumental in preserving the collections of artifacts related to the Connecticut River region and its inhabitants.  This non-profit organization offers everything from river cruises to boat-building workshops.
Harriet Beecher Stowe Center
Due to the strong impact that this literary heroine's life had on 19th-century Connecticut, the Harriet Beecher Stowe Center was founded to honor her works and the positive influence they had on society.  Attend tours and book clubs at this museum to learn more about the life of Harriet Beecher Stowe.
The Children's Museum of Southeastern Connecticut
Give your kids a day to remember at the Children's Museum of Southeastern Connecticut!  Here they can participate in scavenger hunts, build castles from blocks, or run around in the many playgrounds and activity areas.
New Haven Museum and Historical Society
Travel back in time during your visit to the New Haven Museum and Historical Society.  One of the oldest museums in Connecticut, this institution can be traced back to 1862, the year that its founders decided to organize a society to protect documents and artifacts from the town's colonial beginnings.  Learn about everything from fine art to early technology at this prestigious museum.
Connecticut State Museum of Natural History
Visit one of the most interesting museums in Connecticut!  The Connecticut State Museum of Natural History contains countless collections of natural, anthropological, and archeological artifacts.
Come Stay with Us at Stonecroft Country Inn!
After exploring the many museums in Connecticut, come visit us at Stonecroft Country Inn Bed and Breakfast!  Enjoy some rest and relaxation in our luxurious rooms and savor a hot, homemade breakfast when you rise in the morning.  Check our availability and plan your trip today!
For more about activities and events around Mystic, CT, download our free Vacation Guide!
Photo by heipei / Flickr