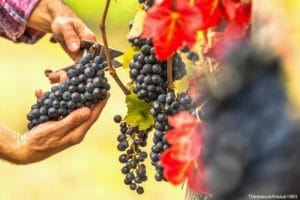 Connecticut is a one-of-a-kind destination; filled with enchanting scenery, romantic dining, and unique attractions, the opportunities for fun are endless here.  A beloved attraction of this area that you don't want to skip during your trip is the Saltwater Farm Vineyard in Stonington, CT.  Located on some of the most lovely and peaceful grounds you've ever encountered, this is a wonderful place to taste wine, go for a walk, or even enjoy some entertainment.  Discover why this is one of the finest Stonington vineyards and start planning your outing today!
3 Reasons Why You Will Love the Saltwater Farm Vineyard
Exquisite Wines
No matter what type of wine you prefer, the Saltwater Farm Vineyard has the perfect blend that is guaranteed to delight your taste buds!  From rich and flavorful to light and crisp, these wines are expertly balanced and aged to create some amazing wines.  Make your way up to their tasting room and enjoy your glass of wine on the balcony as you admire the breathtaking beauty of the grounds spread below you.  
Gorgeous Setting
This incredible Connecticut vineyard is comprised of 108 acres of lush, scenic property, surrounded by the beautiful Long Island Sound and the tidal marshes of the Wequetequock Cove.  The abundant trees and nearby source of water make this area the ideal habitat for numerous species of birds and other wildlife.  This land was discovered back in the 1650s and was converted into flourishing farmland.  In the 1900s, a landing strip and World War II-era airplane hangar were added to this property; today, these grounds have been transformed over the years into the successful winery that it is today.  With a picturesque backdrop of vibrant grapevines and rolling green hills, a Saltwater Farm Vineyard wedding is straight out of a fairytale; it was even recognized by Brides Magazine as one of the 50 most romantic wedding venues in the entire country!
Entertaining Events
In addition to exploring this magnificent area, you can also spend time in the tasting room of the Saltwater Farm Vineyard, relaxing to the soothing sounds of live music!  You can hear a variety of different, talented musicians every Sunday, as well as select weekdays and holidays.  Don't miss your chance to experience an unforgettable evening; check their calendar and follow the Saltwater Farm Vineyard Facebook page to see what events are coming up soon and start making your plans!
Come Stay with Us at Stonecroft Country Inn!
Enjoy your trip to Connecticut to the absolute fullest by staying in the finest accommodations possible!  Stonecroft Country Inn is a luxurious bed and breakfast in Mystic, CT, that provides total comfort and relaxation through our deluxe rooms and friendly service.  You can choose to explore the surrounding attractions of Mystic and Stonington or simply unwind in the cozy environment of our charming inn.  With hearty, homemade breakfasts and a peaceful atmosphere, spending time in Stonecroft Country Inn is truly a treat.  Check our availability online right now to start planning your dream vacation to Connecticut!
To learn more about the many things to do in Mystic, CT, download our free Vacation Guide today!
Photo by fotoluk1983 / Thinkstock