There's nothing more romantic than heading out for a wine tasting in the New England countryside, and when you visit our charming maritime town, you'll find a lovely selection of wineries near Mystic, CT, to explore. In fact, the majority of these vineyards and wineries are a part of the Connecticut Wine Trail—a unique collection of more than 20 Connecticut wineries located in one of the fastest-growing regions in the country. 
One of our favorite wineries near Mystic, CT, is Stonington Vineyards, best known for its barrel-fermented Chardonnay and proprietory blends Seaport White and Triad Rose. The tasting room at Stonington Vineyards is a cozy and charming space, perfect for wine tasting any time of year! Extra bonus: when you choose our bed and breakfast in Mystic for your lodging, we offer a fantastic add-on package that includes wine tasting at Stonington Vineyards—the perfect addition to any romantic getaway in Connecticut.
Stonecroft Country Inn, one of the highest-rated bed and breakfasts in Mystic, is one of the best places to reconnect and take a break with your sweetheart. Our ten guest rooms offer the perfect reprieve from the hustle and bustle of everyday life. Our picturesque six-acre property, nestled in the gorgeous New England countryside, is in the ideal location for quiet getaways where the focus can be on each other. Better yet, we'll take care of your breakfast, one less thing to have to plan for during your stay. Start planning and book your stay today! 
The Best Wineries Near Mystic, CT, for Tastings
Heading out to explore the Connecticut Wine Trail and the best wineries near Mystic, CT, is such a memorable journey to experience with your partner or close friends. There are a handful of wineries near Mystic on this trail, and they all sit no more than 30 minutes from the downtown area.
Here are six wineries near Mystic to add to your itinerary: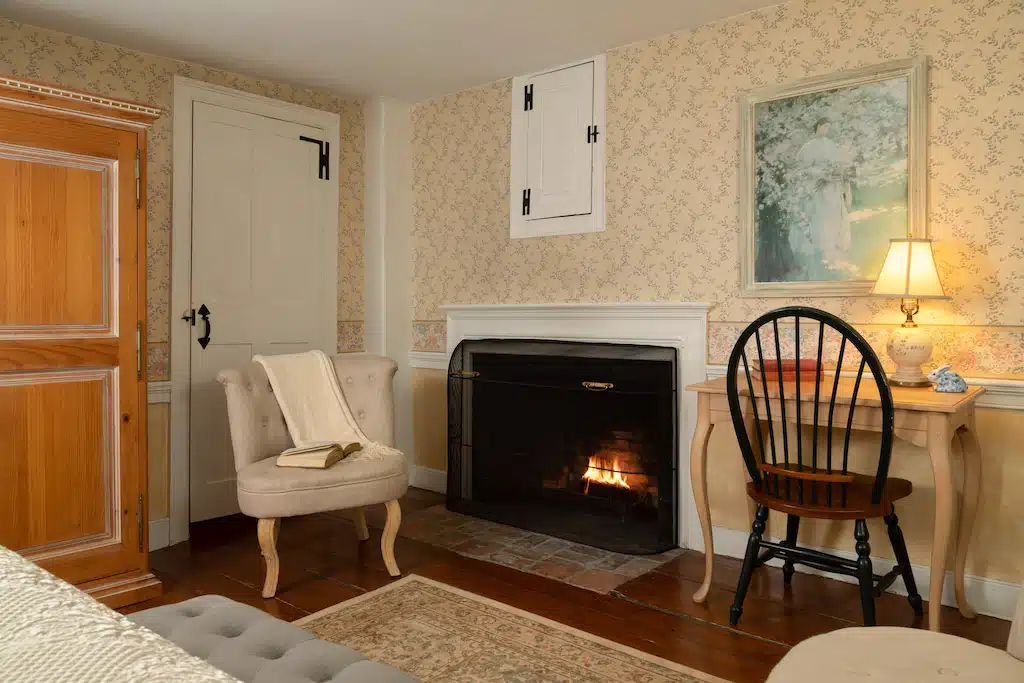 Find Romance at our Bed and Breakfast in Mystic
After spending the day hopping from winery to winery, come home and rest in a comfortable room at our lovely bed and breakfast in Mystic, CT. Our stunning accommodations are the perfect love nest for you and your significant other. Relax in an authentic New England setting, and let us take care of you! Our guests often comment that they can feel the stress lift from the moment they arrive at our garden property. 
We offer two styles of lodging at our bed and breakfast in Mystic—classic guest rooms steeped in history in our 1807 House and modern designed suites in our converted Yellow Barn building. Either choice gives our guests the complete luxury treatment. The room pictured above, The Westcroft Room, has that historical charm with original wide plank floors, antique furnishings, and a cozy fireplace. This is one of our most romantic rooms for reconnecting and spending time with your partner—especially after a day tasting at the wineries near Mystic! 
Each morning, we love to pamper our guests with a gourmet multi-coursed breakfast—always homemade with care and tried and true recipes to start your day off right! Enjoy sipping your freshly brewed coffee in our elegant dining room or veranda to calming jazz and the burbling fountain. We can't wait to host you at our bed and breakfast in Mystic; reserve your lodging today!