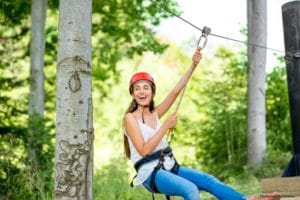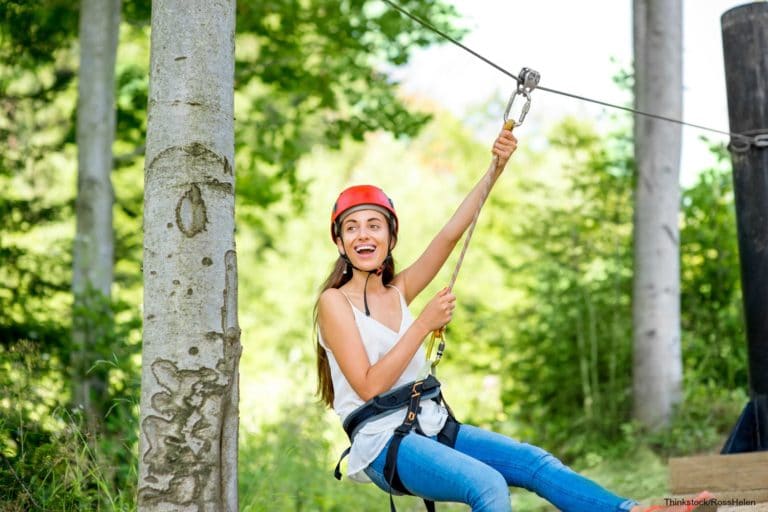 Endless opportunities for fun and entertainment are waiting for you in the waterfront town of Mystic, Connecticut!  This area is overflowing with incredible activities and attractions, such as the Fields of Fire Adventure Park in Mystic, CT.  Filled with heart-racing thrills and clever obstacles, this is one place in New England that you absolutely must visit for an unforgettable afternoon in the great outdoors.  Learn everything there is to know about this one-of-a-kind spot in Connecticut and purchase your tickets today!
Amazing Things to Do in the Fields of Fire Adventure Park
Brave the Ropes Course
Test your courage by taking on the challenge of the towering Fields of Fire Aerial Park!  Featuring daunting obstacles, elevated trails, and thrilling ziplines, this is truly a ropes course like no other.  The aerial park also contains numerous trails of varying levels of difficulty, so adventurers of all ages and skill levels can enjoy this attraction.  They also offer special night climbs on Friday and Saturday nights, during which you can climb under the stars, then relax by the fire pit afterward!  Show off your athletic prowess as you try your best to conquer these intimidating challenges!  You can reserve the dates you want to climb online.  Passes give you three hours of climbing with training.  
Practice Your Aim
The Fields of Fire in Mystic, CT, contains a vast amount of space, creating the perfect setting for an intense game of paintball!  This huge area can accommodate groups of up to 70 people, and the friendly staff will have you set with all the equipment you need in no time.  This is a great option for team building events, bachelor parties, and much more!  Airsoft is also available as well.
Explore the Surrounding Attractions
Don't let your incredible day in the great outdoors of Connecticut end at the Fields of Fire Adventure Park!  There are numerous other places nearby to enjoy some outdoor recreation.  Several scenic parks surround Mystic, CT, that are bursting with breathtaking views and amazing trails for hiking and biking.  End your exciting day in Connecticut by having dinner at one of the incredible Mystic, CT, restaurants!  Whether you want to eat by the water or inside an elegant dining room, Mystic has the perfect spot for you.  
Come Stay with Us at Stonecroft Country Inn!
Take some time to rest and relax after your exciting day at the Fields of Fire Adventure in Mystic, CT!  You can make the most of your adventure in the great outdoors of Connecticut by staying in the best accommodations possible.  Stonecroft Country Inn is a luxurious bed and breakfast in Mystic, CT, that provides total comfort and relaxation through our deluxe rooms and friendly service.  You can choose to explore the surrounding attractions of Mystic or simply unwind in the cozy environment of our charming inn.  Check our availability online right now to start planning your dream vacation to Connecticut!
To learn more about the many things to do in Mystic, CT, download our free Vacation Guide today!
Photo by RossHelen / Thinkstock