Just under 30 minutes from the Stonecroft Country Inn is one of the most beautiful beaches in Rhode Island, the Misquamicut State Beach. Mostly due to the half-mile of sandy beach front, perfect for spending an entire day in the sun, swimming, picnicking, and relaxing to the sound of the waves. Misquamicut State Park is Rhode Island's most popular beach and has modern facility with showers, gazebos, and concessions stand.
The Misquamicut State Beach was recognized as a public area in 1959. Before that, the land was mixed private use as early as 1900. The town of Westerly RI (where the Misquamicut State Beach is located) has a long history, founded by English colonists in 1661. The charming small town is a lovely spot for shopping, dining, and sightseeing as well. You could spend an entire day here, splitting your time at the Misquamicut State Beach and exploring the historical downtown area.
One of the biggest draws to our Connecticut Bed and Breakfast is our location. Not only are you just five minutes from downtown Mystic, but you're less that 30 minutes from outdoor adventures in Rhode Island and other amazing areas of New England. Our Mystic Inn is the ultimate retreat in the countryside, but still close enough to the activities that really make a vacation special. Join us in the beauty of Connecticut and book your room today!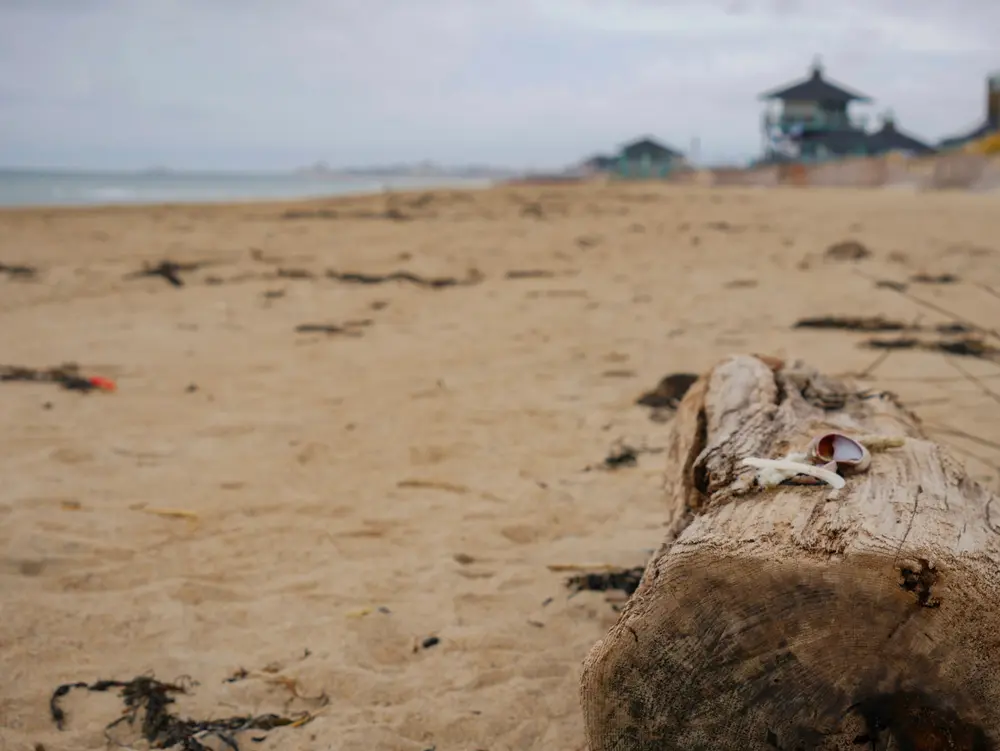 Spend a Lovely Day in the Sun at Misquamicut State Beach
After enjoying a full breakfast spread at our Mystic Bed and Breakfast, head out refreshed and ready to hit the water at Misquamicut State Beach. It's a very popular destination in the summertime, so it's best practice to get going early to secure your ideal spot on the sand.
Here are a few things to know about Misquamicut State Beach before you go:
The Misquamicut State Beach covers 51 acres and offers a half-mile of sandy beachfront on the Atlantic Ocean. The land is actually part of a larger 3-mile barrier island which separates Winnapaug Pond, a 2.5-mile saltwater lagoon, from the ocean.
At the beach facilities, you'll find restrooms, showers, shady gazebos, and a gift/food concessions area. There's ample parking space and electric vehicle charging stations available for 4-hour windows.
Salty's Burger & Seafood runs the concessions stand here. All burger shacks are not created equal, but at Salty's you'll find Angus beef patties with all the fixings, fresh seafood, and lighter fare for the perfect beachside lunch. You can also grab some Rhode Island swag, including T-shirts, hats, and other souvenirs.
As Misquamicut State Beach is the most popular and busiest beach in the state of Rhode Island, it's smart to plan ahead, arrive early, check the status of the parking lots, and have your daily flex pass ready.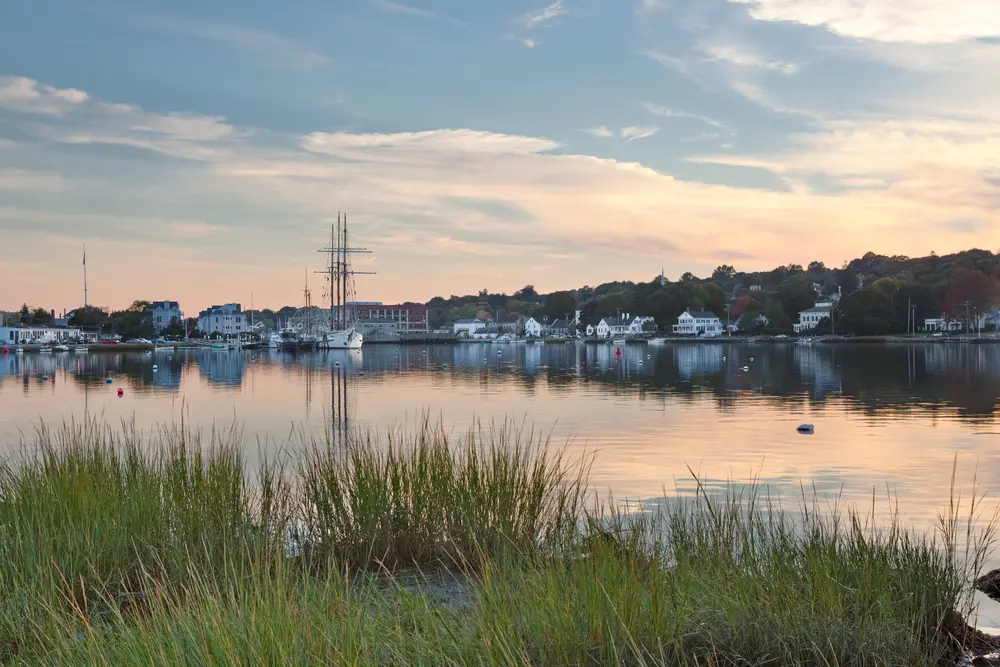 Visit These Other Beaches Near Mystic CT:
If spending a day at Misquamicut State Beach didn't fulfill your quota of New England ocean time, there are more beaches to explore near our Mystic Bed and Breakfast. Check out these spots near Mystic CT for fresh air and waves:
Williams Beach Park: Just 15 minutes from our Mystic Bed and Breakfast, Williams beach is the only public beach in Mystic. The sandy shores and calm waters of the Long Island Sound make for a great spot to relax in the sun or lay out a picnic.
Esker Point Beach: Only a few miles over the Mystic city lines lies this quiet beach on Esker Bay. Though on Thursday nights in the summertime, quiet might not be a word that comes to mind, as they have an annual Summer Soundwaves Beach Concert Series, which is definitely worth a listen.
Dubois Beach: On the tip of Stonington Point, this local suburb beach offers stunning views of the Stonington Harbor Lighthouse, Fisher's Island Sound, and Little Narragansett Bay. You'll be right by Stonington's downtown Water Street to visit local shops and restaurants as well.
Bluff Point State Park: Only 10 minutes from Mystic in Groton CT, you'll find this state park for hiking trails and wildlife viewing along this forested peninsula. This area offers beautiful vistas from the bluff and a rocky shore peppered with shells for a natural treasure hunt.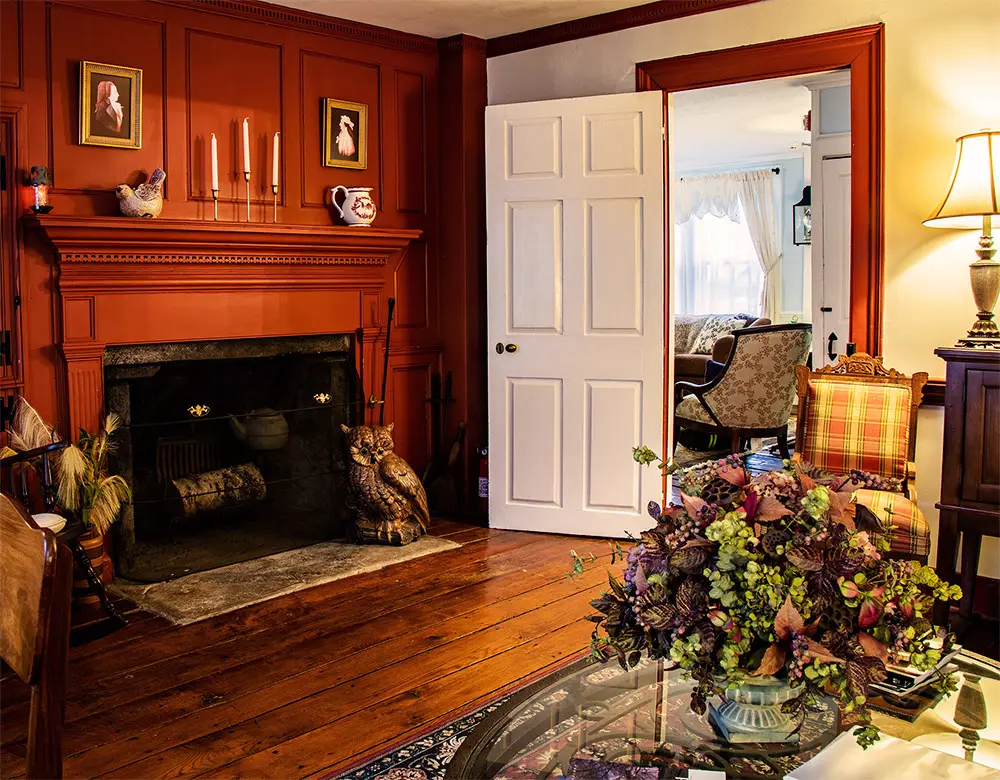 Cozy up at Our Historic B&B After a Long Day at the Beach
After lounging all day at Misquamicut State Beach or exploring the other beach areas near Mystic CT, head on back to our Connecticut Bed and Breakfast for a splendid and relaxing stay. Our property is as tranquil as the come, set back in the New England countryside surrounded by three hundred acres of Conservancy woodlands. Our quiet six-acres lined with ancient stone walls is the ultimate escape from the hustle and bustle of everyday life.
You'll have your choice of historical elegance in our 1807 house, which offers four guest rooms with wood burning fireplaces and original antique features. Or for a more modern stay, you'll find our completely renovated Yellow Barn building, which houses six spacious suites, all tailored with romantic getaways in mind. All rooms have access to our beautifully appointed common areas and lush outdoor space. Start planning your next beach vacation and book your room at our Mystic Bed and Breakfast today!