The Mystic Seaport Museum has been a presence in the downtown area since the late 1920s, and it's a favorite destination of visitors and locals alike on the Mystic River. It's set on 19 acres along the waterfront and marina with more than 60 historic and meticulously restored buildings and four sailing vessels, all registered as national historical landmarks by the United States Government. One of the most remarkable areas in the Mystic Seaport Museum is the recreation of an ancient seafaring village where shipbuilders and craftspeople are busy at work. 
It doesn't take long to see why the Mystic Seaport Museum holds the number one spot on TripAdvisor of the best things to do in Mystic, CT. You'll tour the working preservation shipyard, peruse galleries with interactive exhibits, step aboard numerous historic ships, and even head out on the water if you so choose. There are even some fantastic dining options on-site for the perfect midday break; you'll find casual fare at Schaefer's Spouter Tavern or the newly updated Greenmans' Landing for New England favorites like clam chowder, fish and chips, and crab cakes. 
Before you reserve your tickets to the Mystic Seaport Museum, you'll want to secure your lodging, and our Bed and Breakfast in Mystic, CT, is one of the best places to stay! We always encourage our guests to take a leisurely visit to the museum and enjoy an early dinner in Mystic before heading back to the Inn for a cozy night in. We even offer a fantastic package for those interested in our area's maritime history, including tickets to the Mystic Seaport Museum with a two-night weekday stay; find more details here. Start planning your next couple's getaway, and book your room today!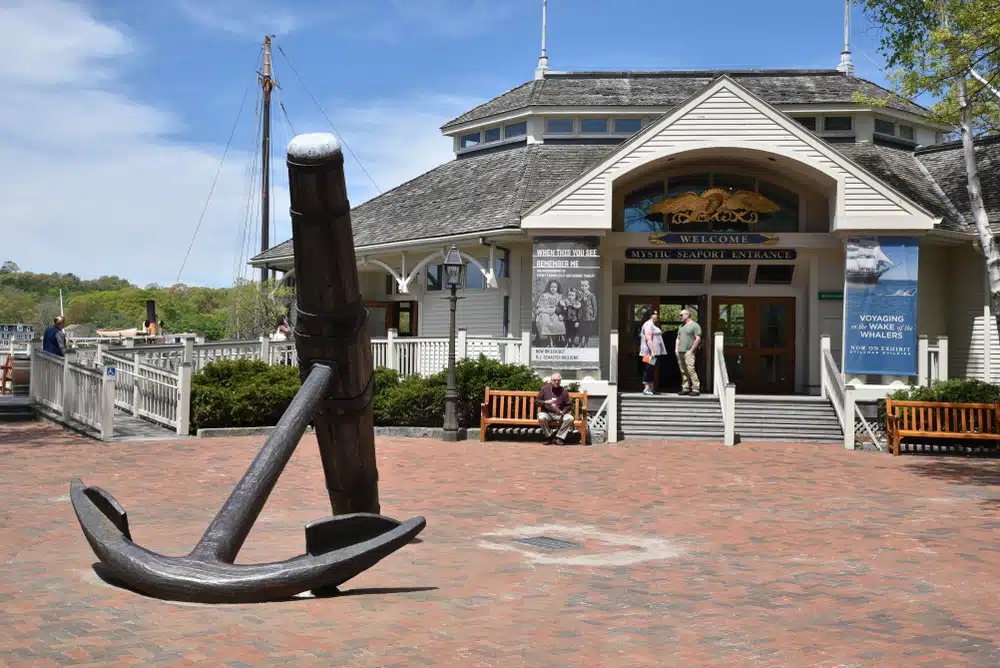 10 Reasons to Visit the Mystic Seaport Museum This Year
Even if museums aren't usually on your list of things to do, you should consider visiting the Mystic Seaport Museum—it might surprise you! As far as museums go, this one is incredible, and it's about so much more than the old boats in the marina. It's an in-depth look on how the maritime industry has played an integral part in our survival and day-to-day lives. 
No visit is complete without hopping aboard the Charles W. Morgan, the last wooden whaleship left in the world. You'll also witness the most extensive watercraft collection in the United States, including four National Historic Landmark vessels: the Morgan,  Dunton,  Sabino, and Emma C. Berry.
Take your time exploring the exciting exhibits at the Mystic Seaport Museum; some rotate seasonally but expect to learn more about lighthouses, small crafts, whaling vessels, maritime navigation, and so much more. This May, a major exhibition is premiering at the Mystic Seaport Museum Oceanus by Alexis Rockman, that's bound to be fascinating. 
Don't miss the figureheads and ship carving exhibit. While you'll get to view some fantastic folk art of the sea, the figurehead and ship carving display is awe-inspiring. There's so much folklore surrounding these hand-crafted sculptures that led these ancient ships out to sea.
"The Grand Panorama" is a detailed illustration of a history of a whaling voyage in the 1800s. Stop by this panorama that stretches 30 feet long as a narrator tells the tale of this incredible seafaring adventure story. 
Be sure to explore the Seaport Village, a re-creation of a 19th-century maritime village. The old buildings were all built in the 1800s and transported to the Mystic Seaport Museum from nearby areas in New England. You'll find various tradespeople exhibiting their skills and showing off their craft.
The Mystic Seaport Museum is so much more than a museum; it's also a working shipyard. They offer adult classes in wooden shipbuilding, woodworking, and open hearth cooking if you're inclined to get involved.
While you're in Mystic, take the time to visit the Planetarium at the Mystic Seaport Museum. The stars were used in ancient maritime navigation, and you'll notice that our night skies naturally shine just a bit brighter than the nearby major metropolitan areas.
One of the best things to do in Mystic is exploring the area by boat! You can rent a sailboat or rowboat at the Mystic Marina or sit back and enjoy the ride on the historic steamboat at the Mystic Seaport Museum.
Plan a stop for lunch or an early dinner at the on-site restaurants and cafes. You'll find classic and casual cuisine with lots of fresh seafood options.
If you're a fan of the old maritime treasure hunters of the seas, Pirate Days has returned to the museum this month. Part scavenger hunt, part performance art, you can meet the pirates, hunt for treasure, and get in touch with your inner child.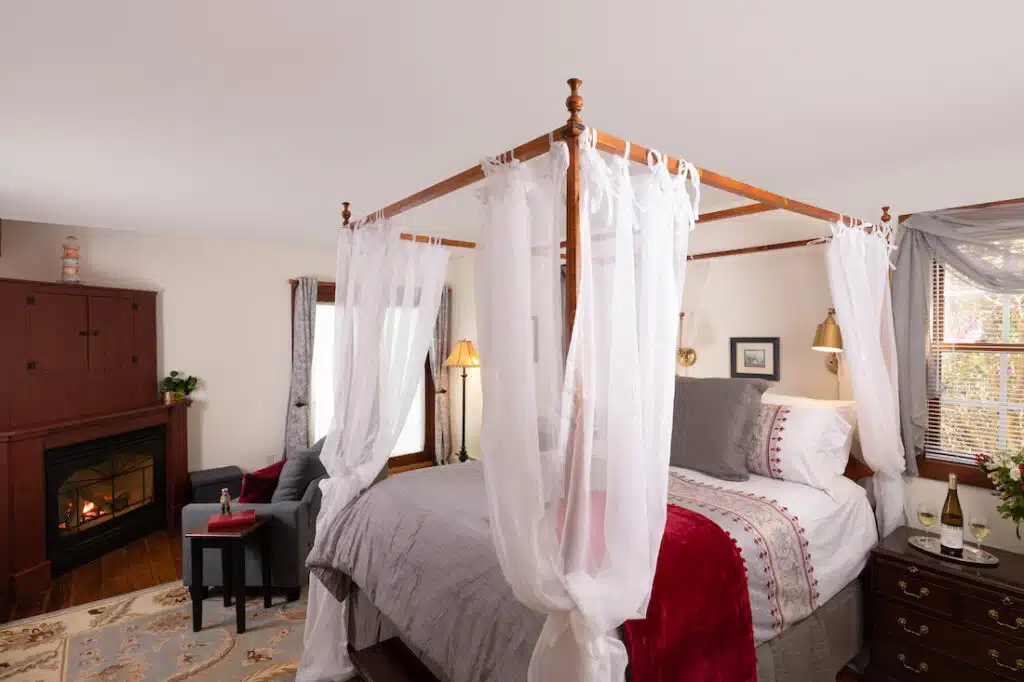 The Best Bed and Breakfast in Mystic, CT
After exploring the old boats and exhibits at the Mystic Seaport Museum and maybe even sailing on the sound, return to our luxurious accommodations at our Bed and Breakfast in Mystic, CT. We're located just five miles outside of downtown Mystic, so it's the perfect getaway from the noise and crowds of the city. We offer six luxuriously appointed guest rooms in our newly remodeled Yellow Barn building, plus four historic accommodations in our 1807 House.
You'll love choosing our Bed and Breakfast in Mystic, CT, if you're looking for a quiet and relaxing alternative from the busy hotels, often overrun by tourists in the spring and summer seasons. We also offer a level of hospitality during your stay that's unparalleled. As Innkeepers, we maintain a professional yet friendly relationship with our guests; this gives us the best tools to make your stay as personalized and amazing as possible. 
Included with your room rate, we'll treat you to a generous three-course breakfast each morning of your say in our spacious dining room or on the garden veranda (weather permitting). Our morning menu changes daily but offers homemade entrees prepared with seasonal, local ingredients and starts your day off on the best foot. We're happy to oblige with advanced notice if you have dietary restrictions. We can't wait to host you at our beautiful, historic Bed and Breakfast in Mystic, CT! Book your room today.