Downtown Mystic is as charming as they come: quaint tree-lined streets, beautiful historic buildings, and stunning views of the river and Long Island Sound. One of our favorite things to do is head out to explore the lovely selection of Mystic shops, many locally and family-owned boutiques offering hand-crafted goods, fun souvenirs, fine jewelry, and stylish apparel. You're bound to find more than you have room for in your suitcase! 
In a recent tourism study, more travelers are opting for small-town destinations where supporting local businesses and institutions is easy. The Mystic shops, restaurants, and attractions rely on tourists during the summer months—and in return, you'll have quality American-made goods to commemorate your trip to New England. While it's possible that it might be your first visit, we've found that guests rarely only come once to this beautiful seaside town. 
As a small local business ourselves and as one of the best Bed and Breakfasts in Mystic, CT, we appreciate our guests more than anything. We love welcoming first-time visitors just as much as we love accommodating folks who return year after year for birthdays, anniversaries, and romantic getaways. You'll quickly see that our warm hospitality, luxurious guest rooms, and gourmet breakfast service all come together to form the perfect vacation destination. Book your room at our Bed and Breakfast in Mystic, CT, today!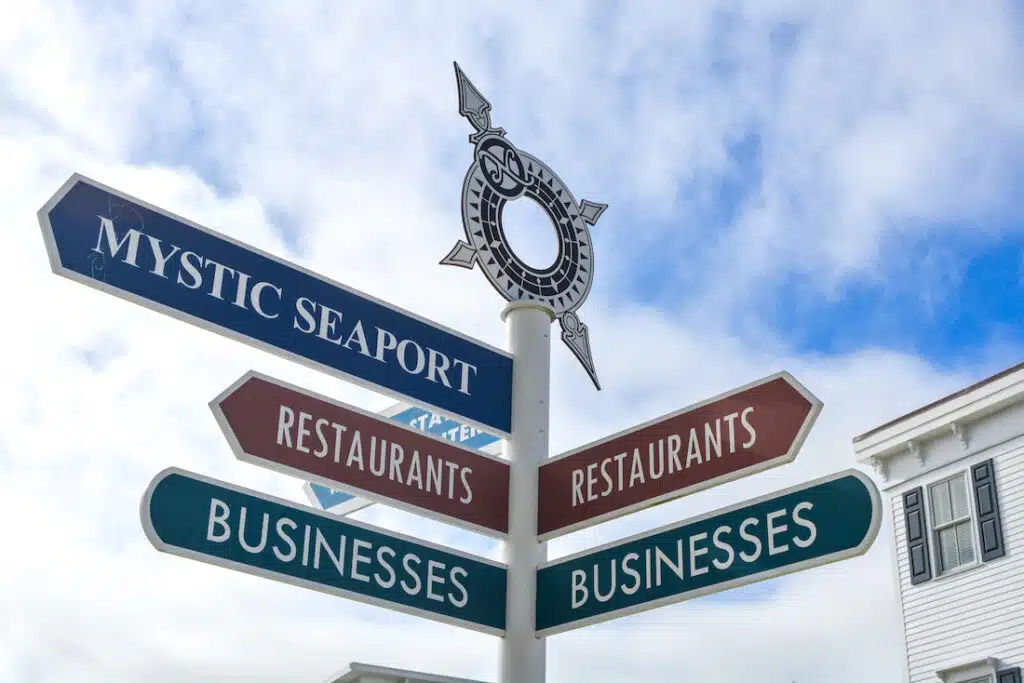 Downtown Mystic Shops & More to Explore in 2023
Whether you're planning a romantic trip for your special someone or a group getaway, you'll find excellent activities in the charming town of Mystic! Shopping is one of the most popular things to do here. Check out these great Mystic Shops and neighborhoods if you want to find local goods and souvenirs to commemorate your vacation!
While strolling the Main Street and Olde Mistick Village is the best way to find which Mystic shops you want to visit, here are a few popular stops around town: 
Mystic Village Shops in Olde Mistick Village: 
This self-contained Village contains a myriad of unique, old-fashioned shops. It's designed to resemble a historic New England village and has a performing arts center, movie theater, and many stores and restaurants.
The Velvet Mill in Stonington, CT:
Once you've had your fill of the Mystic shops, pop over to the charming village of Stonington. Home to The Velvet Mill, a historic structure converted to boutique shops, lovely restaurants, and artist's galleries. You'll find anything from local one-of-a-kind crafts, wellness services, fitness classes, and much more. Aside from the fantastic shopping opportunities, the Velvet Mill is also home to an artisanal bakery, restaurants, a nano-brewery, and a cheese shop.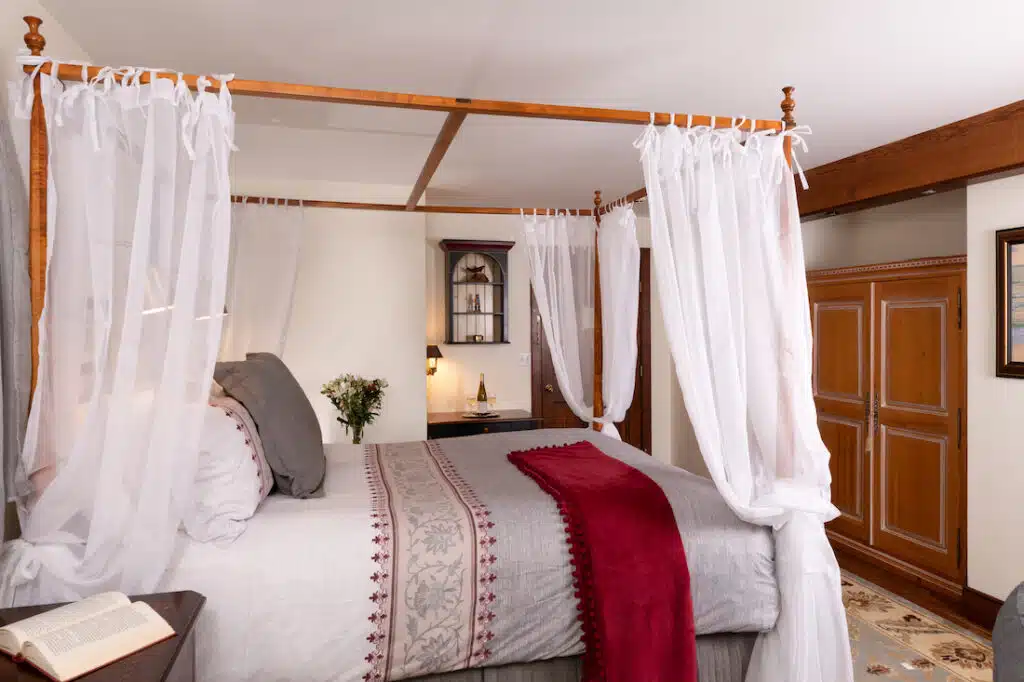 One of the Best Bed and Breakfasts in Mystic, CT
As one of the best Bed and Breakfasts in Mystic, CT, a stay with us is nothing short of perfect! Located just five miles from the downtown area, the Mystic shops, and fantastic dining options, you'll be close to all the popular attractions. But, set back on our quiet country estate for absolute peace—many of our guests spend most of their time relaxing and enjoying their private guest room or the shared spaces at our Inn—and we can't blame them! 
There are two experiences to choose from at one of the best Bed and Breakfasts in Mystic. The 1807 House has four shared rooms, six fireplaces, and four exquisite guest rooms with wide plank floors, original architectural features, and private baths. This historic house is the best choice for those looking to unplug, as we don't have televisions in the guest rooms—though wifi is available throughout the property, and TV is available in the shared living space. But what better way to enjoy a romantic getaway? No distractions. 
Our other option at one of the best Bed and Breakfasts in Mystic is the Yellow Barn—an 8,000-square-foot renovated post and beam structure with a granite fieldstone foundation. You'll find shared sitting areas, our dining room for our gourmet breakfast, and plenty of outdoor spaces to view our gardens, the pond, and the waterfall. The six modern suites are air-conditioned and have gas fireplaces. Enjoy the widescreen televisions, free wifi, and deck access overlooking the gardens. Book your room at one of the best Bed and Breakfasts in Mystic, CT, today!