New England is a fabulous destination for those seeking adventure. Connecticut, in particular, offers the perfect combination of stunning landscapes and tradition. During the warmer months, we love getting outdoors to soak up this gorgeous backdrop, and one of our favorite places is Lantern Hill Trail in North Stonington, CT. It's an excellent hike for all skill levels and offers historical sites to appeal to history buffs and make for awesome stops along the walk. 
The Lantern Hill Trail is just one of the fantastic treks near Mystic. You'll also find many lovely adventures in the nearby Connecticut State Parks, beaches, and nature preserves. New England offers pristine coastlines dotted with historic lighthouses, rugged quartz mountains, meadows with wildflowers, and lush forests. There's no shortage of fun ways to get outside, move your body, and take in the landscape. You'll want a soft place to land after a long day on the trails, and we know just the spot! 
As a guest at Stonecroft Country Inn—the premiere Mystic Bed and Breakfast—you'll be a mere ten minutes away from the Lantern Hill Trail! After your hike, come home to a cozy room and relax your body and mind. Our Mystic Bed and Breakfast is one of the best in the area and can provide an authentic New England experience. All of our guest rooms are delightfully appointed and offer their feeling—some more historical with original architectural details, others a bit more modern with recent renovations. You're guaranteed to feel comfortable and relaxed between the luxurious linens, modern amenities, and old-world charm. Book your room at our Mystic Bed and Breakfast today!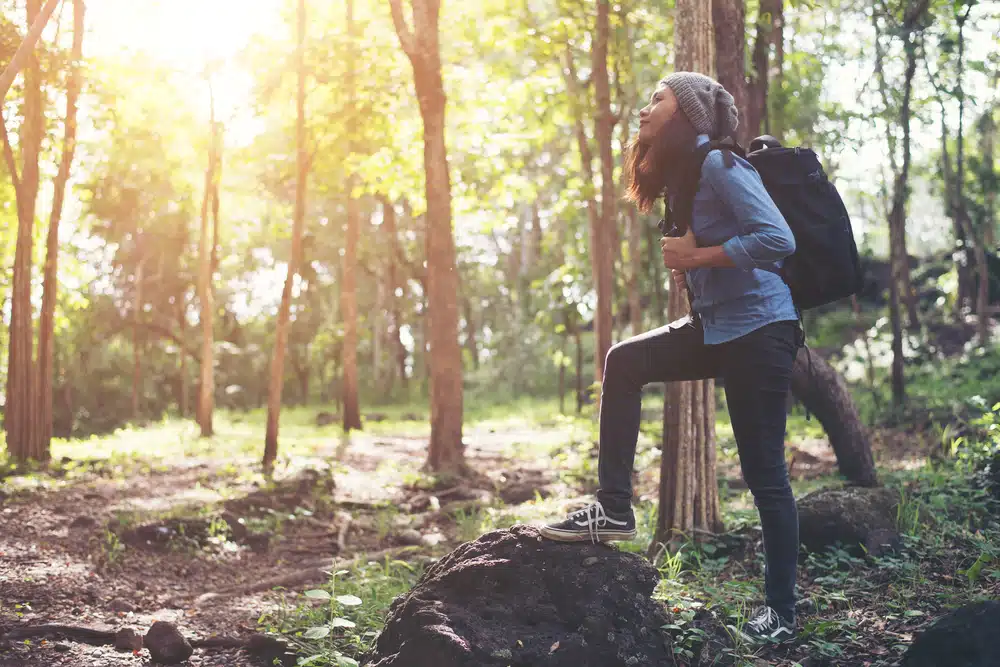 Lantern Hill Trail & More Hikes Near Mystic
The 2.5-mile Lantern Hill Trail is one of the most popular destinations in the area. It's a well-maintained trail that winds through the woods and leads to a gorgeous outlook. The white quartz shines in the sunlight, giving the path a magical feel, and can be seen from the ships out in the water! Even though the trail is reasonably easy, be mindful of loose rocks on your way to the summit.
The Lantern Hill Trail is relatively easy hike for both beginner and experienced hikers, making it the perfect outdoor adventure. The loop takes about two hours to complete and has an elevation of nearly 500 feet. You can take two different routes to the top: the Lantern Hill Trail (marked by red arrows) and the Narragansett Trail (marked by blue arrows).
Both trails feature gorgeous wildflowers in the spring and budding green trees. However,  the summit is what makes this trek worth the effort! From the top, you'll have an excellent view of the pond down the hill, a fantastic panorama of the region, and you can see even out to the ocean on clear days!
Other Hiking Trails Near our Mystic Bed and Breakfast: 
Bluff Point State Park: Take the 3.5-mile loop at this lovely State Park on the Poquonnock River and Mumford Cove on the Long Island Sound. This maintained gravel loop is best enjoyed from April until October for the most temperate weather and beautiful views.
Denison Pequotsepos Nature Center: Located just ten minutes from our Mystic Bed and Breakfast, this is the perfect place to take in the beautiful wilderness of Connecticut. The center is home to an animal sanctuary, 10 miles of hiking trails, and educational classes throughout the year.
Fort Griswold Battlefield State Park: This former American defense fortification is set on 17 acres and offers well-maintained walking paths with historical markers. Guests can weave through monuments and memorials dotting the sweeping green lawns. Unlike the Lantern Hill Trail, you won't have to worry about elevation gain here. 
Haley Farm State Park: This public recreation area comprises Colonial-era farmland and historic ruins of the original homestead. Popular pastimes here are walking and biking, as a main bikeway trail passes through this park and connects to Bluff Point.
Stoddard Hill State Park: Just over 10 minutes drive north from our Mystic Bed and Breakfast, this Connecticut State Park sits along the Thames River. The 55-acre recreation area is ideal for boating, fishing, and hiking.
For more tips on the nearby hiking options like Lantern Hill Trail, be sure to ask any staff members at our Mystic Bed and Breakfast.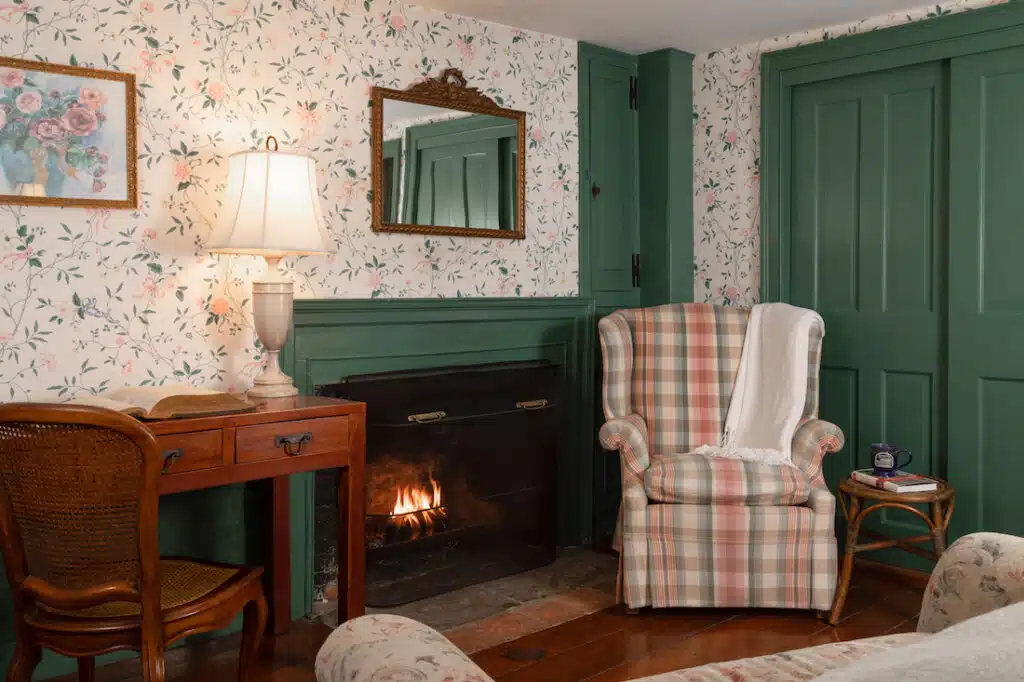 Join us at the Best Mystic Bed and Breakfast
Our Mystic Bed and Breakfast is in the ideal location to explore the nearby Connecticut State Parks and amazing hikes like the Lantern Hill Trail. Our lovely Inn is made up of two main structures; the Yellow Barn building is a modern renovation with six of our guest suites and the 1807 Manor House with our four other guest rooms. You'll want to stay in the Manor House for those particularly fascinated with history. 
Our historic Inn is set back on a quaint country road, surrounded by rolling hills and old-growth trees. For those who don't want to go far to enjoy the outdoors, feel free to roam our lovely six-acre grounds. Outside our stone-walled parcel, we're encompassed by 300 acres of Conservancy woodlands, which only adds to the peaceful and serene atmosphere, and places to hike and breathe fresh air.
As a guest at our Mystic Bed and Breakfast, you'll also be treated to the warmest and most welcoming hospitality. This begins from the moment you check-in, and continues in the morning with a beautiful home-cooked breakfast, and throughout your getaway. As seasoned Innkeepers, we're always happy to make personalized recommendations and reservations if needed. Check out our upcoming availability at our Mystic Bed and Breakfast, and book your room today!