During the Summer, there's nothing more quintessential New England than sailing with Argia Mystic Cruises. The first sailing departs each year on May 1st, and it's a magical experience with the wind in your hair on the calm waters outside Mystic, CT. You'll take in the maritime scenes along the coast from the 81-foot Schooner Argia sailing vessel, including the collection of historic lighthouses, the 1924 Mystic River Bascule Bridge, and historic mansions dotting the shore. It's one of the most romantic things to do during your time in the area! 
Argia Mystic Cruises offers two-hour sailings throughout the day, starting at 9:30 am up until 6 pm for the sunset cruise. Sit back and relax to take in the maritime scenes or even play a part and help the crews hoist the sails. Snacks are available for purchase, though guests sailing aboard Argia Mysic Cruises are welcome to pack their own picnics with wine and beer as well. A few other local boating companies offer different styles of exploring the water—some are smaller crafts for more private outings, and others are person-powered for exciting adventures on the Mystic River!
Before you start filling your itinerary with summer activities, you'll want to secure your lodging. Our Mystic Bed and Breakfast is one of the best places to stay—especially if you're planning a romantic getaway! You'll find the most elegant accommodations; we have ten guest rooms split between our historic manor house and renovated yellow barn structure. All offer our guests comfortable sleeping arrangements, private en suite baths, and luxurious amenities. Our Mystic Bed and Breakfast is set back from the busy tourist areas in the stunning New England countryside. There's no better setting to reconnect and relax with your partner on a romantic summer getaway. Book your lodging today!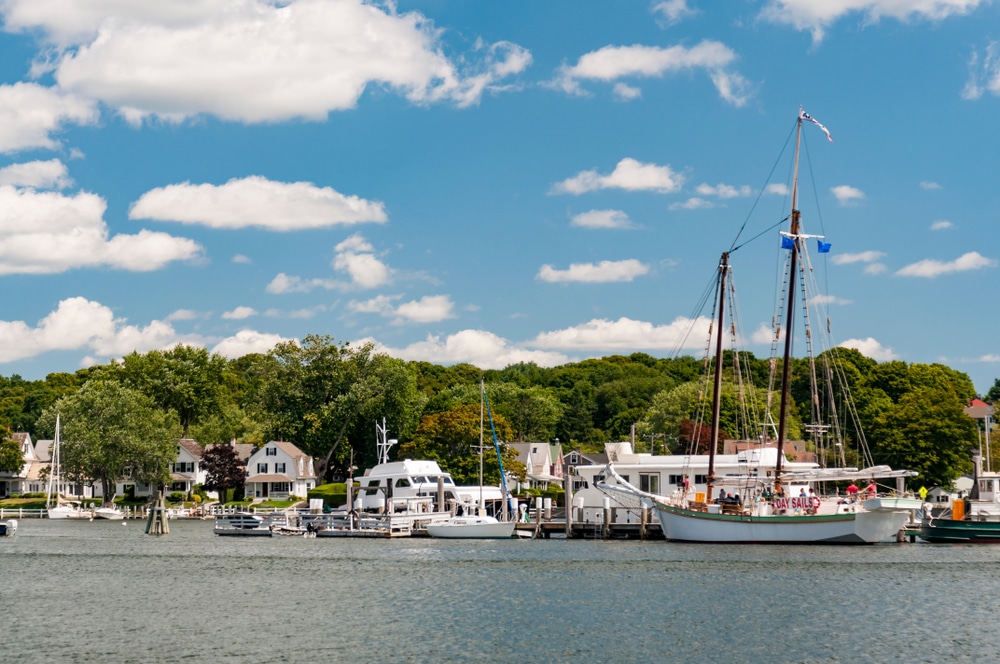 Argia Mystic Cruises & More Boating Options
Argia Mystic Cruises has been setting sail from Mystic on these scenic tours since 1989. It's genuinely one of the best ways to take in the gorgeous New England shores. The ship is a replica build of a 19th-century schooner; whether you're a boat enthusiast or not, it's a beautiful sailing vessel! The maximum passenger load tops out at 49 people, with plenty of seating and a small main cabin below for those needing a break from the wind and sun. 
Whether you're setting sail on a public group tour or planning a private charter on the water, you'll love sailing with Argia Mystic Cruises on the calm waters of the Fishers Island Sound—on the eastern end of the Long Island Sound. The knowledgeable Argia Mystic Cruises staff aboard the vessel can offer great insights into the area's history.
More Mystic Boat Cruises to Check out: 
While Argia Mystic Cruises offers the most traditional boat tour, there are a few more options in Mystic to add to your itinerary. 
If you want more information on Argia Mystic Cruises or any of these sailing options, please ask your Innkeepers!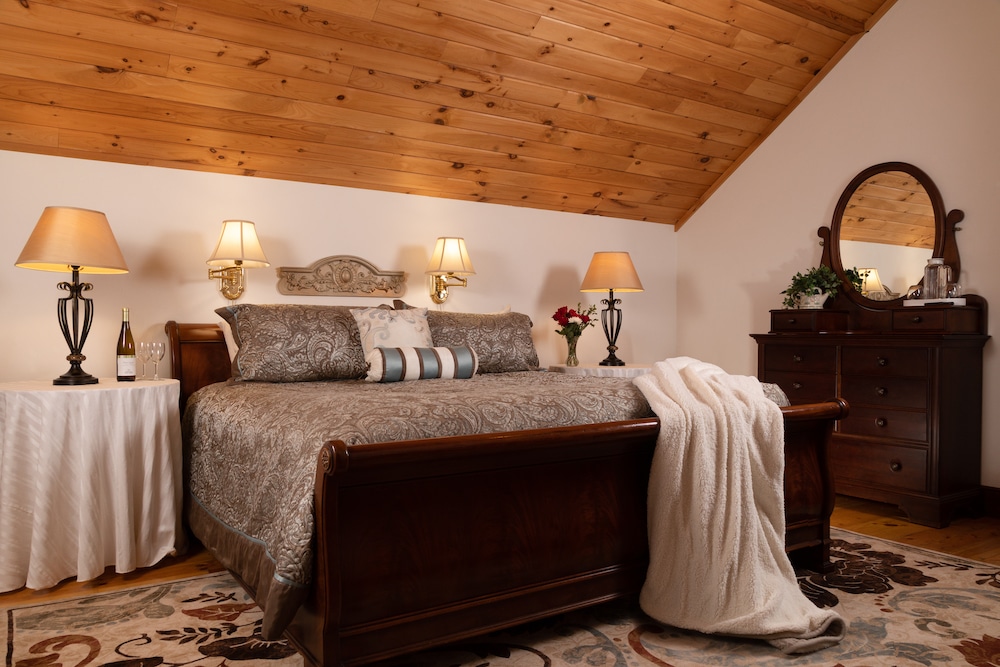 The Mystic Bed and Breakfast for Romantic Getaways
Picture this: you've spent the day in the sunshine with the cool breeze in your hair sailing with Argia Mystic Cruises, you spotted the historic lighthouses and mansions along the shore, and maybe you even shared a Champagne toast. Afterward, head to one of the delicious restaurants in Mystic for the fresh catch of the day and oysters on the half-shell. When you can't eat one more bite, head on back to our Mystic Bed and Breakfast to settle in for the night. Your comfortable guest suite will await your arrival for bubble baths, cozy robes, and a firelight. Enjoy a restful night's sleep and refresh for a new day. 
In the mornings, we'll treat you to an elegant, gourmet breakfast. (We're among the highest-rated Mystic Bed and Breakfasts, after all!) We make everything we can from scratch with local ingredients and creative recipes when possible. Our menu changes daily, but one can expect dishes like fluffy pancakes from fruit (we grow blueberries on-site!), eggs Benedict with buttery hollandaise, and fresh baked muffins or scones. Best enjoyed in the dining room by the fire or out on the veranda when the weather cooperates. It's the ultimate way to start your days on your romantic getaway in Connecticut! 
For those visiting Mystic with a romantic connection in mind, we have a few add-on packages to enhance your stay. From wine tasting for two at our favorite nearby vineyard, touring the majestic Newport Mansions, or to a more traditional romance package with dinner, dozen roses, strawberries, and sparkling wine—we've got you covered. During your stay, we're happy to make reservations for you with Argia Mystic Cruises and more. We can't wait to host you at our Mystic Bed and Breakfast and for you to explore all the beautiful activities you'll find in the stunning New England countryside. Reserve your room today!