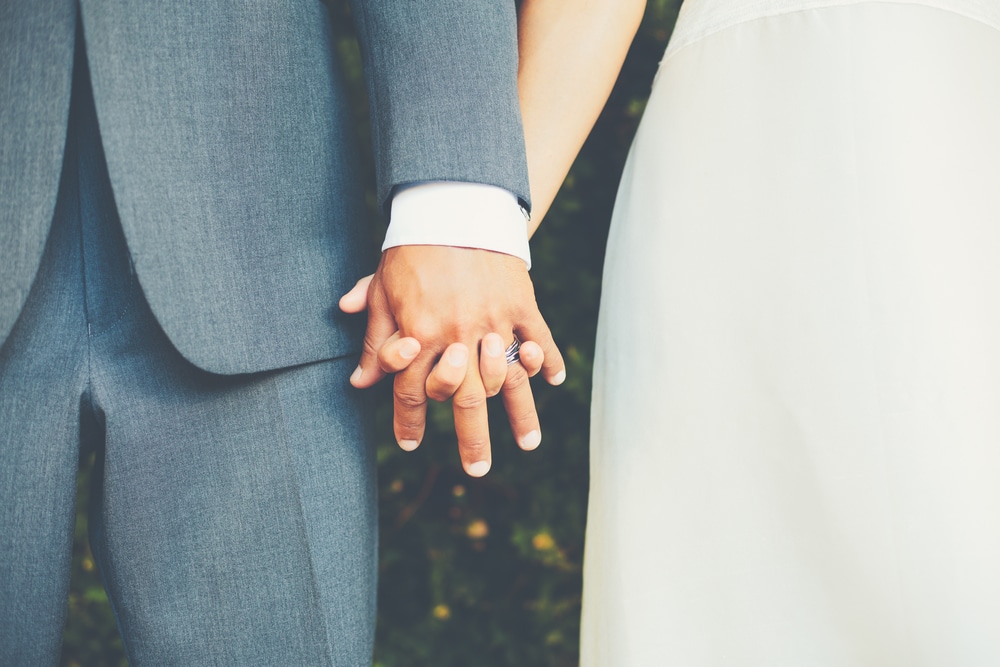 We LOVE weddings here at our Mystic Bed and Breakfast, and that dedication to making your day as exceptional as it can be is why we are one of the best wedding venues in CT. As newlyweds ourselves, we remember how stressful planning can be. Luckily, we're still so close to the magical feeling of our big day that we know exactly how we want our soon-to-be-married couple that chooses the Stonecroft Inn for their ceremony to feel on this day.
All of the seasons are beautiful here on our 6.5 acre grounds, from the blooming bulbs of Spring, blue skies of Summer, the golden hues of Fall, and snows in Wintertime (when it's especially cozy and warm inside next to a roaring fire.) The first big decision will be which of our special wedding venues in CT at our Bed and Breakfast that you'd like to make as the backdrop for your ceremony.
Once you decide on the when and where to have your wedding at our Mystic Bed and Breakfast, then we'll help you plan down to the smallest detail. We have two buildings that make up our Inn, the 1807 House and the Yellow Barn. Both hold perfect accommodations for the newly married couple and their closest family and friends. This takes a lot of the worry out of where you'll spend your first special night together. Let's get ready to book your event and begin the planning today!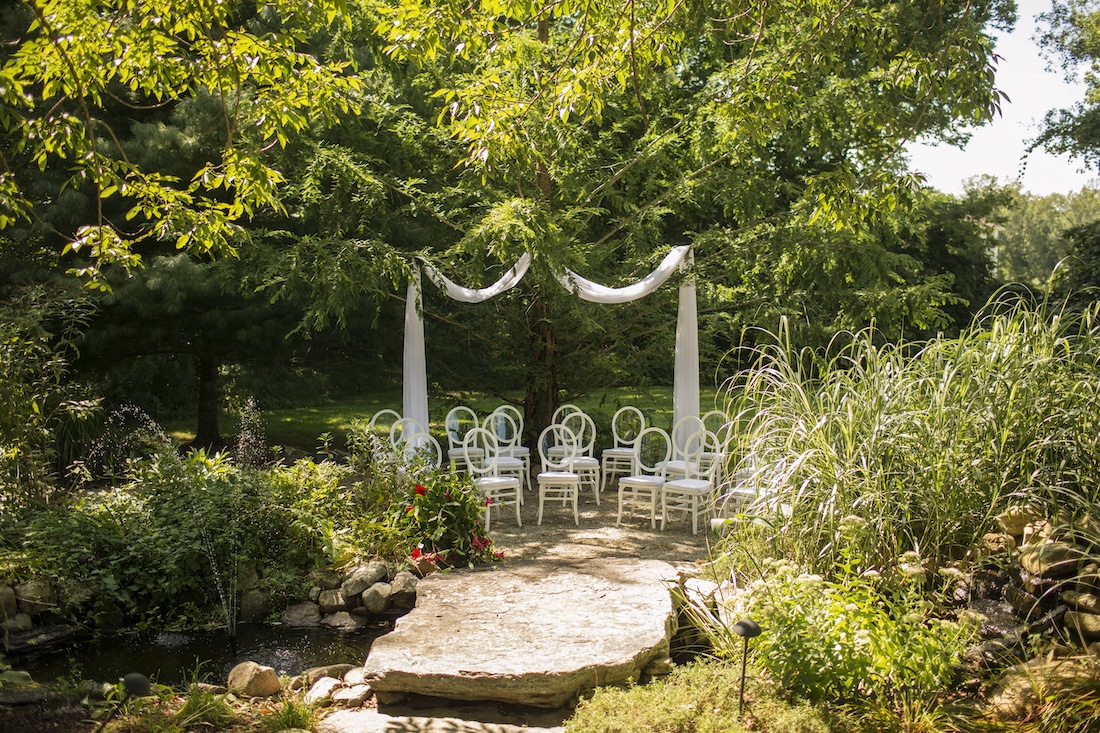 One of the Best Wedding Venues in CT for Your Special Day
This gorgeous and secluded spot (pictured above) is a lovely space for your wedding ceremony. It's intimate and shaded for your guests, and not to mention, surrounded by the natural beauty of our grounds. Of the wedding venues in CT to choose from, booking here gives you a diverse list of indoor and outdoor settings to choose from and that's only the beginning of the perks. Not all wedding venues in CT can offer you this many distinctive ways to plan your ceremony.
Here are 10 Reasons why our Mystic Bed and Breakfast is one of the best wedding venues in CT:
Our location is centralized between New York and Chicago for a destination wedding ceremony with minimum travel for your guests coming from the big city. The Inn is only an hour from the airports near Hartford, CT and Providence, RI, respectively. We're also only five miles from downtown Mystic, which has amazing dining options, breweries, wineries, and attractions to experience leading up to your wedding.
The Stonecroft Country Inn is a stellar setting for your ceremony and reception. It's one of the best wedding venues in CT for the historical 1807 House and the Yellow Barn Suites. These two buildings not only add to the whimsical atmosphere, they can be your home base to pamper and relax before and after your special day.
Our Mystic Bed and Breakfast sits on 6.5 acres of romantic country setting—a wedding photographer's dream and an impressive locale for your friends and family. The intimate atmosphere outshines other wedding venues in CT, from shady groupings of towering trees, delicate and floral gardens bursting with color to the historic stone walls and rustic pergolas, there's something to satisfy every bride and groom.
For the cooler months or those who prefer an indoor setting, our stone-walled dining room is a showpiece for weddings. We can accommodate up to 75 guests (including tables and chairs) in this area and the outdoor patio space can also be added on. There's a wood burning fireplace which adds to the romantic lighting and lots of memorable photo ops.
For a larger group for up to 150 guests, out elegant outdoor tent is impressive and spacious. This tent can be decorated and dressed up as you see fit. This option gives you an indoor/outdoor feel for your wedding. We also have a preferred caterer list, which means they are all familiar with our space and guarantee that the food for your wedding will be delicious.
Here at our wedding venues in CT at our Mystic Bed and Breakfast, we believe with our whole hearts that love is love. We are all inclusive and welcome people from all walks of life to come together and celebrate an amazing day for a special couple. This will always be a safe and welcoming place.
Any of our guest suites would serve for a lovely first night together as a married couple, but one of our most romantic suggestions is the Sarah Suite. Fully private with vaulted ceilings, balcony with French doors, spacious bathroom equipped with bidet, huge walk-in shower and two person whirlpool tub and of course, a California King.
It's always a perk when planning a wedding to have some lodging ideas for your close family and friends. Both buildings on our property serve as wonderful gathering grounds for reuniting and relaxing together. The common areas become your space when you stay with us and all of our guest rooms are packed with amenities for a comfortable stay.
Breakfast is an integral part to what we do here, from home made warm baked goods to savory morning entrees, we love to serve delicious and comforting food to our overnight guests. Also, it's one less thing to put on your wedding planning plate when you choose our Bed and Breakfast as your wedding venue in CT.
For those who might have a non-traditional idea in mind for their wedding day, we offer a one of a kind Elopement Package. You won't find this at just any of the wedding venues in CT. We take care of everything based on your requests, including photography, officiant, a bouquet/boutonnière, a small wedding cake and one of our most romantic guests suites for your overnight. Find more details and booking here.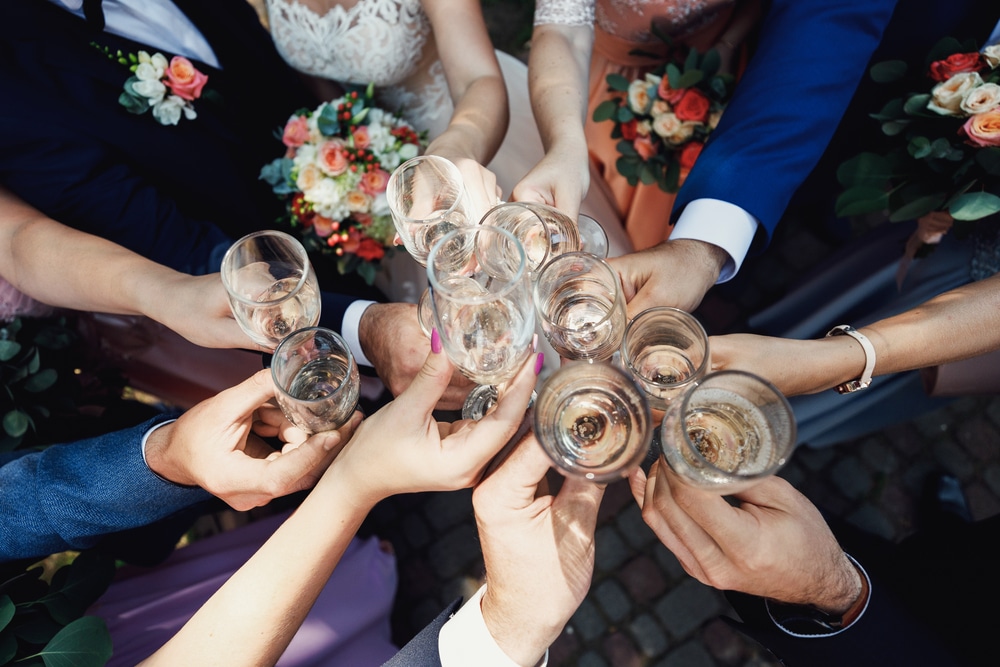 Our Elegant Mystic Lodging is Perfect for Your Wedding Night
After your wedding day, you'll be exhausted, but still buzzing from all of the excitement, celebrating and Champagne. Our Mystic Bed and Breakfast is the ideal place to unwind and recap your wedding day in one of our romantic suites. This is an important piece to the wedding planning puzzle, making the Stonecroft Country Inn one of the most spectacular wedding venues in CT.
The morning after your wedding is one of the second best days of your life as a married couple, the stress of the big day is over and you're finally hitched! Our guest suites are a beautiful and comfortable space to wake up in, have a cup of coffee and better yet, we'll even take care of breakfast. These are the little extra details that make us one of the best wedding venues in CT and we've thought of everything. Let us host you for one of the most memorable events in your life, check for availability here.