On any trip to this part of Connecticut, you'll have to plan on spending a day at Mystic Seaport Museum. You'll especially want to make this a full day trip, as there is so much to do and experience here. From exhibits and the Seaport Marina to the Planetarium and historic vessels in the shipyard, there is no shortage of activities. There are even cruise tour options to go out on the water, so you'll want to book one of those too.
The Mystic Seaport Museum has been a presence in the downtown area since the late 1920s. It's set on 19-acres along the waterfront and marina with more than 60 historical and meticulously restored buildings. You'll also see four vessels that are noted as national historical landmarks by the United States Government. In the recreation of an old time seafaring village, you'll see specialized trades and ship-related techniques.
Our Connecticut Bed and Breakfast is just a quick drive to downtown Mystic and all of the activities of the Mystic Seaport Museum. We always encourage our guests to take a leisurely visit here, make a day of it with an early dinner in Mystic before heading back to the Inn for a relaxing night in. A trip to the Mystic Seaport Museum is something you won't soon forget.
Book one of our 10 luxurious guest suites today and start planning your next visit to New England!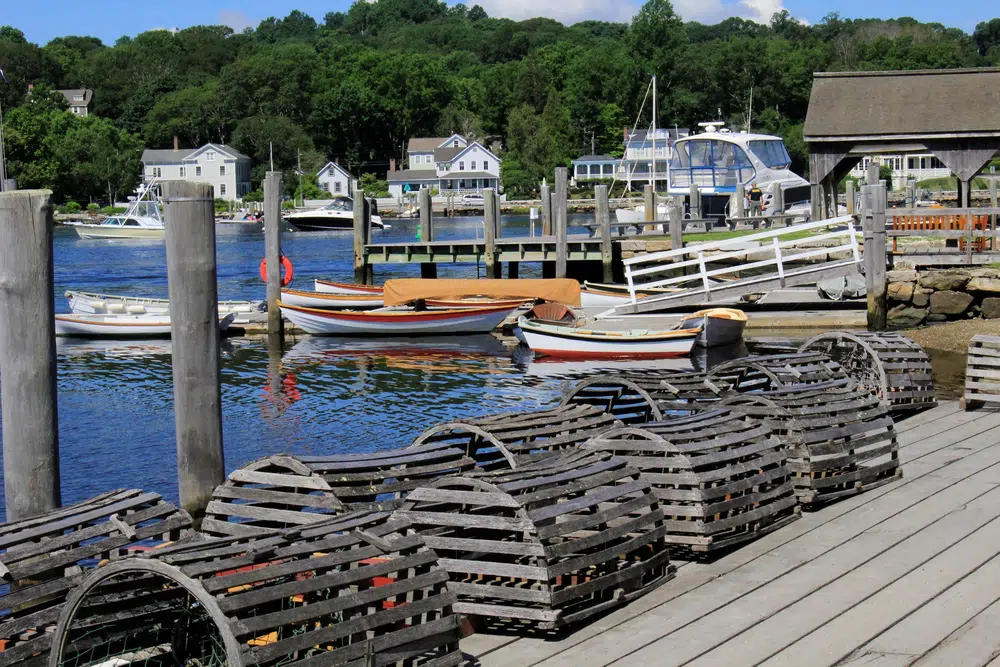 Spend a Day Exploring the Mystic Seaport Museum
As you enter the Mystic Seaport Museum you'll be taken back into time, when shipping and coastal towns were bustling with trade and commerce. The expansive layout of the museum gives guests ample space and time to just explore the seaport village and these enormous vessels that sail the seas. There's a lot to take in here, but there a few things in particular that you just don't want to miss.
Here are the six best exhibits and activities at the Mystic Seaport Museum:
Take your time in the Seaport Village: Come be fully immersed in a recreation of a 19th century seaport village at the Mystic Seaport Museum. Stroll through the buildings (not replicas, but actual restored businesses from the 1800s which were transported from small New England towns.) From timely costumes, ship smith workers, wood carvers, and oyster houses, you'll see it all here.
The Grand Panorama: View in detailed illustrations of a history of a whaling voyage of the 1800s. The panorama stretches to 30 feet long as a narrator tells the tale of this incredible trade of yore.
Sail on a Cape Cod cat boat: Get out on the water and sail on this 20-foot Crosby cat boat. Rides are typically 25 minutes along the waterfront for a good look of the shore and some interesting tidbits of knowledge from the captain.
Catch a shipping demonstration: In the shipyard area of the Mystic Seaport Museum, you'll witness the workings of this trade first hand. From wooden ship building and carvings to the shiplift and marine engines you'll learn a few things about the art of a working shipyard and what it takes to maintain these gigantic ships.
View the figureheads and ship carving exhibit: While you'll get to view some amazing folk art of the sea at the Mystic Seaport Museum, the figurehead and ship carving exhibit is particularly intriguing. There's so much history and folklore surrounding these sculptures that adorned these ancient ships bows'.
End the day with dinner at Latitude 41 Restaurant and Tavern: The Mystic Seaport Museum is also a great place to stay for dinner. The restaurant is for more up-scale dining in a nautical setting, while the tavern has a casual maritime pub-vibe. In either section, you'll find a creative menu that capitalizes on the water's bounty of seafood delicacies.
Toast to Memories at Our Mystic Bed and Breakfast
After a lovely day exploring the waterfront and exhibits at the Mystic Seaport Museum, head on back to the quiet solitude of our historic Connecticut Bed and Breakfast. Whether you join us by the fire in our common room or retreat back to your private suite, there's an air of relaxation and romance in every inch of our Inn. There's no better place to put up your feet and reset from the trials of everyday life.
We offer some special packages to truly enhance your stay. From fresh flowers or chocolate covered strawberries to a bottle of bubbles or plans for a wine tasting tour, we can add some extra beauty and flair to your adventure with us. If there's something else you're looking for, just ask, we always aim to accommodate to make your stay exactly what you're looking for.
Come join us in the gorgeous Connecticut countryside and book your room today!