When you visit New England in the summertime, you'd be remiss if you didn't spend at least one day at one of our beautiful Mystic CT beaches. There's nothing quite like basking on the Connecticut coast with the breeze off the Long Island Sound, your toes in the sand, and swimming in the crisp waters. During the warmer months, the Mystic CT beaches are some of the best places to explore and relax! This will be one of your most memorable beach trips ever, from rocky shorelines dotted with historical homes and lighthouses to sandy stretches for picnics and sunbathing. 
Perhaps one of the most popular beaches near Mystic CT is Ocean Beach Park, known as New England's finest sugar sand beaches with a whole host of great things to do. This 50-acre park along the Atlantic Ocean is more than just a beach to hang out on the sand; it's a town park full of attractions for many different interests. Ocean Beach Park has a half-mile-long boardwalk, an Olympic-sized swimming pool, lockers and a changing area, miniature golf, an arcade, plenty of food options, a carousel, and a playground. There are lovely things to do here that will easily keep you amused throughout the day. 
The Mystic CT beaches beckon you this summer, and our Mystic Bed and Breakfast is the best place to make your home base. We're set back from busy tourist destinations, so your mornings and evenings are guaranteed to be peaceful on our beautiful acreage surrounded by conservatory forests. We're the best jumping-off point for adventures, only five miles from downtown Mystic and so much more. Our luxury accommodations will be one of the best parts of your getaway, with uber-comfortable beds, high-end amenities, and superb hospitality. Check out our upcoming summer availability and reserve your room today!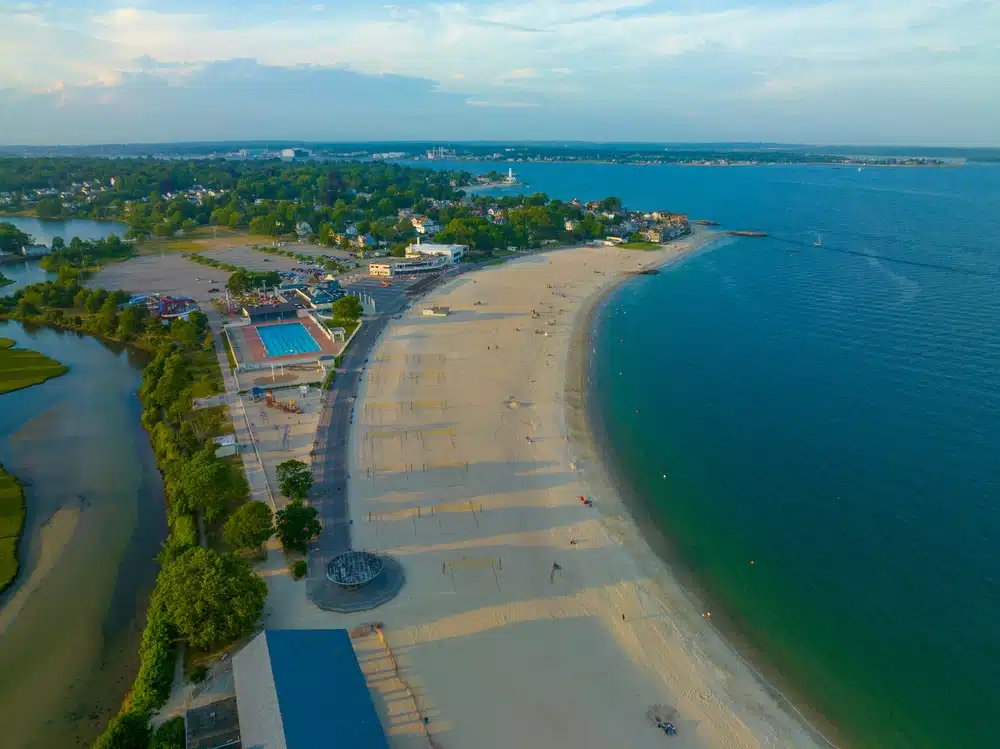 The Most Beautiful Mystic CT Beaches
New England is known for its perfect summer weather. Bright sunny days with a crisp breeze from the Long Island Sound, Atlantic Ocean, or the Mystic River. Visitors flock to the shores for swimming, sightseeing tours, picnics, and long warm days in the sunshine.
Here are eight fantastic Mystic CT beaches not to miss on a summer getaway: 
Ocean Beach Park: Often referred to as one of the most incredible Connecticut beaches, this area boasts about a half-mile of sandy shoreline for swimming and water recreation at this 50-acre park. For those who prefer to take in the water from the shore, the boardwalk here is ideal, and if you're lucky, you'll catch live music or entertainment in the summer.
Williams Beach Park: This is one of the most visited Mystic CT beaches, a popular spot for locals and visitors alike. Even though it's one of the smaller Mystic CT beaches with only 120 feet of sandy shore, there are plenty of inviting spaces for dipping your toes in the calm waters or relaxing for an afternoon break in the sun.
Dubois Beach: Located at the tip of Stonington Point, just across from the Stonington Harbor Lighthouse, you'll take in some quintessential New England scenery at this nearby beach. Plan on grabbing lunch at the nearby Water Street restaurants.
Esker Point Beach: Known as one of the best Mystic CT beaches for its calm waters, don't miss the Summer Soundwaves Concert Series for live music and dancing in the sea air.
Bluff Point State Park: While this Connecticut State Park is most known for its hiking and birdwatching opportunities, the rocky shoreline of this beach is a lovely place for treasure hunting and adventures. The three-and-a-half-mile loop is a fantastic way to stretch your legs and see the countryside.
Misquamicut State Beach: It's about a half-hour drive to this beach in Rhode Island, but well worth the time in the car for the seven-mile stretch of soft, white sand. The State Park encompasses about a half-mile of that shoreline, and it's conveniently located to the shops and rental shops in Westerly.
Napatree Point: Little Narragansett Bay is separated from the ocean by Half-Mile Beach, which ends at Napatree Point, a favorite spot for hikers, bird watchers, and beachgoers.
Eastern Point Beach: This is a great place to hang out with the family at the mouth of the Thames River with showers, picnic tables, a concession stand, and a playground. This is one of the Mystic CT beaches with shallow waters for strolls, as well as lifeguard areas.
For more tips, directions, or details on the nearby Mystic CT beaches, please ask your innkeepers at our Mystic Bed and Breakfast during your stay!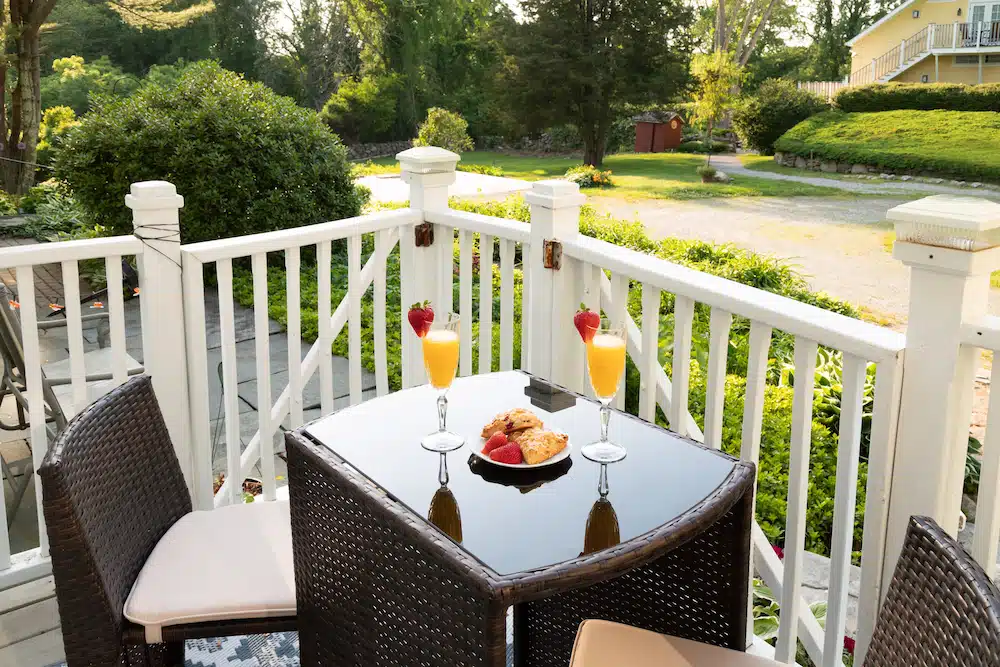 The Best Mystic Bed and Breakfast for Summer Getaways
Imagine sitting out on this private deck and enjoying your coffee, a mimosa, and a house-baked treat—this could just be one of the perks of a summer getaway at our beautiful Mystic Bed and Breakfast. It's the best way to start your day before heading out to the nearby Mystic CT beaches! You'll be ready to explore the sandy shores dotted with historic homes and lighthouses and all the warm-weather fun that goes along with that. 
When it's time to head back to our Mystic Bed and Breakfast, you'll have the most comfortable accommodations awaiting your return. As with any long day in the sunshine, you'll want to refresh, and our en suite bathrooms are the perfect place to do just that. If you happen to be staying in the Sarah Master Suite, for example, the lavish bath includes a bidet, heated towel rack, and a huge walk-in shower. View the fireplace through the open shutters of the two-person whirlpool tub, or close them and lie back and relax.
After you've freshened up, slip on your comfortable robe and relish in the peace and quiet of our perfectly appointed guest rooms, with comfortable beds and seating areas. Curl up, put on your favorite movie, open a bottle of wine, and truly unwind. That's what vacation is for—you'll be fully relaxed and ready for the next adventure. If you're heading to our Mystic Bed and Breakfast to celebrate a special anniversary, birthday, or occasion, be sure to check out our additional enhancements to add to your stay. We can't wait to host you; book your room today!