We've made it through the holidays and into the New Year, which is the exact time to start planning your next getaway! Thankfully, our Mystic Bed and Breakfast is one of the best places to stay in Connecticut. Conveniently located about five miles from downtown Mystic, our Inn is the perfect space for a relaxing vacation, a romantic trip for two, or a much-needed retreat with friends.
The Stonecroft Country Inn is a historic manor with ten guest rooms split between two beautiful buildings. The 1807 Main House (with four exceptional room choices) has been meticulously maintained and restored, but still embodies the centuries-old ambiance. You'll also find our Yellow Barn building, a more modern renovation and home to the six other guest suites, our shared dining room, and outdoor patio space. Our property is one of the best places to stay in Connecticut due to its unique lodging choices.
As a guest at our Mystic Bed and Breakfast, you'll be treated each morning to a homemade and delicious breakfast. The menu changes daily but always includes local produce and products, creative sweet and savory dishes, and is accompanied by hot coffee, juices, and fruit. It's the best way to start your day! Guests are encouraged to enjoy their meal in the elegant dining room or the adjoining outdoor patio spaces, but you're more than welcome to retreat to your suite for a private morning.
Start planning your next vacation at one of the best places to stay in Connecticut, and book with us today!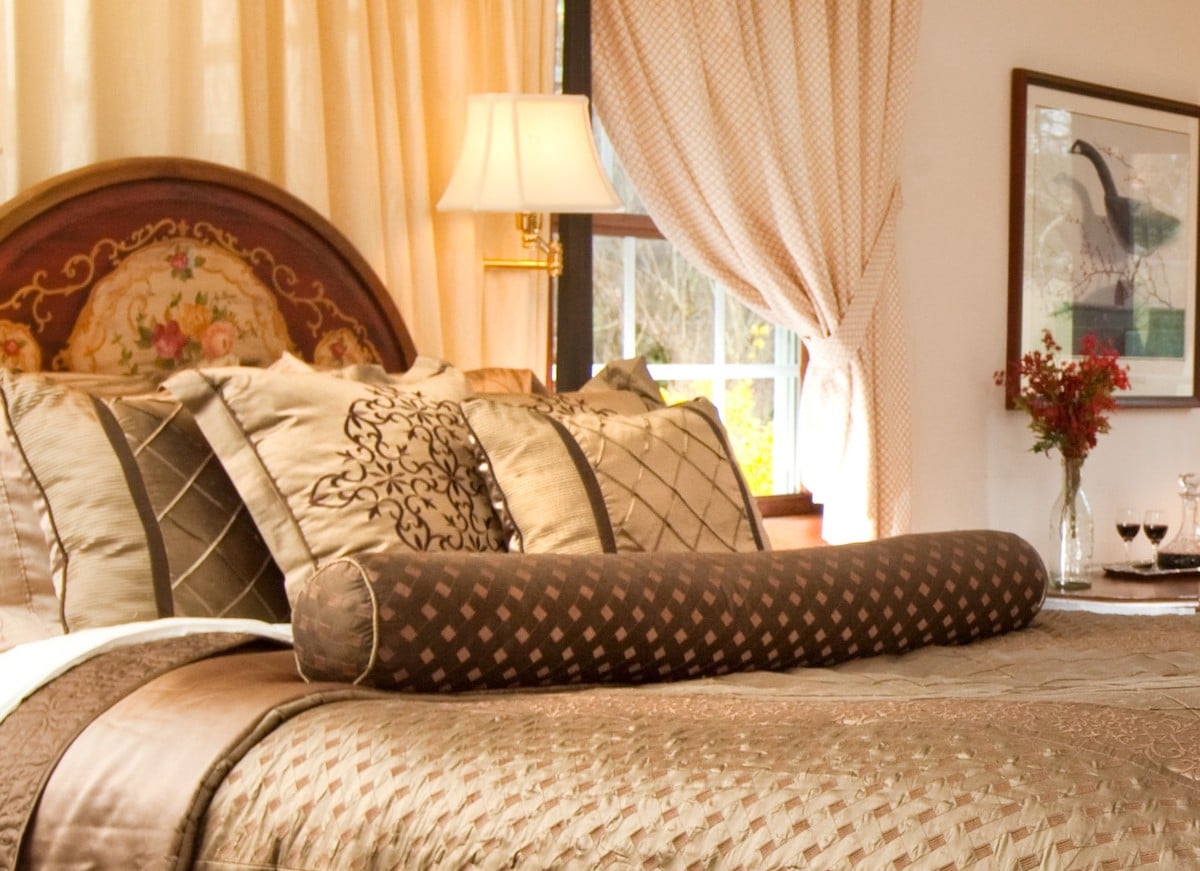 One of the Best Places to Stay in Connecticut
The village of Mystic Connecticut is a fantastic place to visit year-round. The charming downtown shopping area and the Mystic Seaport Museum are both big draws for visitors. Our Bed and Breakfast is only about ten to fifteen minutes from all of the best things to do in Mystic, nearby Connecticut State Parks and beaches, and art museums.
Join us at the Stonecroft Country Inn and find out why we're one of the best places to stay in Connecticut:
Ideal Location: Nestled in the countryside of New England, our location is perfect for those who are searching for relaxation and quiet. This area is the ideal escape from the busy, everyday activities and creates the best backdrop for a most serene getaway. Bonus: we're not far from downtown Mystic, a bustling small town for sightseeing, shopping, and fine dining—put these options altogether, and you're in for a lovely vacation.
Unique Guest Suites: Our ten elegantly appointed guest suites all offer a level of unparalleled comfort. The rooms in the historic Main House have wide plank floors, wood-burning fireplaces, and an old-fashioned charm. The Yellow Barn building offers suites with gas-burning stoves, beautiful views, and modern touches. All rooms come equipped with fine linens, Turkish towels, fluffy robes, free wi-fi, and private baths.
Beautiful Shared Spaces: Our Mystic Bed and Breakfast is one of the best places to stay in Connecticut for all of the wide-open outdoor space and shared common areas. This is where traditional hotel lodging can't compete. You're not just booking your private room, but you'll get to experience a cozy fireplace in the living room of a more than 200-year-old house or roam the historic grounds surrounded by ancient stone walls.
Special Packages and Add-ons: We offer an impressive selection of packages and enhancements for our guests to choose from for their stay. These small details make us one of the best places to stay in Connecticut for those who might be seeking romance. Allow us to add fresh flowers, chocolate-covered strawberries, or Champagne awaiting your arrival to your suite, a sure-fire way to set the mood!
Luxury Bathrooms: You'll find the rooms in the Yellow Barn building have beautiful spa-like bathrooms. Double whirlpool tubs, walk-in showers, and heated towel racks to start. These suite choices are one of the most romantic places to stay in Connecticut, especially for anniversaries or even your honeymoon!
Complimentary Breakfast each Morning: We're up early in the kitchen preparing a lovely breakfast spread for our guests each morning. The menu changes daily, but our recipes include local, organic ingredients whenever possible. Favorite sweet options with fresh-picked berries and homemade quiche are frequent dishes. Feel free to enjoy your meal by firelight in the dining room or the fountain on the back terrace.
Warm and Welcoming Hospitality: If there's one thing that sets our Inn apart from other lodging options, it's our impeccable customer relations. We pride ourselves on our years in the hospitality industry, which translates to welcoming and discreet service, and brings our guests back year after year. Please join us for a hosted getaway, and you can see firsthand why we're one of the best places to stay in Connecticut!
Stunning Grounds at our Mystic Bed and Breakfast
No getaway is complete unless you have fantastic accommodations, and that's precisely what you'll find at our Mystic Bed and Breakfast. Our ten beautifully appointed guest rooms, each with its own character and style, and all comfortable and cozy. Our stunning garden grounds create plenty of space for you to roam and soak up a bit of country living, too.
Enjoy the historical ambiance of Connecticut's stone walls, spend time in our seasonal gardens as we get closer to spring, relax and rejuvenate in our shared spaces, and otherwise leave the details of the weekend to us. A bit of pampering comes with the territory of staying at a B&B! And it's this, after all, that truly makes our Inn one of the best places to stay in Connecticut.