For a true boat-to-table dining experience, you'll want to head to Oyster Club Mystic during your time in New England. In fact, the Oyster Club Mystic. is often featured in big-name publications, including Travel + Leisure, for its practices in using locally farmed ingredients, creative menus, and unique dining space.
There are more than 70,000 acres of shellfish farms cultivated in Connecticut's coastal waters; that's about 200,000 bushels of oysters from the Long Island Sound and Fisher's Island Sound alone every year! And in Mystic, we even have a namesake varietal of oysters, dubbed "The Mystic," which is beautifully briny and crisp. The Connecticut oyster industry delivers fresh- from-the-boat catches to restaurants and markets around New England.
For those hoping to experience a culinary journey throughout Mystic and the surrounding areas, our Connecticut Bed and Breakfast is the ideal space to make your home base. Not only will you be treated to a beautiful breakfast with locally sourced ingredients each morning of your stay, but you'll be welcomed more like family than a guest at a hotel. We can't wait to host you in Mystic; book your next stay today!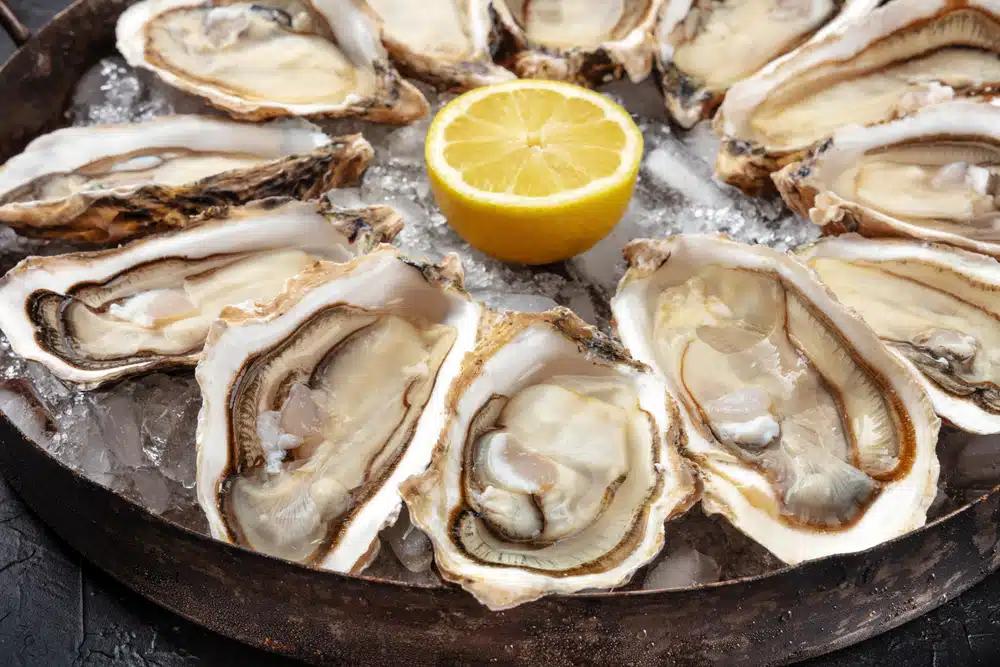 Enjoy Boat-to-Table Dining at Oyster Club Mystic
As one of the highest-rated Mystic restaurants on TripAdvisor with nearly 500 five-star reviews, the Oyster Club Mystic is more than just a crowd-pleaser. For tourists, it's a destination; for locals, it's an institution. As the Oyster Club Mystic website says: "Our mission is to share the story of our food, from seed to harvest, introducing the people, places, and practices involved along the way." And that's exactly what you'll discover on their innovative menus.
On the dinner menu, enjoy selections from the raw bar like freshly-shucked Oysters from the Long Island Sound. Mains include an international flair; standouts include empanadas with ground beef and charred chili, house-made squid ink linguini, New England or R.I. clam chowder, and monkfish katsu. There's a thoughtful wine selection from across the globe, local draft pours, and creative cocktails inspired by classics.
You'll find two seating options at the Oyster Club Mystic, a rustic carriage house turned seafood cafe, and an outdoor area perched on the hill surrounded by trees called the Treehouse—one of the best views in Mystic! The happy hour specials are a favorite for locals and tourists alike, including half-off oysters and great drink specials.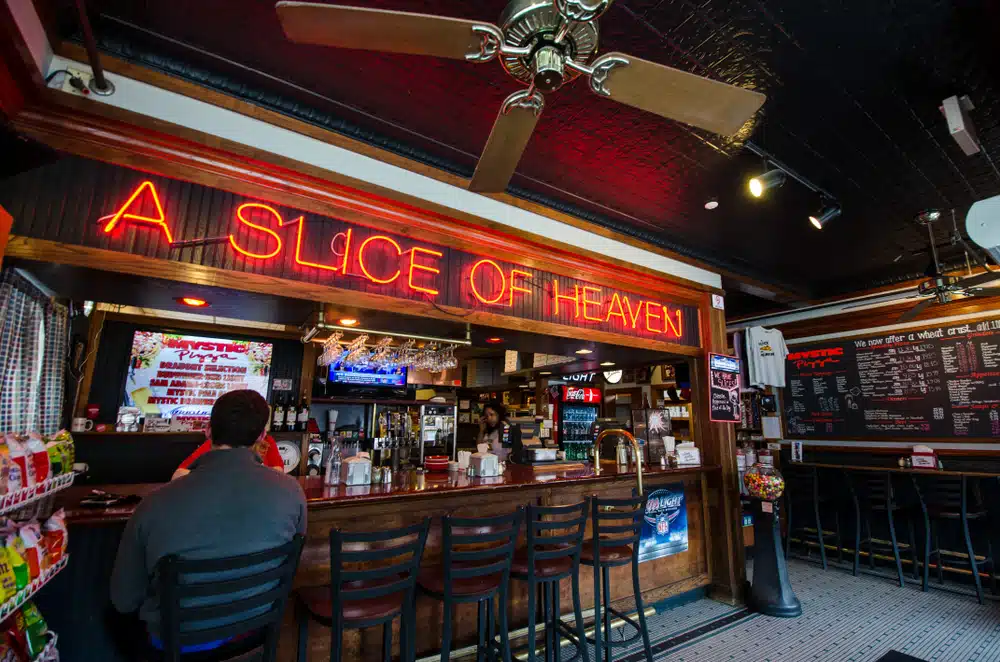 Other Mystic Restaurants Not to Miss:
Mystic Pizza: While you won't find oysters on the half-shell at this Mystic restaurant, you'll want to stop for "a slice of heaven" with melty cheese and meaty toppings, made famous from the 1980's rom-com starring a young Julia Roberts.
S&P Oyster Company: This is one of the Mystic restaurants with a fantastic patio nestled right along the Mystic River. Enjoy the shimmering water views while dining on chilled seafood starters, lobster alfredo, or dry-aged ribeye steaks.
Shipwright's Daughter: For a menu that showcases locally grown produce and seafood from local fishermen, this menu changes almost daily, but look for favorites like lobster toast, beet pickled deviled eggs, and crispy fried oysters.
Bravo Bravo: For a beautiful feast of authentic-meets-contemporary Italian food, check out this local favorite. Bonus: Everything is homemade, from the sauces and pasta to the traditional desserts.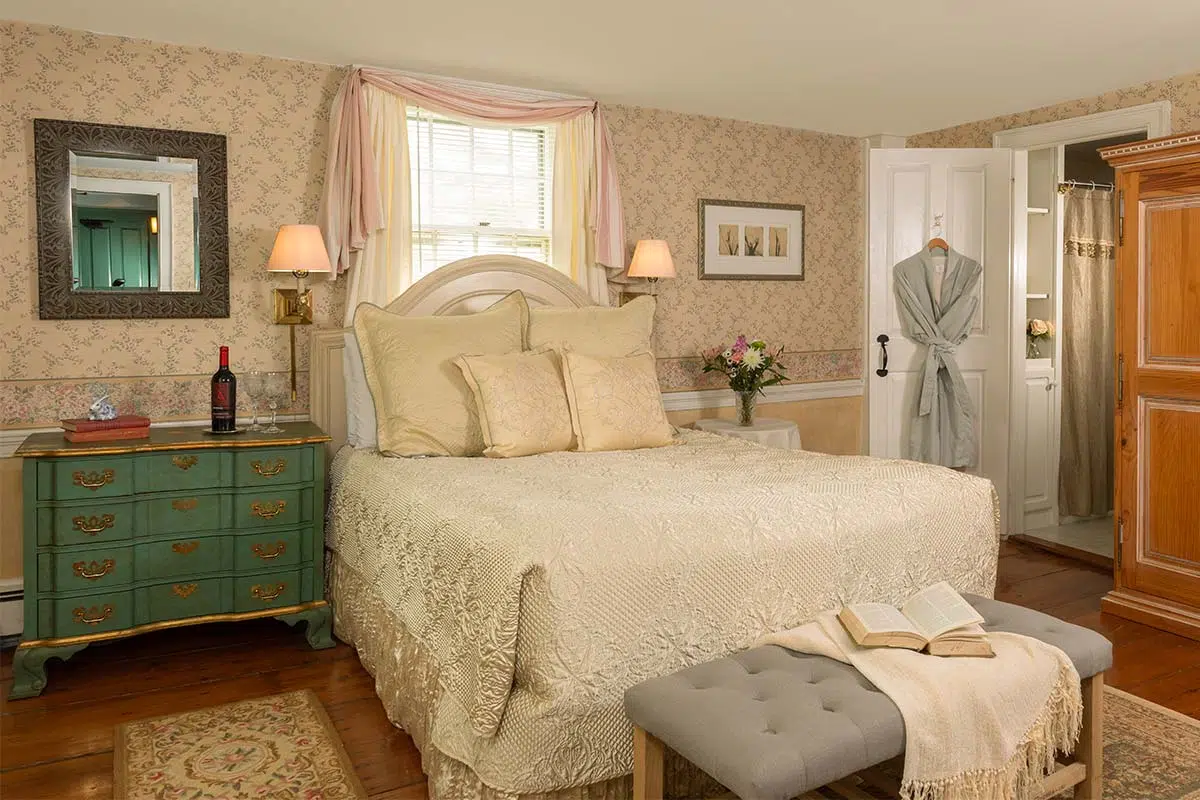 Glamourous Lodging in Connecticut at Stonecroft
A culinary adventure in Mystic should always involve slurping the freshest oysters at the Oyster Club Mystic, popping bottles of dry Champagne, and the catch of the day. But no vacation to Mystic is complete without lodging at our Connecticut Bed and Breakfast. Our beautiful guest rooms are artfully-appointed with elegant furnishings, comfortable beds, and all the amenities you'll need for a restful and relaxing getaway.
The mornings at Stonecroft Country Inn are all about deliciously brewed coffee and carefully prepared breakfast favorites—included with your stay. Start planning your next trip to New England and book today!