Fall in Connecticut is a magical time of year! The hillsides are covered in beautiful leafy trees changing from summertime green to golden hues, bright reds and oranges, and in some cases, a deep crimson. The red maple is the dominant species in our area, mixed with other maples, birch, hemlock, and oak trees, which make a perfect combination for a gorgeous fall in Connecticut. In fact, a favorite pastime for locals and visitors alike is taking long scenic drives along our many winding back roads.
Our Mystic Bed and Breakfast is located in one of the best areas for enjoying the beautiful autumnal colors. Located only five miles from the downtown center of Mystic, our Inn is close enough to everything but set back in the quiet countryside of New England. Spending some time during the fall in Connecticut really should be something everyone experiences at some point—and it's made even more memorable by staying at our Mystic Bed and Breakfast.
The historical 1807 House and Yellow Barn building offers ten luxurious and unique guest suites for any type of getaway during the fall in Connecticut. You'll love relaxing here by the fire as the evenings grow cooler and the season slowly turns to winter. Join us in the New England countryside for a special retreat before the holidays kick-off, you'll love to explore all the things there are to do in the fall in Connecticut. Check our availability and book today!
Fall in Connecticut at Our Mystic Bed and Breakfast
Thankfully, we have such a perfect location in Connecticut for truly getting the most out of any vacation to our area. We're only minutes from the amazing Mystic restaurants, museums, and sailing options. Our central location puts you in the right place for scenic drives to take in the fall foliage and state parks for beautiful hikes. There's something for everyone and our Mystic Bed and Breakfast is the ideal place to call your home away from home.
Here are seven of our favorite things to do during fall near our Mystic Bed and Breakfast:
Scenic Drives: While the stunning fall foliage will be on display just about everywhere you look during fall in Connecticut, there are scenic routes that take you by quaint villages, charming small towns, and farmlands through forests with rivers, streams, and rolling fields. This area is quintessential New England and worth exploring.
Connecticut Wine Trail: We have an amazing selection of wineries near our Mystic Bed and Breakfast for a perfect day out wine tasting along the Connecticut Wine Trail. There are eight specific wineries near our Inn, which make a great route for tasting and learning more about the Southern New England AVAs and the varietals that are grown here.
Tour the nearby Museums: For a small city, Mystic has a lot of opportunities to expand your mind with art museums, historical tours, and the one-of-a-kind Mystic Seaport Museum. There's no shortage of ways to fill your days learning about the culture and arts of New England.
Dine out in Downtown Mystic: You'll find some of the best restaurants in downtown Mystic for seafood feasts, farm-to-table dining, craft cocktails, and great wine and beer lists. Since many restaurants offer seasonal menus, the bounty of fall is present with in-season vegetables and local products.
Head out to the Newport Mansions: Combine a vibrant scenic drive (about an hour from our Mystic Bed and Breakfast) to Newport RI to see the impressive mansions of the Glided Age. You'll find most of these homes open for self-guided tours, while the grounds and gardens alone belonging to many of these palatial estates could be explored for hours.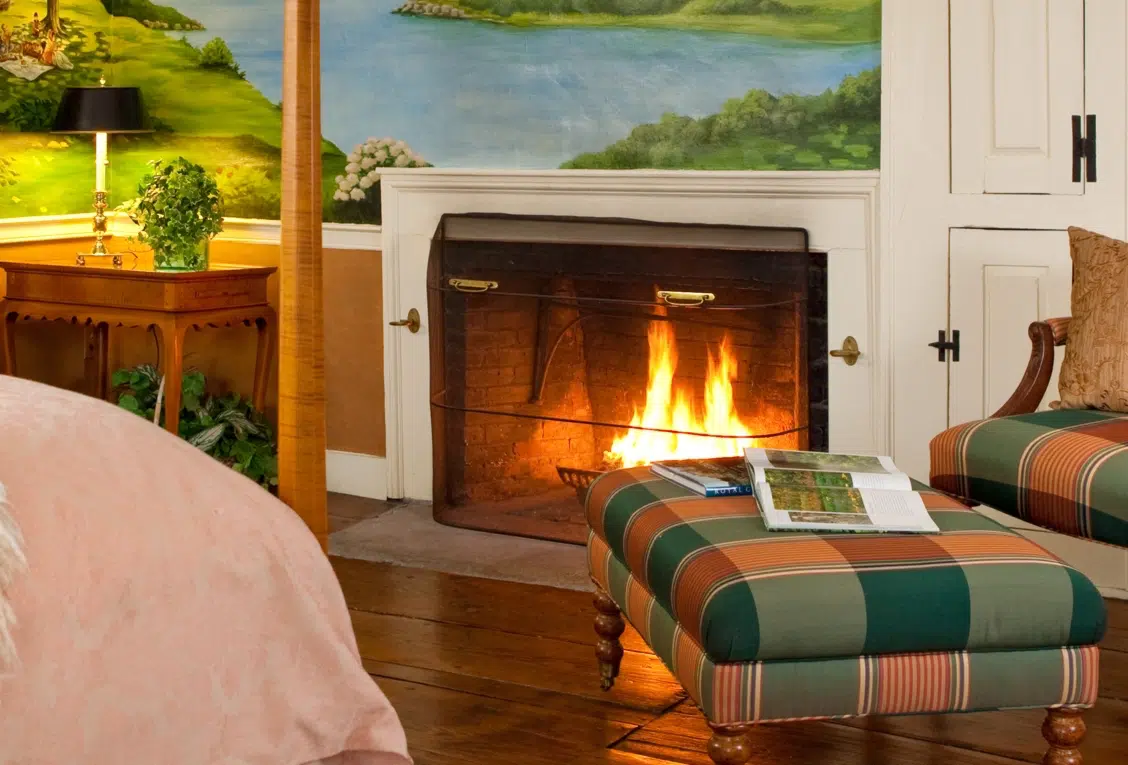 Stay in! We know that sometimes the best part of a getaway is the time spent together in your guest suite, where you can fully relax and kickback. In the fall in Connecticut, there's not much better than cozying up by a crackling fire with a glass of wine and your favorite person.
Join us for Breakfast: On any stay at our Mystic Bed and Breakfast, the mornings are really worth waking up for! We offer a sumptuous breakfast with local and seasonal ingredients and show-stopper recipes like our fluffy French toast with fresh fruit, eggs Benedict, and home-baked goods. Top that off with hot coffee and juice and you are good to go.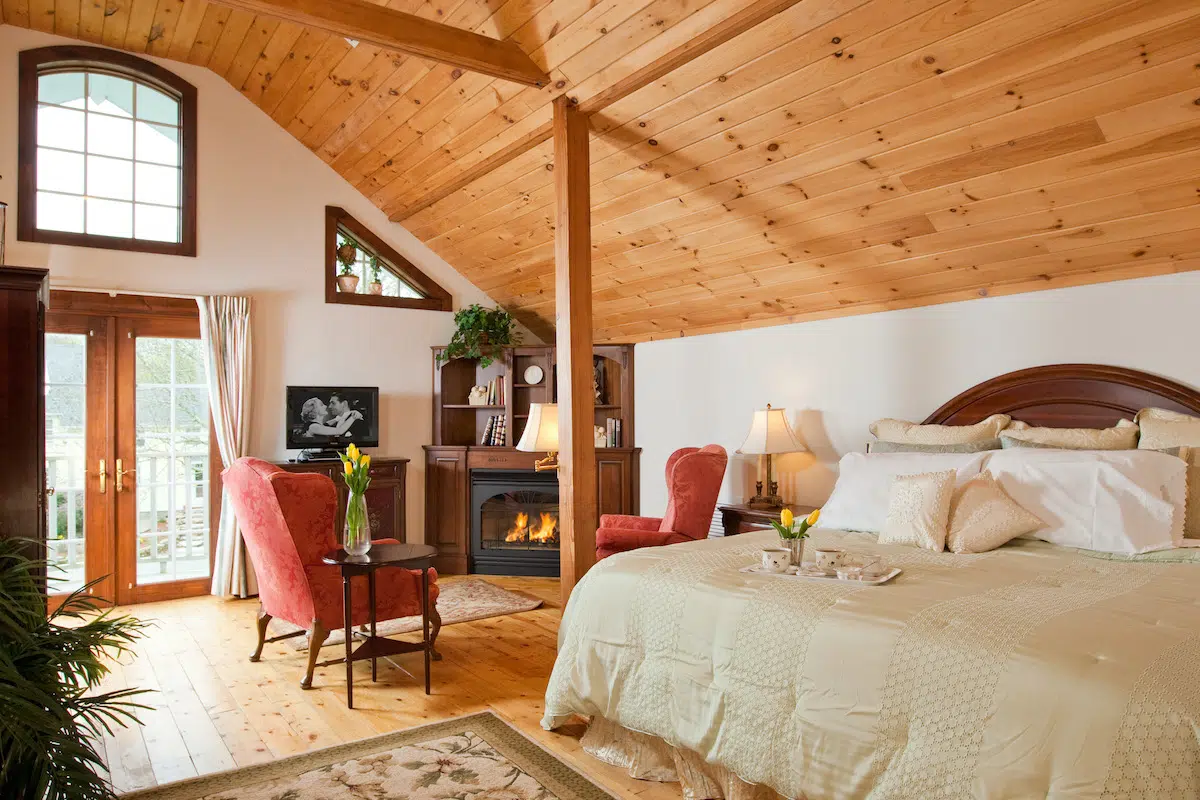 Romantic Lodging at our Mystic Bed and Breakfast
For those who may be celebrating an anniversary or just a special getaway for two, fall in Connecticut is the time to do it! You'll especially love the suites in our newly renovated Yellow Barn addition. These six guest rooms are particularly spacious and have every amenity needed for a vacation where you might choose to stay in, wrapped in a comfy Turkish robe most of the time.
Our picturesque six-acre grounds, surrounded by 300-acres of Conservancy woodlands, is one of the most serene and peaceful places during fall in Connecticut. Wake in the morning to bird-song and sunshine streaming through the trees. Grab a cup of freshly brewed coffee and take a stroll under the bright fall foliage. Come enjoy these perfectly crisp days of fall with us at our Mystic Bed and Breakfast. Book today!