The charming Mystic Museum of Art is nestled on the Mystic Riverfront with a beautiful view of our seafaring town. It's a lovely addition to any trip into the downtown area. They offer an ever-changing selection of exhibits, a permanent collection deeply rooted in the artistic history of our area, and even drop-in art classes for locals and visitors alike. After touring the Mystic Museum of Art, enjoy a spot on the outdoor patio or walk along the river.
The history of the Mystic Museum of Art dates back to the early 1900s. American Impressionist painter Charles H. Davis is known as the founder of the artist's community of Mystic, which evolved into the museum complex as we know it today. You'll learn all about how this painter's influence affected the works of art coming from this part of New England. Make the Mystic Museum of Art your first stop on your cultural tour of the area.
Our Mystic Bed and Breakfast is just a quick scenic drive from the downtown area, where you'll find the best restaurants, activities, and the Mystic Museum of Art. As a guest at the Stonecroft Country Inn, you'll experience the history of New England first hand, as our main house was built in 1807. You'll find four of our beautiful guest rooms here, as well as six spacious and modern suites in our Yellow Barn building. Start planning your next getaway to New England and book today!

Begin Your Cultural Tour at the Mystic Museum of Art
At the Mystic Museum of Art you'll find permanent exhibitions that truly represent the artistic visions of the painters and sculptors of our New England town. Before you set out touring the museums in the area, be sure to join us for an amazing seasonal home-cooked breakfast packed with local ingredients in our dining room. It's really the best way to start your day!
Head out to these other local museums on your trip to Mystic CT:
Mystic Seaport Museum: One of the biggest draws to our little town on the river is the Mystic Seaport Museum. You'll find this living and working museum on 19-acres along the waterfront, with more than 60 restored historical buildings. Inside, there are exhibits galore and interactive displays. They even have daily sailings on many of their seafaring crafts.
The Denison Homestead Museum: Just a few minutes out of Mystic you'll find the Denison Pequotsepos Nature Center, which is home to this 1717 House Museum, miles and miles of hiking trails, and a farmer's market. Inside tours of the home are currently unavailable due to restoration, but the gardens and nature center are well worth the visit.
Old Lighthouse Museum: Lighthouses are a fixture along the shores of our coasts and now this Old Lighthouse stands as a historical museum. Built in 1840, now visitors can climb the 29 steps and take in the view that spans three different states.
Lyman Allyn Art Museum: Head to the nearby town of New London to get a look at the collection of European art and American fine and decorative art. With more than 10,000 objects, this is one of the largest curated group of works in all of Southeastern Connecticut. Don't miss the Hawthorne dollhouse or the outdoor sculpture garden.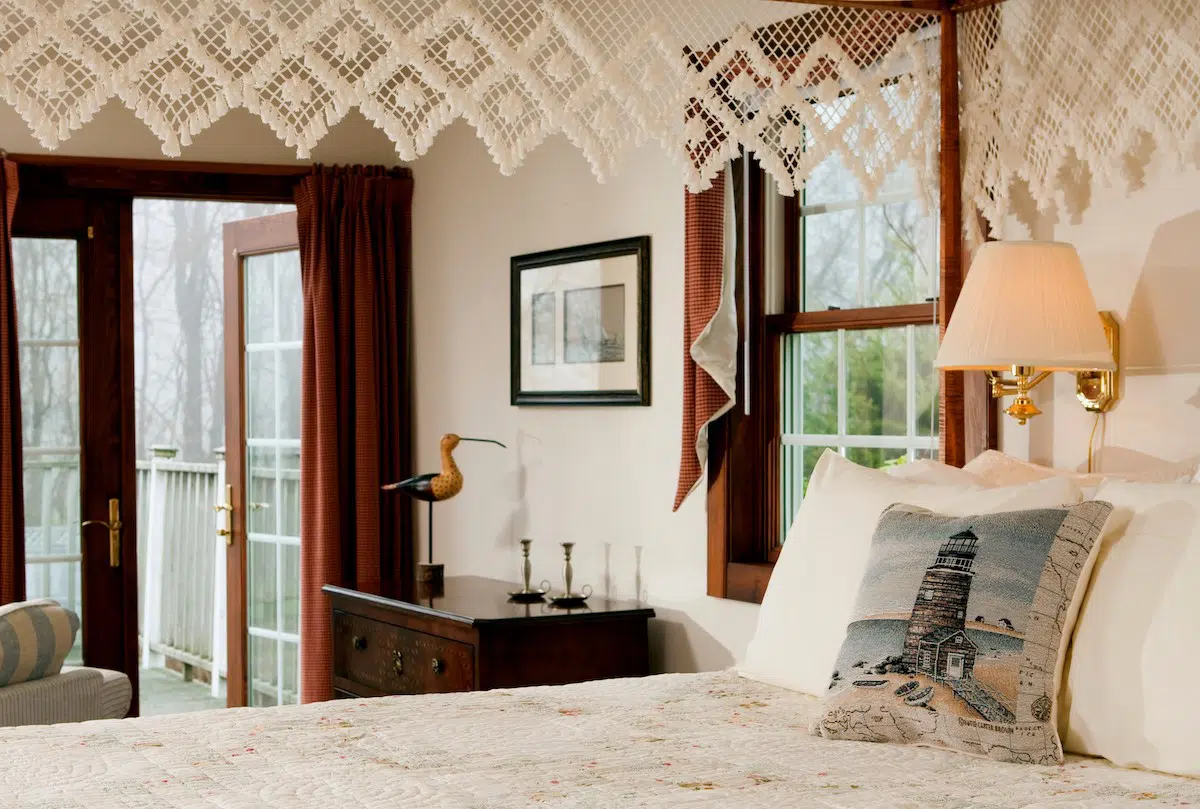 Elegant Country Lodging at Our Mystic Bed and Breakfast
After a day exploring the Mystic Museum of Art or any of these other fantastic museums in our area, head on back to our Inn for a peaceful and quiet retreat in the New England countryside. Our ten guest suites all offer a unique space to sit back and relax, whether that be in front of a cozy wood-burning fireplace or in one of the Whirlpool spa tubs. There's a sense of romance in the air at our Mystic Bed and Breakfast with plenty of privacy and space to fully reset.
Fall is a special time here in Connecticut, as the trees like to put on a colorful show with gorgeous fall foliage. Our grounds have some older growth trees that take on these autumnal hues. Consider taking a scenic drive through the area to really get a good look at the nature of this stunning time of year. Start planning your next getaway filled with exploring local museums, viewing the pretty leaves, and relaxing in the country. Check our availability and book today!