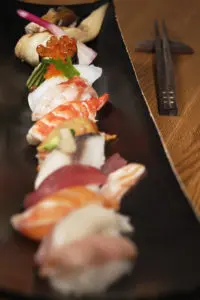 Aside from the delightful culinary experience at the Stonecroft Country Inn serving its delectable and complimentary breakfasts, guests to the area also have the various Mystic CT restaurants to look forward to sampling. Visiting the Eastern Connecticut coast always promises to be a rich culinary experience, whether you're hoping to taste the local seafood or not. You'll find something to suit every taste among the myriad Mystic CT restaurants whether you're looking for a friendly family meal, a romantic evening out with your sweetheart, or just some great seafood. There are numerous highly acclaimed places to try out in the area, promising that visitors will not leave disappointed and offering one more reason to return year after year.
7 Mystic CT Restaurants to Try
BravoBravo
Large windows at BravoBravo overlook downtown Mystic through which diners can enjoy coastal life pass by while sipping craft cocktails and tasting inventive menu items like fresh pastas, fish, and homemade desserts. This is a great place for a date night with the dining room's candlelit atmosphere.
Oyster Club
Devoted to serving fresh local ingredients that capture the culture and the people of the area, the Oyster Club truly provides a farm and sea to table dining experience. The Treehouse is their outdoor bar and deck overlooking the ocean, and is a picturesque place for a small bite and drink any time of day.
Go Fish
For an eclectic seafood experience featuring everything from a raw bar, wine bar, sushi bar and coffee bar, Go Fish is a fun place to visit with a group of people. Come experience their variety of delicious offerings, and maybe even check out a special event.
Pizzetta
Sometimes you're just in the mood for a some classic pizza, in which case you'll love the simplistic yet delicious menu at Pizzetta. They serve much more than just pizza but also paninis, BBQ and sandwiches made with as many local and organic ingredients as possible.
Peking Tokyo
Another potential craving covered among the Mystic CT restaurants, Peking Tokyo is serving up comforting pan-Asian cuisine that will surely hit the spot. A full sushi bar is accompanied by a menu of warm soups and noodle dishes that will leave you satisfied.
The Mystic Boathouse
Located in the heart of Mystic Village, The Mystic Boathouse has an inviting atmosphere to accompany their seasonal menu featuring local ingredients. For a classic dinner out with either the kids or a hot date, this is a wonderful and casual spot.
Mystic Diner
Are you looking for the ultimate comfort food in a fun laid back atmosphere? It doesn't get much more perfect than the Mystic Diner, a favorite spot among locals and visitors alike who are looking to kick back with something familiar.
We have only begun to brush the surface of the great places to eat among the many Mystic CT restaurants. You won't be disappointed by the options in the area, meeting everything from the most casual to fine dining desires. For more ideas not only of places to eat but also things to do in the area download this free Mystic, Connecticut vacation guide.