A change of perspective can provide a whole new experience when traveling. After you've taken a scenic road trip through the country, it's time to taste the salty ocean air and hop on a boat! Discover the secrets of the Mystic River aboard Mystic Harbor Cruises. History buffs will enjoy the narrated tours, and nature lovers will have a front-row seat to stunning views. Read on to learn more about this fantastic activity and don't forget to download our free Vacation Guide for more local suggestions!
Everything You Can Expect Aboard Mystic Harbor Cruises
A Great Way to See Mystic
Mystic Harbor Cruises offers a unique and exciting way to discover our town and its surroundings. These two-hour guided tours showcase many local landmarks, including the Mystic Seaport, the Bascule Bridge, Masons Island, and even Ran and Fishers Island in New York. Sit back and relax as your guide shows you around. We highly recommend bringing your camera to capture the gorgeous scenery!
A Cruise Full of History
Mystic Harbor Cruises are anchored in history, quite literally. Prudence, a steamboat, is one of the few coast steamers still in operation. She was launched in 1911 and remains the record breaker for the longest running ship in the United States. In fact, she has had more than two million riders to this day!
Patience is her exact replica and welcomes up to 130 passengers for cruises, private events, and dinners. Celebrate your birthday with a magical cruise for example! They offer catering and entertainment upon request, so don't hesitate to contact them to have more information.
Schedule and Rates
Public cruises are available from May to October on first-come, first-served basis. Tickets can be purchased at the ticket office or by phone at (860) 389-1969. Cruise times and rates are subject to change, but are usually around $22 per adult. Children under 12 are half price and senior citizens can save up to 10%! Don't hesitate to take a look at the schedule before planning your visit.
Tip: Read our blog about other Mystic cruises and double up the fun!


Relax on Land at Stonecroft Country Inn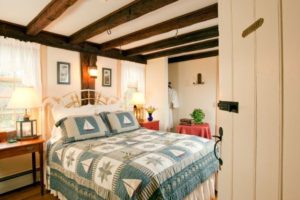 Our stunning accommodations make for the ideal couple's cocoon and are the perfect base camp for your New England adventure! Enjoy the charm of Connecticut in a warm and peaceful setting. We guarantee that as soon as you see our lovely inn, you will immediately fall in love!
Take a chance on our Buttery Room! It's the most historic room at the inn and offers both comfort and elegance. You can enjoy a hot bath in your private bathroom, then get a good night's sleep in the queen bed. Wake up the next morning feeling refreshed! You can sip a hot cup of coffee on the private patio right outside your door before joining us in the main inn where a delicious, homemade breakfast awaits you.