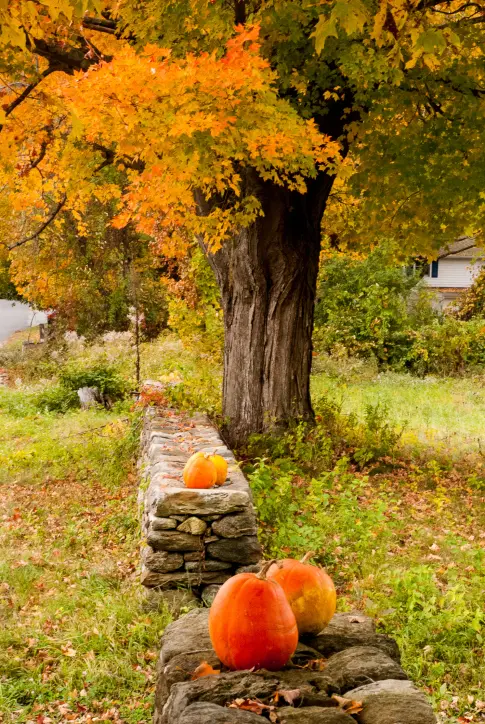 There are countless ways that visitors fall for Connecticut, and the autumn months with their changing leaves, bountiful harvests, and the welcome crisp hint in the air have long been wooing them to return year after year. Connecticut in the fall is a picturesque time to visit where the gorgeous landscape is met with warming smells of chowder and cinnamon, and nights wanting of a somewhere to cuddle up next to a fire. If you have yet to experience Connecticut in the fall, make this your year and come explore Mystic Country!
7 Great Things About Connecticut in the Fall
Chowder Days – October 10 – 12


The historic Mystic Seaport is always a wonderful place to visit in the area, and especially in October if you love seafood.

Chowder Days

is a food festival that is to die for and will feature menu items like chowders, bisques and a variety of other local specialties like apple fritters. Activities run each day from 11 am to 5 pm and aside from the great food they include live music, pony and carriage ride, games, scarecrow activities, face painting and even crafts at the Children's Museum!

Get in on the Scariest Mystic Ghost Tour
What historic artifacts and gravestone markings have been found in Mystic's old burial grounds? What famous soldiers, doctors, and ministers visit their hallowed resting places? Discover this and more when you take a Moonlit Graveyard Tour at historic Whitehall Burial Ground. Your guide — a Connecticut native, spiritual intuitive, para-historian and author guides guests by lantern light through the ancient burying ground and recounts the lives of Mystic past who now are buried there (and may still roam there to this day). Filled with local legends, true ghost stories, and essential New England folklore – the graveyard reports spooky goings-on that even occur today. Visit our specials page for more information on this tour as well as how to take advantage of a special package to enjoy both a stay with us and a tour of Mystic's most haunted graveyard.
Dark Walk Haunted Camp – October 2015 dates TBA


Known for their Halloween Theater, guests are led through a narrative characterized by an unsettling environment and a host of strange characters whose demeanors will shock and awe you. When the

tour

is over you will walk yourself through the haunted woods with the trail ending in a Vespers theatrical performances that will elicit some incredibly contradictory emotions.

Creamery Brook Bison Farm Wagon Tours – September 5, October 11 – 12, 17 – 18, 24 – 15


This charming farm has one of the only remaining bison populations in the entire region. Aside from preserving these beautiful creatures who roamed the land with the Native American tribes, they also harvest their animals for delicious animal products. The wagon tours at

Creamery Brook

will give you a wonderful view of the land, as well as a chance to see these majestic animals up close. The farm also hosts a number of a fall events to celebrate the harvest season!

Farm Fall Festival at Blue Slope – October 3 – 4


Blue Slope Farm celebrates the harvest season each autumn with their

Fall Festival

, which embraces farming through the generations with educational events. Come witness the kicks and starts of drafts horses and working steers, see an old farmer's market, and even make a water pipe or churn butter for your apple pie. The demonstrators are also dressed in period clothing as they show off the farming inventions that have come about through the years!

Connecticut Fall Foliage
Offering both the beautiful and vibrant peak colors, Connecticut also has the more unique and subtle colors of seaside marshes that change just as the trees do. Come explore the diversity of Connecticut fall foliage this year for a weekend of outdoor adventures, even if it's just enjoying one of the 4 best Connecticut scenic drives.

Farm Visits and Apple Picking
Apple picking in Mystic CT is a favorite fall pastime, among other exciting things to enjoy on the land during these months. There are many orchards where you can enjoy apple picking in Mystic CT or sample and buy fresh ciders, both hard and not, get lost in corn mazes, visit a real pumpkin patch, and take a hayride.
Mystic Country is a the perfect place to experience Connecticut in the Fall, and you are bound to be completely in awe of its beauty and simplicity. Whether you're looking to go apple picking, take a scenic country drive through the kaleidoscope of colors, or just take a relaxing walk on the beach, we guarantee you will be returning for more next year!