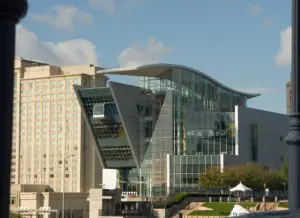 See science come to life at the Connecticut Science Center on your next visit to Connecticut. With exhibits, videos, and laboratories designed to illustrate and demonstrate what can seem abstract scientific concepts, this wonderful museum provides an entertaining venue to gain a great understanding of how the world around you works. While certainly designed for those small people engaged in elementary science programs, visitors of all ages love what the Connecticut Science Center in Hartford, CT, has to offer.
About the Connecticut Science Center
Open every day during the summer, and every day but Monday for the rest of the year, the Connecticut Science Center is the ideal place to visit on your weekend getaway or vacation exploring Connecticut. Typically open from 10 am to 5 pm, this is an easy place to spend a whole day with so many exciting things to do while inside. At just $23.95 for adults and $16.95 for youth ages 3 through 17, it is also an incredibly affordable way to spend a day, rainy or otherwise, in the area.
7 Things You'll Love at the Connecticut Science Center
1. Live Science Demonstrations
Watch science come to life before your eyes during the Live Gallery Science Demonstrations! This gives people the chance to learn in an interactive, hands-on way.
2. 3D Movies
The 3D film experience at the Connecticut Science Center goes unmatched in the area, especially if you love informational, yet beautiful films about the world of science. If you love learning about the mysterious outer space, you'll definitely love the films they have showing now, Journey to Space, while fans of marine life will love The Last Reef. Both of these films play twice daily and three times on the weekends!
3.Exploring Space
This exhibit will take you on an intergalactic journey through the farthest reaches of space to explore moon craters, fly spaceships, and get super close to a NASA space suit and a real moon rock!
4. Forces in Motion
For all you physics geeks out there, this exhibit will bring to life all those strange concepts the geniuses in your life have always been trying to pound into your head. Come design a car and test it, learn how winds affect sailboats and use wind power in creative ways.
5. Picture of Health
This primer on genetics will give you a better idea of what factors we have control of in regards to our health, and which ones we were simply born with. Learn how stress affects your body, and how to assemble a healthy meal.
6. Sports Lab
Work up a sweat in the Sports Lab! This is a great exhibit that features hands-on challenges in different sports, like a pitch challenge, ski simulator, strength tester, and much more.
7. Events to Look Forward to – There are a number of events that take place daily and throughout the year that you should look into when planning your trip to the Hartford Science Center. Live Gallery Science Demonstrations and Story Time take place every day and are big hits. Liquid Lounge: Mardi Gras is going to be a great night out for the grownups as well!
Where to Stay in Connecticut
Complete your trip by booking the best accommodations! Stonecroft Country Inn, a comfy bed and breakfast in Stonington, CT, just minutes from Hartford, contains beautiful rooms, each fully equipped with all the amenities you need for a weekend of rest and relaxation. Spend time exploring the many things to do around Mystic or simply unwind in the warmth of our cozy environment with a book and a blanket. Our lovely haven in Connecticut is guaranteed to provide you with all the comfort and luxury you could ever need, so what are you waiting for? Check our availability online right now so you can start planning the trip of a lifetime!
For other ideas of things to do while visiting the area, check out this free Mystic Vacation Guide!
Photo by vmnphoto / Getty Images